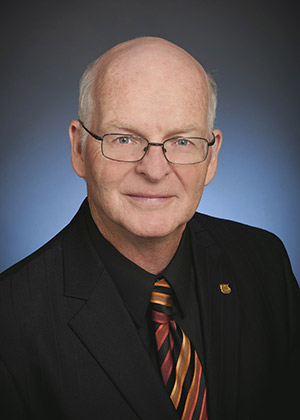 Conrad LeLièvre is a mechanical engineer who worked as a plant engineering person for Michelin North America (Canada) Inc. for 28 years, retiring in 2005. He currently works for CBCL Limited, consulting engineers, in Halifax as their corporate safety coordinator. His position covers 8 offices in all 4 Atlantic Provinces.
He obtained his Bachelor of Mechanical Engineering from the Nova Scotia Technical College in 1975, and has been a licensed professional engineer in Nova Scotia since 1978. Conrad also holds a CRSP (Canadian Registered Safety Professional) designation, which he obtained in 2003.
Conrad's interest in automobiles has been life-long, as he was introduced early in his life to motor vehicles by his father, who was a licensed automobile mechanic and autobody person in their home village of Reserve Mines on Cape Breton Island. His first motor vehicle was a 1967 Honda 150 Dream motorcycle in 1969, followed by a 1968 Triumph Trophy Sports motorcycle in 1971.
Conrad's first car was a 1969 Plymouth Roadrunner back in the early 1970's. After that, there was a succession of other Mopar muscle cars, such as a 1969 Dodge Swinger 340 and a 1972 Plymouth Duster 340. After that, his 5 kids came along and forced the use or more family-oriented vehicles such as mini-vans.
During the past 40 years of marriage, Conrad and his wife Lorraine raised 5 children in their current residence in New Minas, in the beautiful Annapolis Valley. During that time, hobby cars were placed on hold. But after getting the youngest child out of university in 2010, Conrad again resumed his passion for classic cars by purchasing a 1963 Mercury Meteor in the summer of 2011. Conrad's Meteor, while stock in external appearance, sports a 351 Windsor V-8 engine, a T-5 transmission and a Ford 9" rear end.
Since 2008, Conrad has been involved on behalf of Engineers Nova Scotia, the provincial licensing body for professional engineers, in working with the Registry of Motor Vehicles to amend the Motor Vehicle Act to properly handle the certification and registration of antique and modified vehicles. Modified and owner-built vehicles currently fall under the Code 56-Reconstructed Vehicle procedures, which can require a professional engineer certification in some cases. Hence the reason for Conrad's involvement on behalf of Engineers Nova Scotia.
Progress on such legislative changes can be slow at times, but Conrad continues to work with the Registry to affect the required changes. A detailed submission has been made to the Registry as to what is viewed as being the required changes.
Conrad has been the Nova Scotia Director for the NAACC since 2012.
In addition to his work with the NAACC on the Motor Vehicle Act changes, Conrad has also been very active within Engineers Nova Scotia. He was president of the association back in 2007-2008 and most recently was awarded its highest honour, the F.H. Sexton Gold Medal, for exceptional service to the association and the engineering profession.