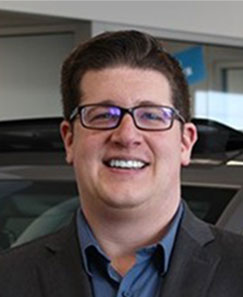 David Murphy is a passionate automotive historian and collector car enthusiast. He has a vast knowledge of post-war American Production and Muscle Cars and an interest in all types of historic vehicles. He started working with automobiles and automotive related history at the age of 15. He received a Bachelor's of Science Degree in Industrial Design and Automotive Design from Humber College in Toronto in 2012. After receiving his degree, he started working at MacMaster Buick GMC. He specialized in marketing and has held that position to this day.
In 2015, David started hosting his own weekly cruise nights in his hometown of Orangeville Ontario. Orangeville's Cruisin' On First, brings together well over 250-300 historic vehicles every Wednesday. He also runs the annual Blues Cruise Car Show, Ribfest Car Show and Fall Fair Car Show locally every year along with occasional classic car drives and tours. He owns an eclectic collection of vehicles which includes several limited production 80s Buicks, ASC kitted Grand Prix coupe and a 1986 Dodge Shelby Charger that he restored himself. David belongs to the Buick Club of America and the Shelby Dodge Automobile Club and the National Association of Automobile Clubs of Canada Corporation. He is an historian of General Motors Design, collecting many examples of original GM artwork, GM prototype badges, rare literature and poster signage from the Harley Earl and Bill Mitchell eras.
David has attended the Cobble Beach Concours d'Elegance since its inception in 2013 as a press and media specialist. He was also a Judge in the American Muscle Car class. He acted as a shadow judge in the American Pre-War Full Classic class at the 2022 Cincinnati Concours D'Elegance. In November 2021, he became the official Vehicle Registrar for the Cobble Beach Concours D'Elegance. In November 2022 he will judge the Sports Cars – International Class at the 2022 Hilton Head Concours D'Elegance at Hilton Head, SC. David's fresh under 45 approach to the collector car hobby has made him sought-after as a judge and is very much in demand as a Concours Registrar. The NAACC welcomes him as its newest Board member.