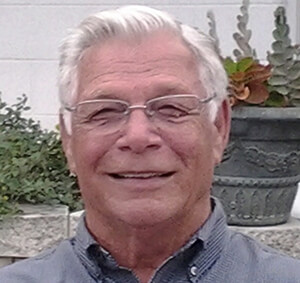 I started my career in the Automotive Industry right from School, at a Studebaker Dealer as an apprentice in the Collision Centre 1961-62, eventually became an Automotive Painter or Refinisher, working at two or three collision shops.
Met my wife, Joan, in 1962 and we were married in 1964 and raised two boys, we now have four grandchildren and one great grandchild on the way. In 1967 joined the sales and technical team with DuPont Canada Inc., Refinish Division and held several positions during my 35 year career with them; Sales Representative, Business Development Representative, and Ontario Sales Manager. Decided to move back to New Brunswick in 1991 for a less hectic life and retired in 2002.
Have always had a passion for the early cars and the 50's and 60's, joined the NB Antique Auto Club Inc. in 1996 and support the mission of the NBAAC to promote the antique and collector vehicle hobby, and encourage the restoration of these vehicles throughout the Province of New Brunswick. We purchased our first vehicle which was a 1930 Model A, coupe. Restored it to as original as possible and enjoyed several years touring around New Brunswick. Sold the Model A and purchased a 1960 Thunderbird with a factory sun roof. Restored this car completely too original condition and drove the Bird on two Canadian Coasters Cross Canada tours. First from St. John's NFLD to Victoria BC in 2010 and from Victoria BC to St. John's in 2017. Sold the Bird in 2018 and currently have a newer Mustang.
As a member of the NB Antique Auto Club Inc. Joan and I have held several positions. Joan was the editor of the clubs "Wheeltracks Magazine" for several years and currently Vice- President of the Club. The NB Antique Auto Club Inc. is a Provincial Car Club and has seven regions around the province. I have been Regional Director for Fundy Region, Vice-President of the Club, President, currently Past President and the Chair Person of the NB Antique Auto Club's Automotive and General Annual Sussex Flea Market held the third weekend of August each year with approximately 800 vendors, this coming year will be our 39th year.
Now, I look forward to a new journey as the National Association of Automobile Clubs of Canada Representative for New Brunswick, Canada.