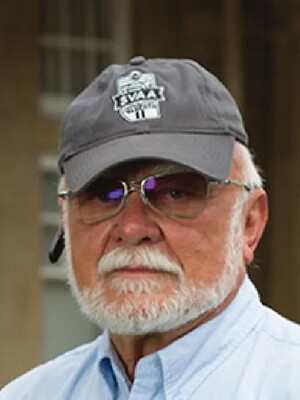 James has been involved in the automotive hobby for over 60 years.
His interest started when his father gave him an old motorcycle that he had acquired with some farm equipment. Growing up in rural Alberta, Jim quickly turned this street bike into trail bike to be used instead of saddle horses. This was followed by ever faster bikes until an accident on a Triumph Bonneville damaged his hand so he could no longer ride. The wrecked bike was traded for a chopped Model A roadster that needed a motor. Drag racing had reached rural Alberta, a supercharged flathead Mercury V-8 was installed to take the little "A" down the track.
James was working on the oil rigs to support his car hobby and as winters are cold in Alberta, the Merc flathead was installed in 1941 Ford Coupe that could be raced on the weekends and still get him to work. Marriage and return to university spelled the end of the coupe. A more economical car was required. James was introduced to LBC's (little British cars). After driving Austin Healy BN7 on his honeymoon, he was hooked. Numerous MG's, Austin Mini Cooper and Triumph Vitesse followed until an expanded family required larger vehicles.
Raising a family and building up a Petroleum Engineering Consulting firm put the car hobby on hold. Project field work opened a renewed interest in off road vehicles. He used his engineering skills to build up several high lift pickup trucks and a V-8 powered Toyota Land Cruiser to use on and around the project sites as well as week end off road rallying. Finally by 1997, less travel and a reduced work load allowed Jim to return to his LBC passion. In the past 15 years he has done several frame off restorations of MG's and Triumphs. But the one that took the most work is 1951 MGTD that was taken from being an ornament in a bar to an International Show winner. Not only has the little MG won numerous Best of Show awards it was participated in many road rallies including an 1800 mile 15 day rally tour of Southern Ontario and New York State.
Aviation is another passion that Jim has. He has maintained a pilots licence since 1964 and restored several aircraft over the past few years. He currently can be seen around the airshow circuit flying his restored 1951 Canadian Army Cessna L-19. He is an active member in COPA, the Canadian Owners and Pilots Association.
James is past President of Calgary MG Car Club and has been involved in the organisation and judging at numerous All British Field Meets in Alberta and BC. He has been a involved with the Specialty Vehicle Association of Alberta since 2008 and currently is the President of the association, a position he has held since 2016.
James enjoys passing his knowledge of classic sports car to the next generation and has worked as a driver trainer at numerous youth driving experience events hosted by Hagerty. After taking a few years off to pursue is long distance rally interests including the rejuvenation of a 1974 MGB-GT rally car, Jim has recently returned to the board of the NAACC as an Alberta Director. This is a position he held from 2010 to 2019.
Past work on governmental and environmental legislation while in the Petroleum Industry has taught James that the only way to prevent overly restrictive legislation is to be at the table to be able to present your side of the issue. That is what NAACC and SVAA does. It represents the automotive hobby at the table with an informed voice backed by it's many member clubs around Alberta and across Canada.