The 2019 Concorso Italiano was held once again at the Black Horse Golf Course with over 800 Italian vehicles on hand to please everyone. Anniversaries are important at car shows a this is the 50th anniversary of the Ferrari Dino, 60th anniversary of DeTomasa Automobili and 70th anniversary of the Abarth brand.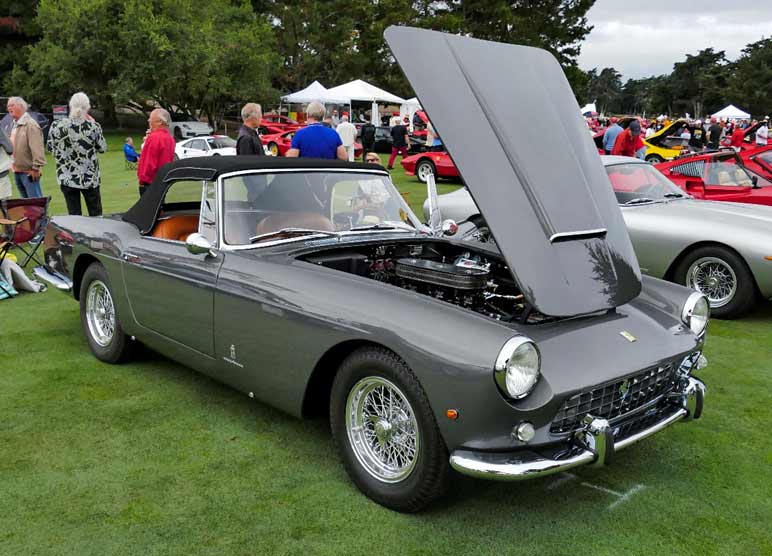 Conspicuously a late model Fiat 500L was on display and I don't know if that particularly pleased anyone, but the smart cheeky "New" Fiat 500 Abarths and even the Pops bring smiles to lots of Carnuts. The vast array of Fiats was staggering, but the Best of show was properly awarded to the 1960 Ferrari 250 GT II Cabriolet of Ron Corradini.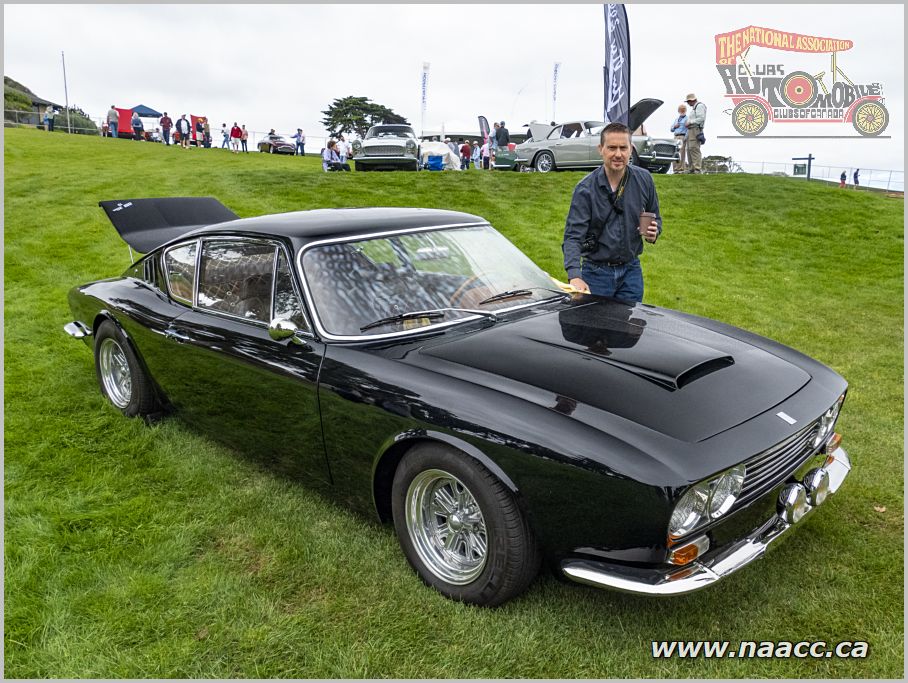 Of course such an iconic beauty should of won the award, but I look forward to seeing the odd ducks at this show. There are so many cars from Italy and some partially Italian that test your knowledge of Automobiles. The one amazing car that I had never seen before was the 1967 OSI-Ford 20M TS Sports Coupe. I had to look up the name when I got home to find out OSI, "Officine Stampaggi Industriali", means roughly "Industrial Stamping Workshops." Part Ford, Part Belgian and part Italian it was powered by the 2.0-liter V6 engine from the soon to be discontinued Ford Taurus and some had a larger 2.3-liter V6. Designed by Ghia's own Sergio Sartorelli, who also designed the Type 34 Volkswagen Karmann Ghia. Less than 1,300 were made and online sources claim fewer than 200 exist.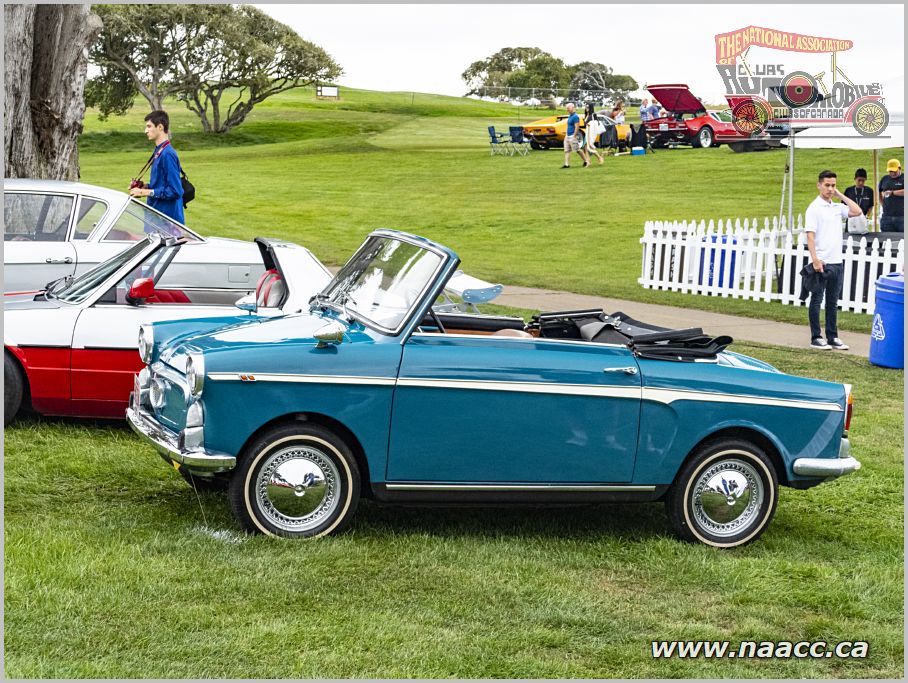 Another gem was the circa 1965 Autobianchi Bianchina Cabriolet that I had to "call a friend" to find out what type car it was as the owner was nowhere to be found and there was no window card. The Bianchina was built from 1957 to 1970 by the Italian firm Autobianchi, owned jointly by Bianchi, Pirelli and Fiat, they went into production in 1955. Based on Fiat models, they were priced higher and used by Fiat to test out front wheel drive and fiberglass bodies. Cars were built by Autobianchi until 1995.
Another Fiat was the 1970 Fiat 500 "My Car" "Eleganza in Cromo e Legno" or rather Elegance in Chrome and wood. The "My Car" was modified by Northern Italian Coachbuilder Carlo Franci Lombardi and it has the "My Car" badging on the hood and dashboard as well as his initials "FF" throughout the car. A wooden "Ferrero" steering wheel, chrome hubcaps and other chrome accents finish off this quirky little gem.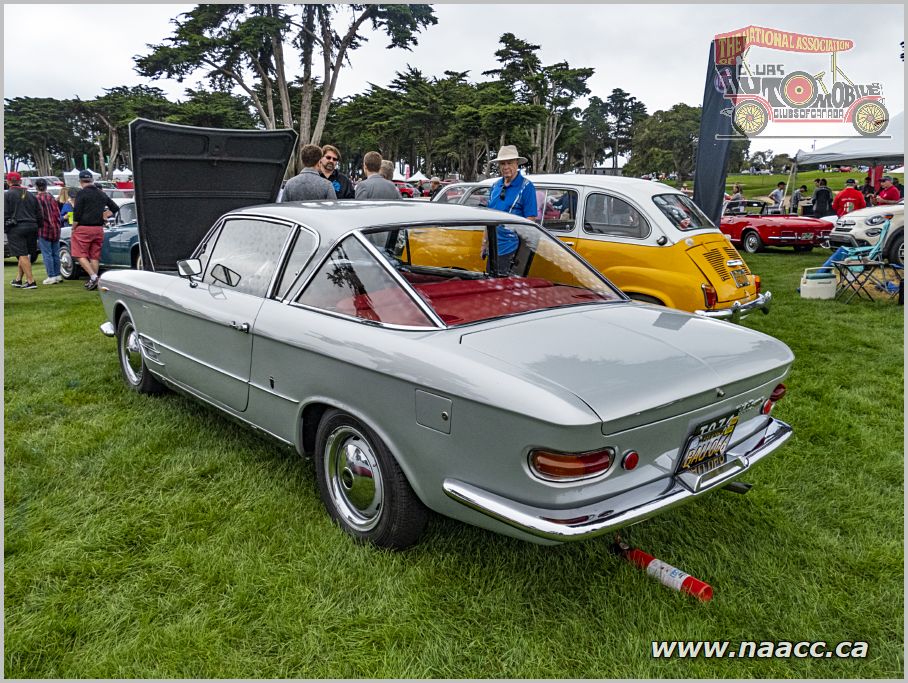 The complete opposite from the "My Car" is the 1966 Fiat 2300S Coupe of Tom & Laura Gilman. Styled by Ghia and produced from 1962 to 1968 it was twice the price of a Jag XK-E. This "S" version came with a Lampredi 2279 cc straight 6 cylinder producing 136hp. The cars had twin cards, 4 wheel disc brakes and fully synchromesh 4 speed transmissions. This car was in Italy until early 2018.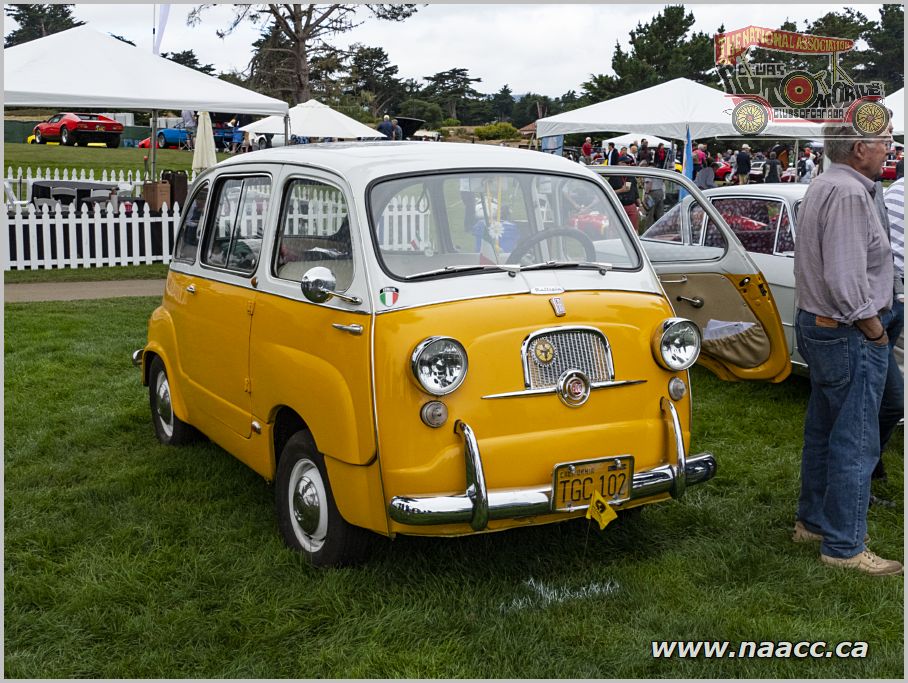 A 7 passenger 1958 Fiat Multipla based on a Fiat 600 chassis is not going to win any drag races, but is glorious in it's two tone livery. 35hp is all that was needed back in the day to take your whole family out on the town!
The Fiat X/19 was well represented with some later Bertone versions on display as well. One car had it original "window sticker" and it was interesting to read all the standard equipment that came with the car. The 1978 version came with 4 wheel independent suspension, 4 wheel disc brakes, integral roll bar, removable roof panel that although seem common today were very cutting edge in the late 70's.
There was a good selection of Triumph Italias which are basically coachbuild Triumph TR-3's produced for the Italian Market. The local Italian Triumph importer wanted a car with rollup windows and other refinements so he had TR3 chassis fitted with the Italia Bodies. The design clearly influenced the TR4 that followed.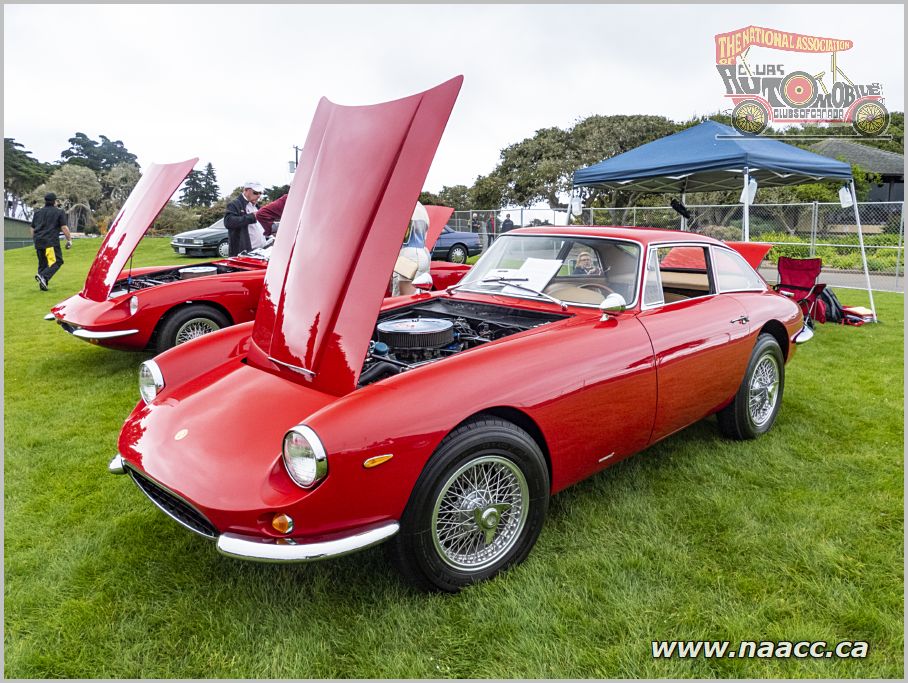 Another hybrid is the 1967 Apollo GT Coupe. Californian Milt Brown thought of combining the new 1961 Buick Special's drivetrain and his love of Italian GT's. He approached Frank Reisner owner of Carrozzeria Intermeccanica from Turin. From an original design by Ron Plescia, somewhat cleaned up by Franco Scaglione, designer of the BAT Alfas, the car rode on a chassis of Brown's design using the Buick mechanicals. Although well liked it was financially a disaster. Another Intermeccanica on display was the rare Intermeccanica Italia.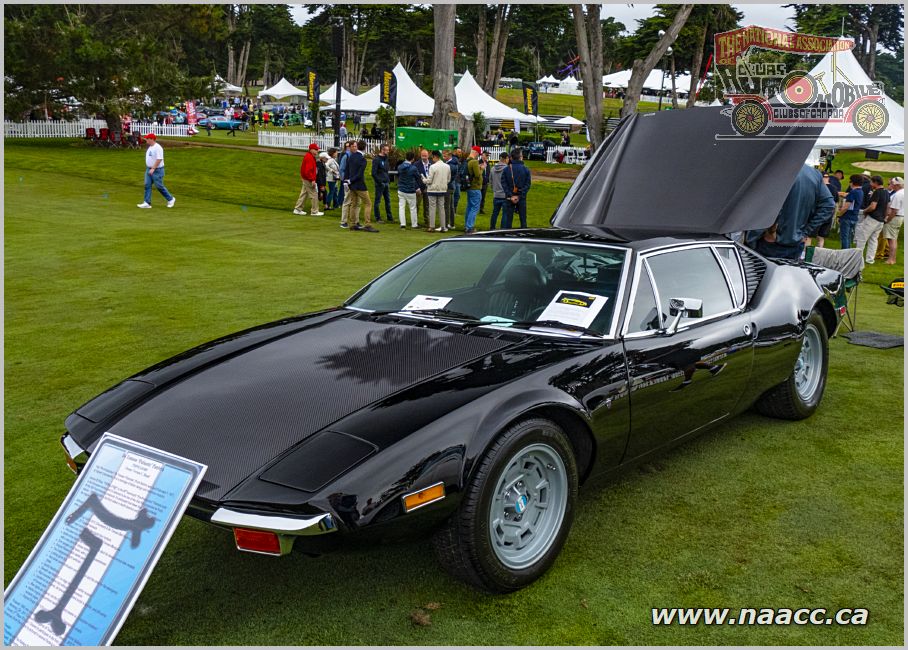 A more successful hybrid was the DeTomas Pantera which sold in Ford's Lincoln Mercury dealerships. Powered midship by a 351 cu. In Ford V8 and backed by a zf transaxle the cars were the not quite rich, but trying, man's Ferrari. One car one display was an early model with it's push button door latches and was built Feb 1st 1971 at the Vignale Coachworks. Bearing the ID plate of THPNLL01089, this car was the 89th hand built "pre Production Panteras sold in Europe. 285 of the early push button cars were produced and this car has the original Pantera "Radio Delete" panel and Italian gauges with the 300 kmh speedometer.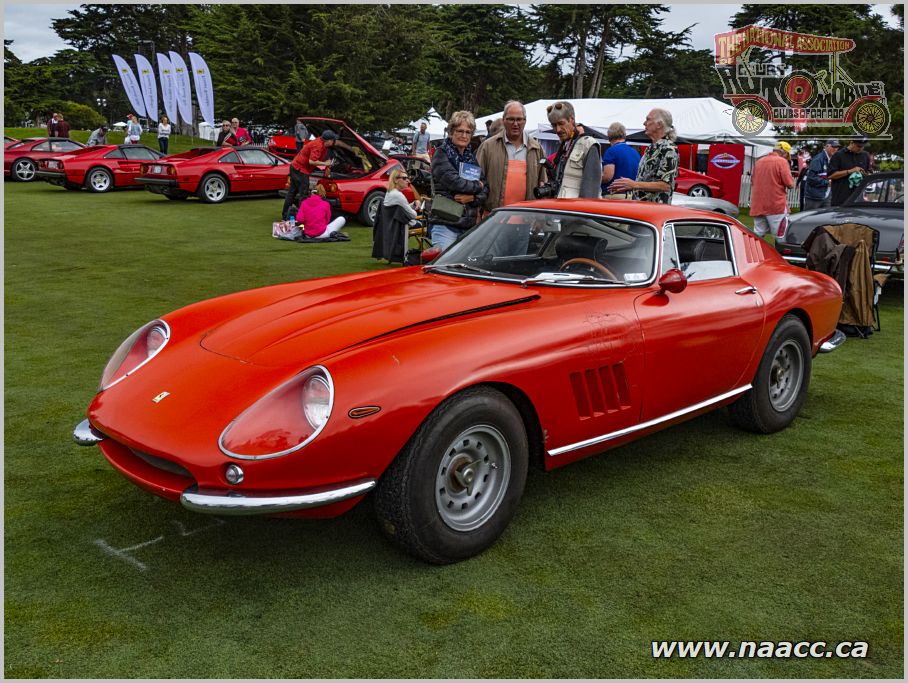 A car I had seen the year before in a parking lot was a "patina" 1967 Ferrari 275 GTB/4 shown proudly with all the over the top restored Ferraris at the show. Tom Mingle bought the car with a fresh spray of paint in the early 70's and started to take the engine apart to rebuild it. After decades in boxes the car and its parts were taken to a shop for a proper rebuilding…but retains it glorious patina from it's aging paint. It is a real crowd pleaser.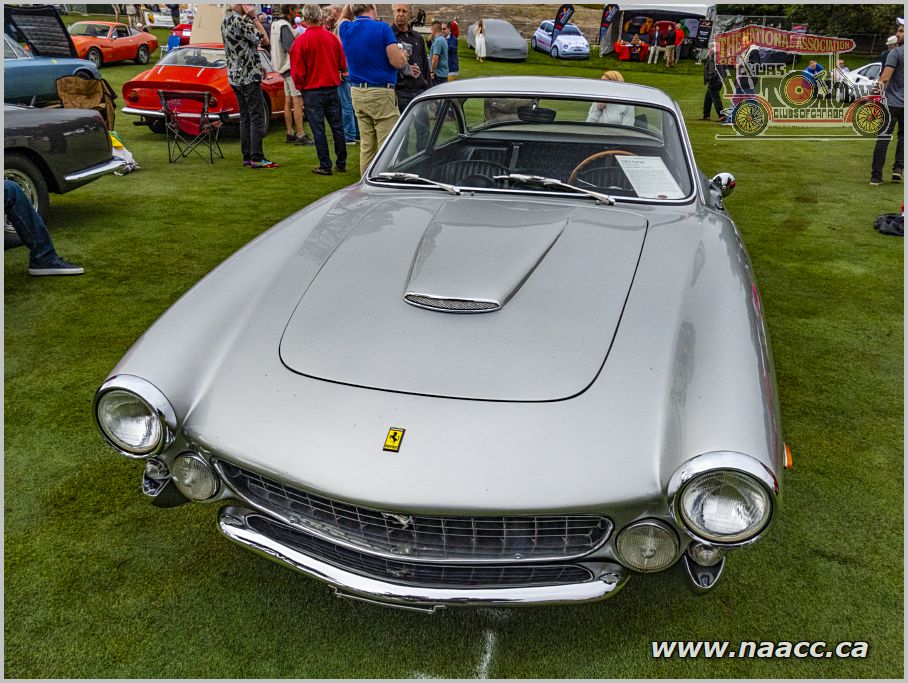 Of course it was not the only Patina car. A 1963 Ferrari 250 GT Lusso had a mechanical restoration but the Scaglietti body was original. Approximately 300 Lusso of the 350 originally built are thought to still exist, astounding.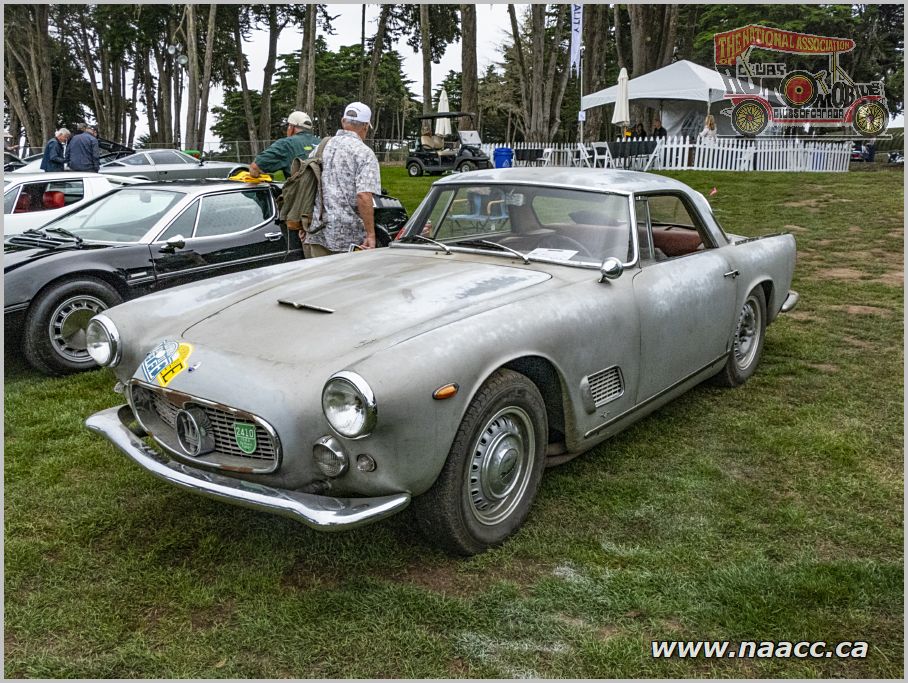 In the late fifties Maserati staked it's great reputation as a builder of race winning cars on building road cars. This 1961 Maserati 3500 GT has a tube frame chassis and a hemi head straight 6 aluminum 3.5 litre with 217 bhp from 3 Weber carbs or 232bhp from Lucas fuel injection. A ZF s4-17 4 speed was used in early models with a 5 speed ZF S5-17 used on the later models. The early cars started with Finned Girling drums, then disc only on front and finally 4 wheel discs. Production was from 1957 to 1964.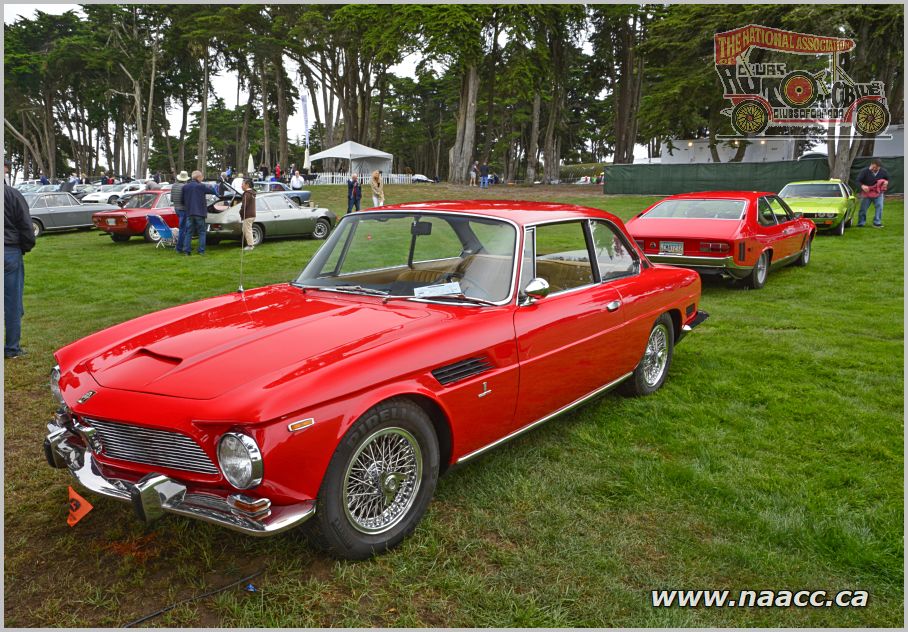 A very similar car…from a distance is the Iso Rivolta GT. Powered by a Corvette L79 327 cu.in. V8 these cars were the ultimate small marque GT cars of the era. Styled by Bertone.
Phil White's 1952 OSCA MT 4 LM Le Mans, raced at the 1953 Le Mans winning its class by five laps. Designed by Michelotti with scalloped fenders the car had unique features for racing…no fan, rear vents to dissipate heat and a tool kit for on track repairs.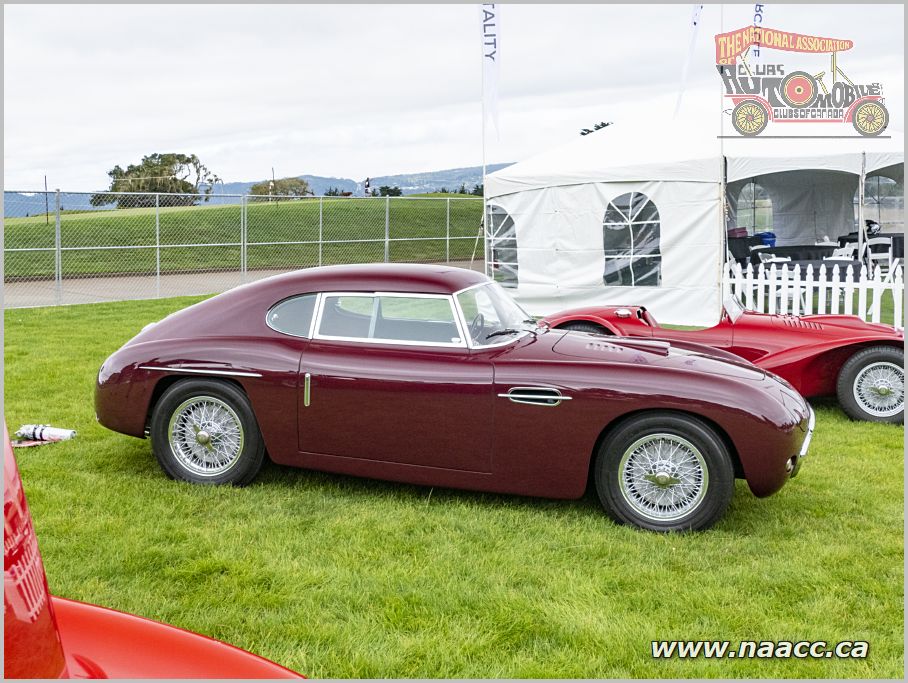 The 1954 Siata 208 CS had Carrozzeria Balbo Coachwork as well as a Fiat 8V engine with two weber Carbs. Founded in Turin by Alfonso Balbo, it operated from 1914 to 1954 and built Limousines, coupes, convertibles and lighter commercial vehicles. After WWII the built a number of Alfa Romeo 6C 2500 but shut down in 1954.
A few lamborghini Countachs were on display included on of the 151 first generation LP 400 "Periscopio" cars built from 1974 to 1978. The roof mounted rear view mirror was viewed through an opening in the roof hence the name periscope Countach. The Countach had a longitudinally mounted engine to ease the cabin noise that plagued the Muira. First shown at the 1974 Geneva Auto show it was a truly unique design for a road car of that era.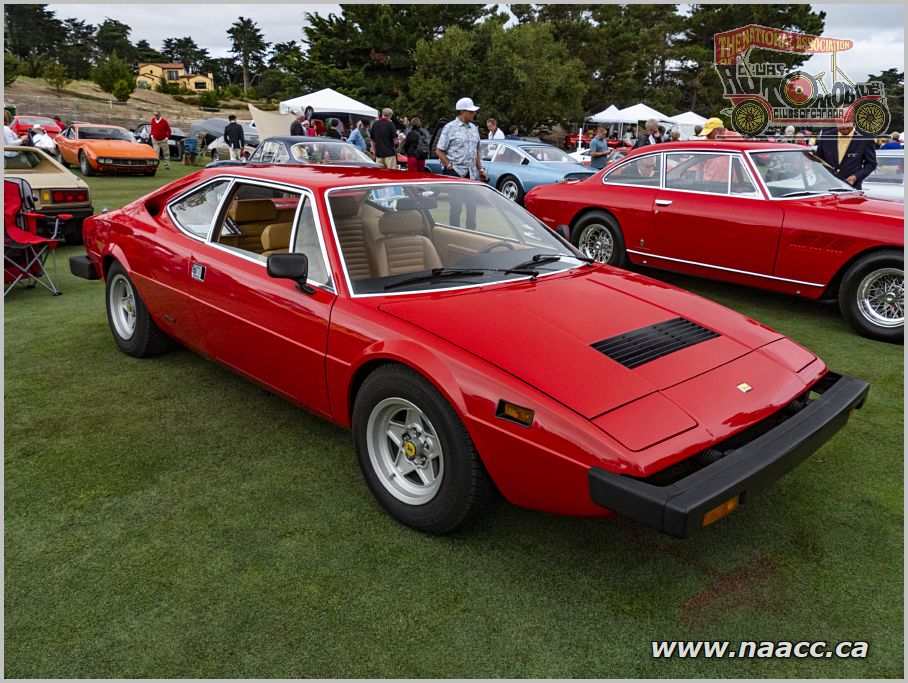 The early 70's also saw the 1974 Ferrari Dino 308GT4 owned by John McCoy. This car was sold new in Central California and the GT4 is the first of the mid engine V8 cars that have proven so financially successful for Ferrari to this day. Interestingly the Dino badging was used on non v-12 road cars and with the introduction of the Ferrari 308 GTS and GTB in 1975, the dino GT4 got Ferrari badging in 1976.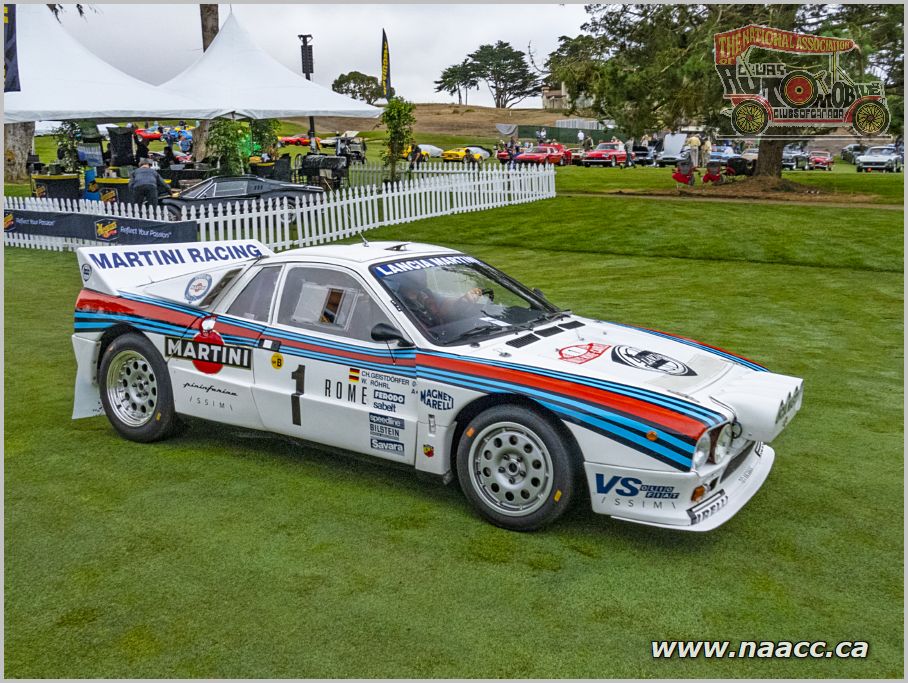 In the downright crazy category we have a 1983 Lancia Monte Carlo works Group B car originally driven by Walter Rohrl. Campaigned in the WRC(World Rally Championships) this car is spectacular in it's Martini Livery.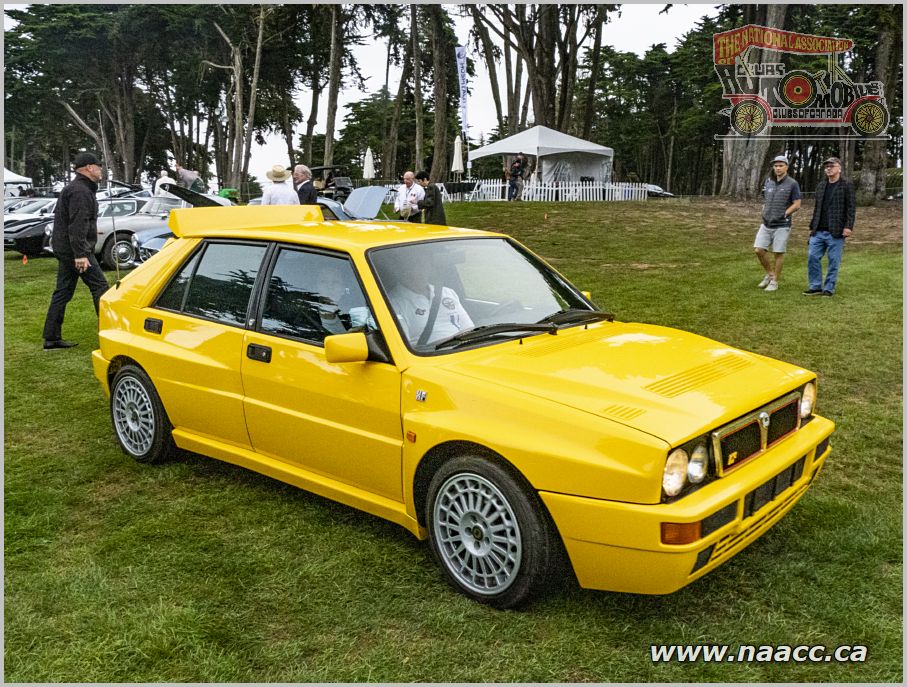 Another newer classic was the 1993 Lancia Delta Integrale EVO 2 owned by Joseph Gabany. Also newer but awesome is the 1992 Ferrari Testa Rossa named the Beast. The owner makes the car available for any "make A wish" type events and loved for kids to sit in it and be photographed.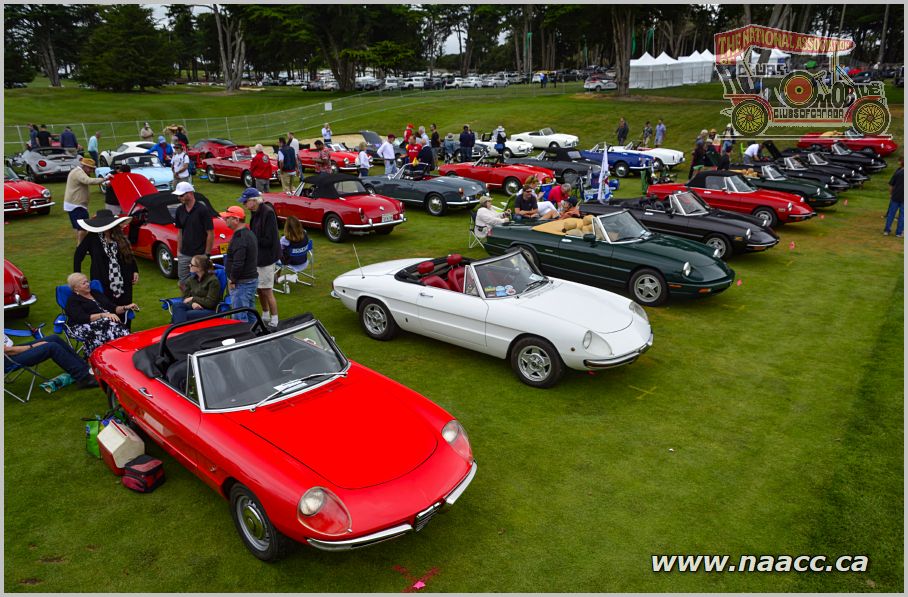 The cars were great but the owners of the cars really make the show and the passion they have for all things Italian is infectious! I look forward to what the 2020 event has to show us…Bella Vida!
The 2020 show is on August 15th and is the 35th year of Concorso Italiano. It will be held at the Black Horse Golf Course and will feature the 30th anniversary of the Lamborghini Diablo as well as the 70th anniversary of the Lancia Aurelia.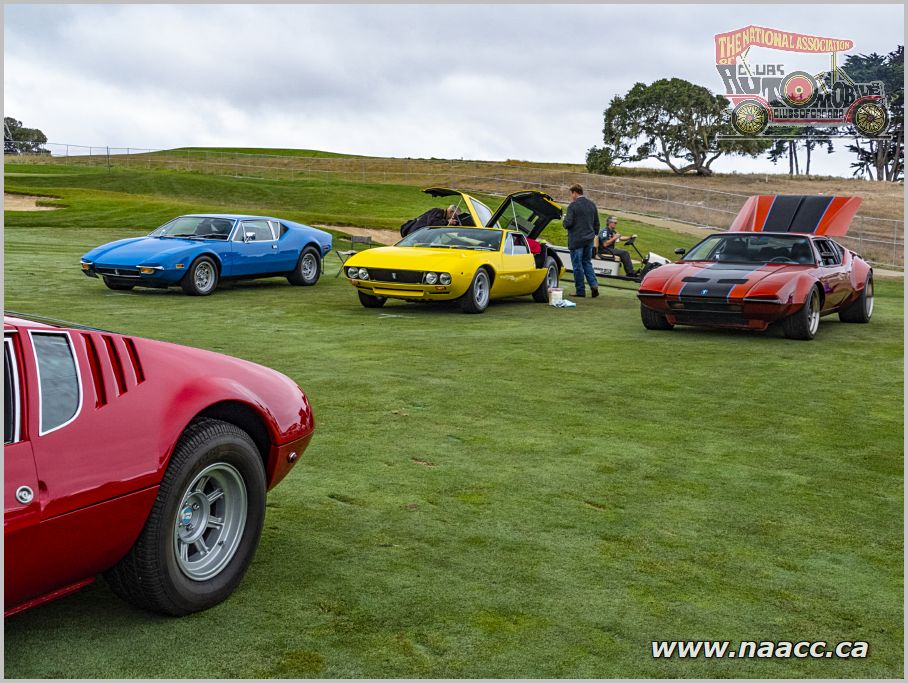 2019 Awards
Best In Show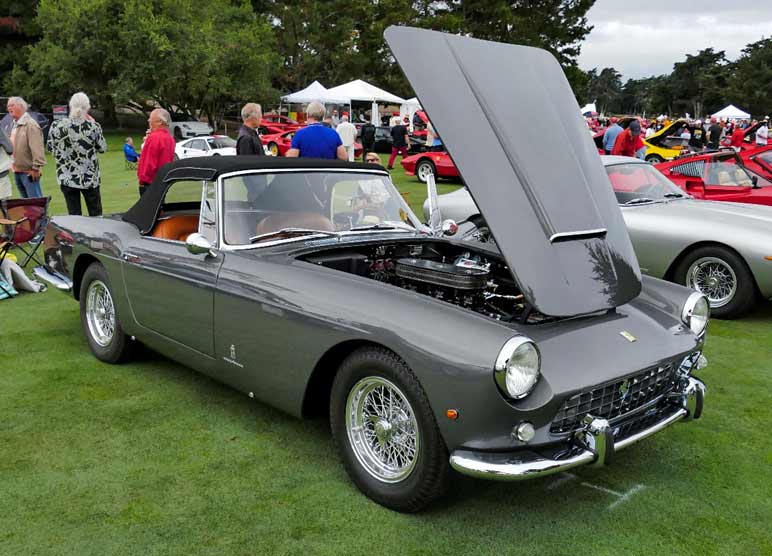 1960 Ferrari 250 GT Cabriolet
Owned by Ron Corradini
Newport Beach, CA
Lancia
1967 Lancia Fulvia Sport
Owned by Norman Schutzburger
Santa Cruz, CA
1966 Lancia 1.2 Fulvia HF
Owned by Leif Neuman
Lincoln, CA
1977 Lancia Scorpio VX
Owned by Tom McGaffigan
Saratoga, CA
Motorcycles
1972 MV Agusto
Owned by Moto Talbott Collection
Carmel Valley, CA
1976 Laverda 750 SFC
Owned by Moto Talbott Collection
Carmel Valley, CA
2014 Retro Racing Land Speed Racer
Owned by Albert Didier
Vertou, France
Iso & Bizzarrini
1974 Iso Lele
Owned by Mike Clarke
El Dorado Hills, CA
1967 Iso Rivolta 300GT
Owned by Joe Sully
San Mateo, CA
1967 Iso Grifo
Owned by Chris & Cheryl Schlander
Modesto, CA
Fiat / Abarth
1959 Fiat 1200 TV Transformabile
Owned by Alex & Amy Haugland
Eugene, OR
1960 Fiat 1200 Cabriolet
Owned by Kenneth Bürgi
Newport Beach, CA
1964 Fiat 1100 D
Owned by Dee Dhaliwal
Diablo, CA
Special Coachworks
1952 OSCA MT4LM
Owned by Phil White
Portola Valley, CA
1954 Siata 208 CS Bertone Spyder
Owned by Raffi Najjarian
Brisbane, CA
1960 Triumph Italia 2000
Owned by Ben Cohen
Tucson, AZ
DeTomaso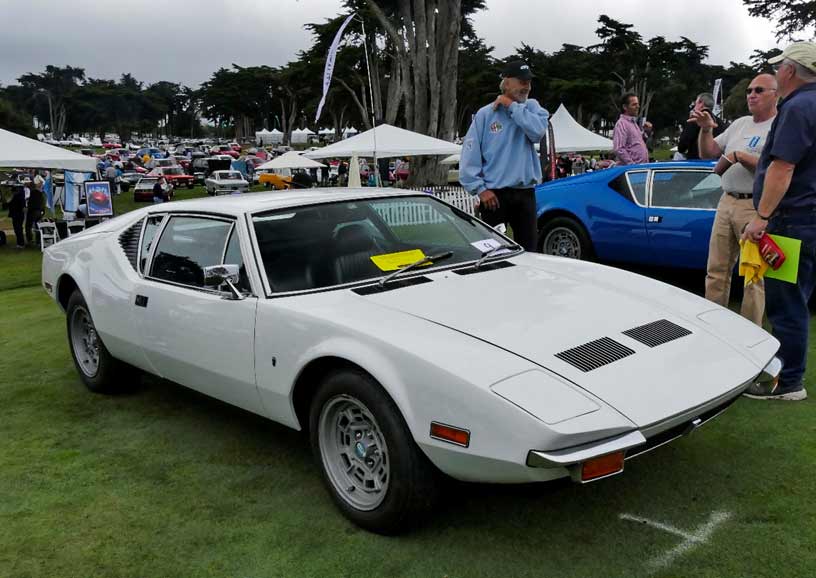 1971 Pantera
Owned by Greg Mitchell
Coos Bay, OR
1974 Pantera L
Owned by Liz & Dennis Valdez
San Jose, CA
1971 Pantera
Owned by Vernon Bland
Mansfield, TX
Lamborghini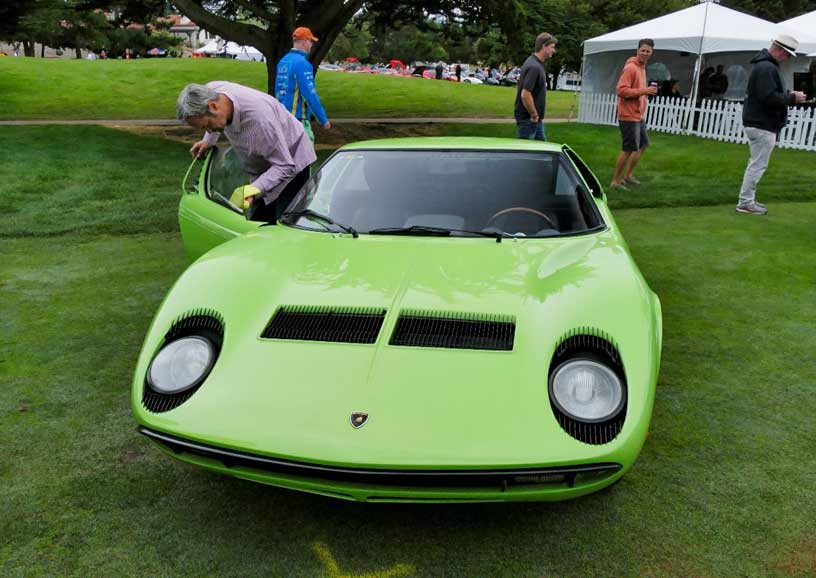 1967 Lamborghini Miura P400
Owned by Chris Papamichael
New Orleans, LA
1994 Lamborghini Diablo SE30
Owned by 1994 Lamborghini Diablo SE30
Anchorage, AK
1966 Lamborghini 400GT 2+2
Owned by Dr. Raphael Gabay
Philadelphia, PA
Maserati
1967 Maserati Ghibli Coupe
Owned by Ron Corradini
Newport Beach, CA
1980 Maserati Merak SS
Owned by Bruce & Renée Wagner
Salinas, CA
1977 Maserati Khamsin
Owned by George & Bobbie Andreini
Portola Valley, CA
Alfa Romeo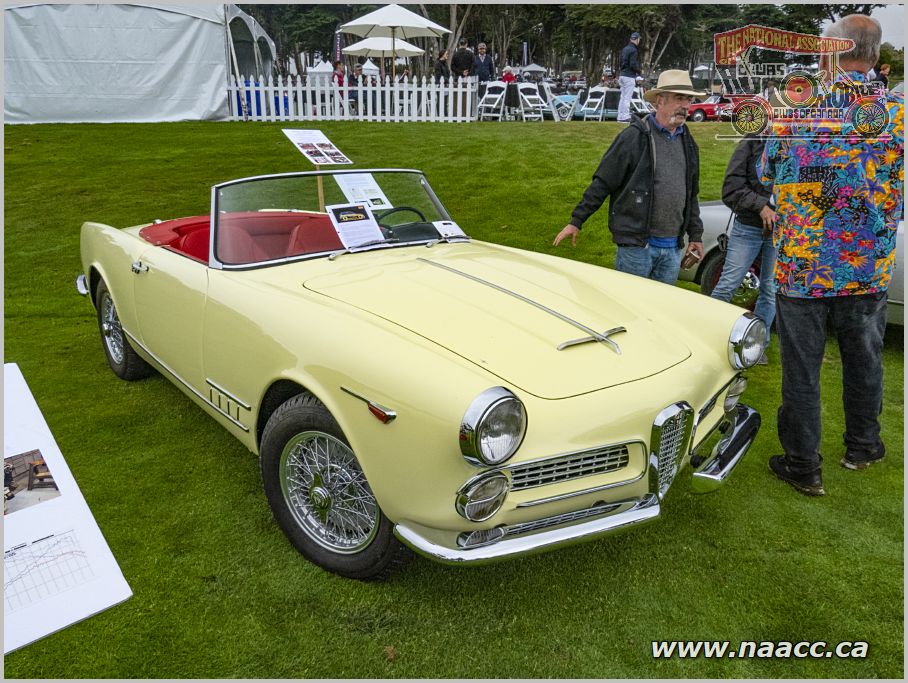 1960 Alfa Romeo 2000 Touring
Owned by Don Peterson
Carson City, NV
1973 Alfa Romeo GTV
Owned by Charles Fulop
San Marcos, CA
1959 Alfa Romeo Giulietta Sprint
Owned by David Salvador
Portland, OR
Ferrari
1960 Ferrari 250 GT Cabriolet
Owned by Ron Corradini
Newport Beach, CA
1974 Ferrari 365 GT4 BB
Owned by Michael Foertsch
Houston, TX
1972 Ferrari GTC/4
Owned by James Bonney
Carmichael, CA
Photo Gallery