The 33rd Concorso Italiano – Bayonet Black Horse Gold Course in Seaside, California had a great selection of the cars that made Italy famous and celebrated the 50th Anniversary of the Ferrari Daytona, the Lamborghini Islero and Espada. Wandering around the 1,000 Italian cars was a perfect way to spend Saturday morning of Car Week in the Carmel/Monterey area.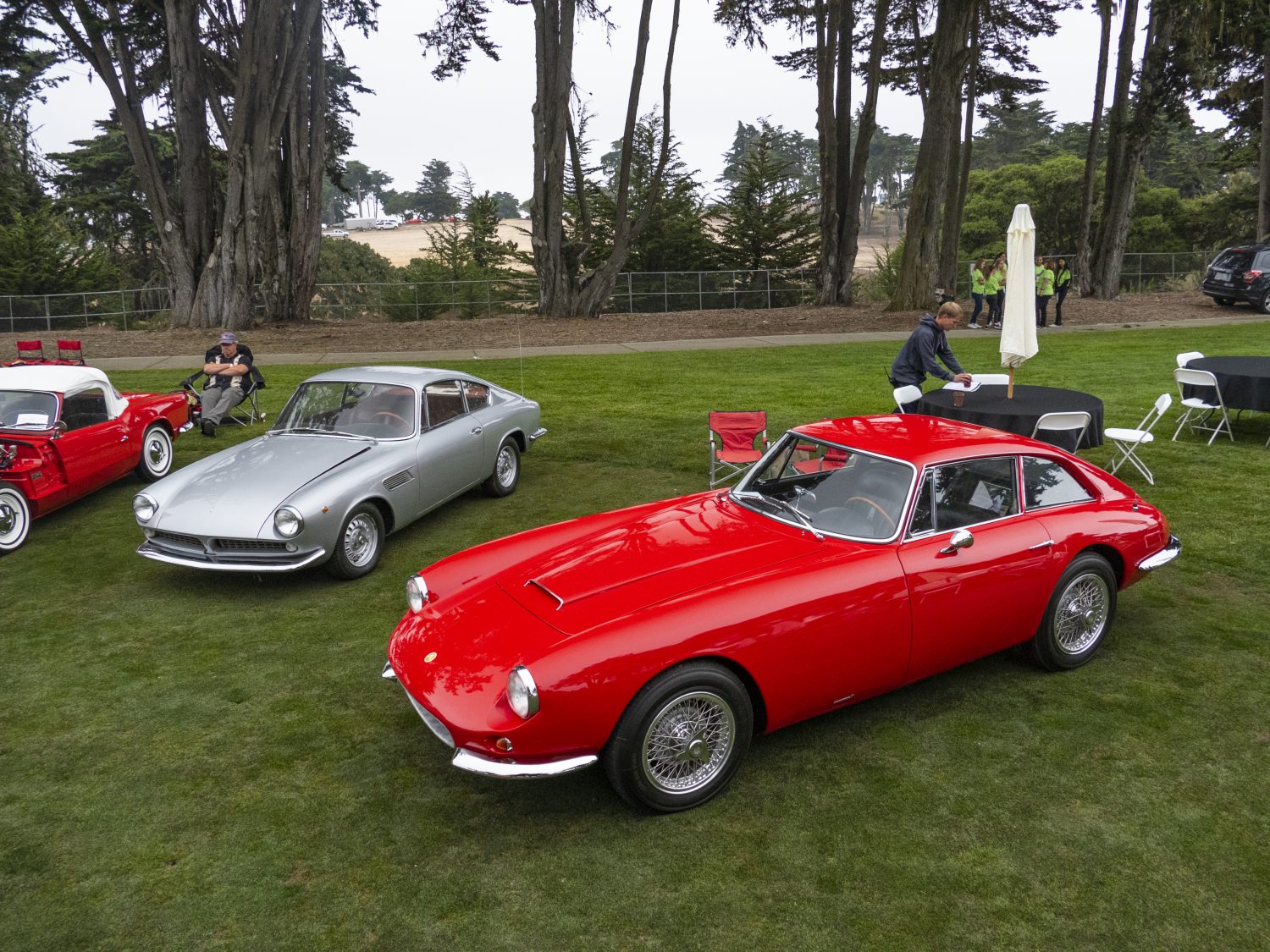 One of the first cars we saw as we entered the field at some crazy early hour as we were some of the first media there, was an Apollo GT. Technically an American automobile manufactured in Oakland California from 1962 to 1964. With Milt Brown as engineer and a Ron Plescia designed handcrafted body from in Italy. Both convertibles and fastback coupes were built powered by either a Buick 215 or 300cu in V8 with 4 speed manual transmissions.
Intermeccanica was started by Frank Reisner, who was Hungarian born but raised in Canada and got his education as a chemical engineer in the U.S. While on Vacation in Italy in 1959 he decided to move to Milan and set up shop making tuning kits for Peugeots and Renaults.
Meeting Milt Brown at the 1960 Monaco Grand Prix, Brown expressed his desire to built an European style GT car in America. A deal was struck for Intermeccanica to build Bodies with full interiors and ship them to California for Brown to have the drivetrain installed.
International Motor Cars, IMC sold 40 coupes, one convertible and the Prototype. Production was stopped after 42 cars due to financial concerns and then started again under the Vetta Ventura name by the new owners, Vanguard Motors of Dallas Texas. 90 cars were built in total.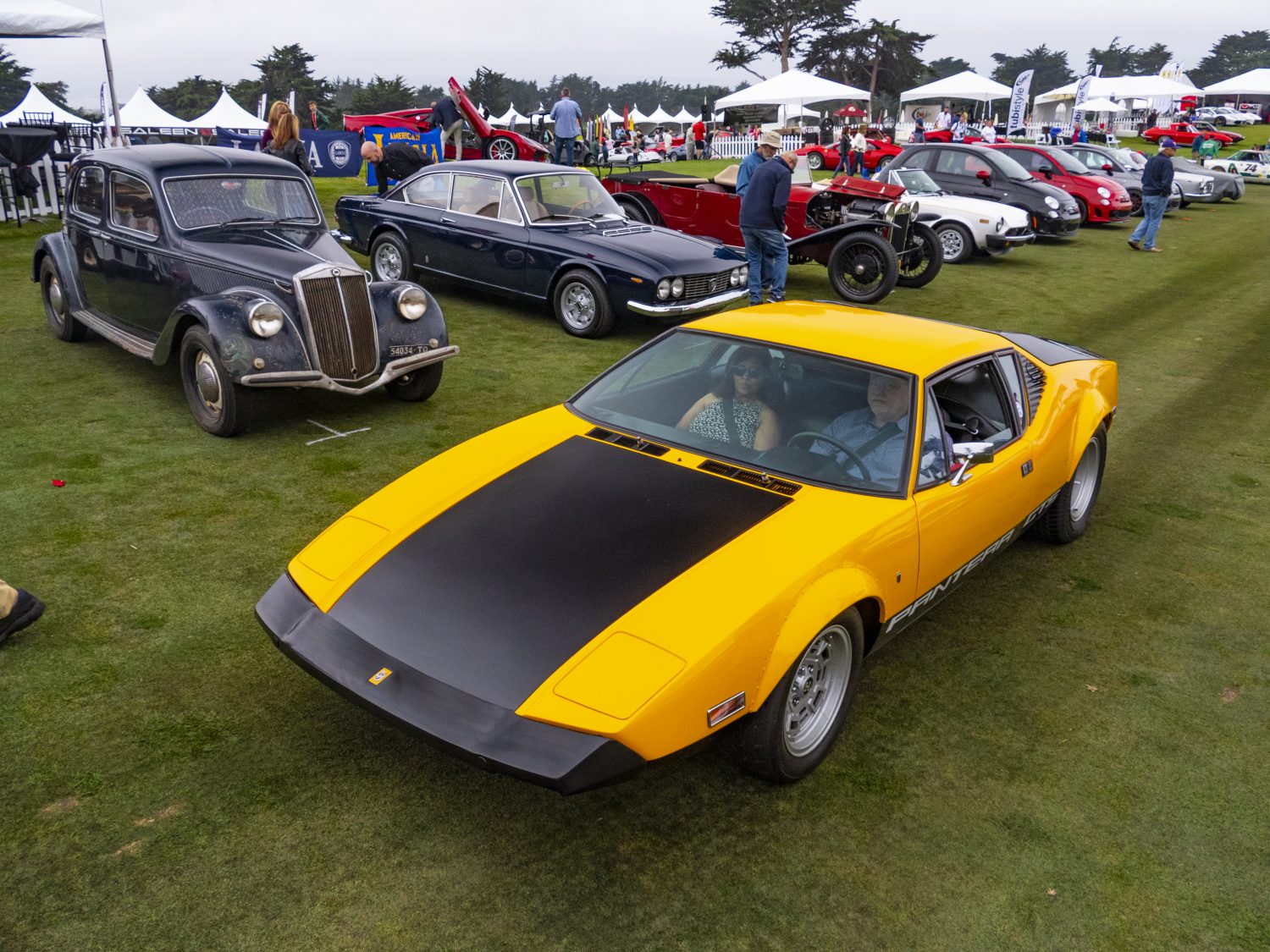 The next big grouping of cars were the fantastic Panteras and they rolled in throughout the morning…when you drive a mean old Pantera, you roll in whenever you feel like it! As most Canadians know our famous donut king Tim Horton drove a Pantera. The Maseratis were next and many fine examples of them were present. I certainly have a soft spot for the Maserati 3500 GT as it's design along with the BMX 3.0 CS, Iso Rivolta is to me, the most pleasing design of a personal luxury "go Fast" set of wheels possible!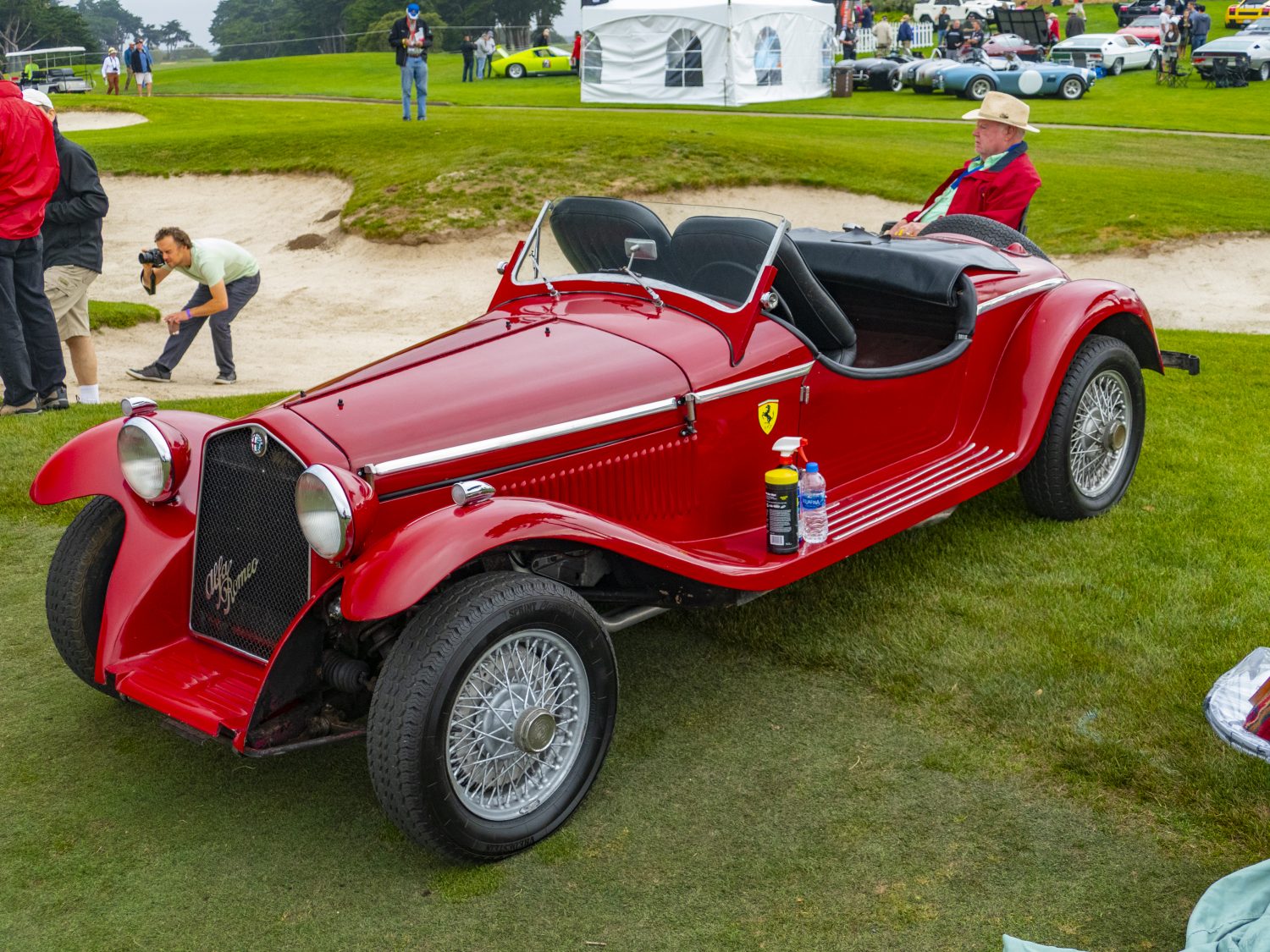 One of the highlights for us was being able to help change the battery on a cool little Alfa Romeo that was modeled after their famous F1 cars of a bygone era, but built with modern 1960's Alfa running gear. The couple that owned it had come to the show but with serious battery issues and their health issues were making changing the battery quite an ordeal. I had brought my Brother Jeff with me and he jumped in and changed the battery with no problems, earning good Karma points as well.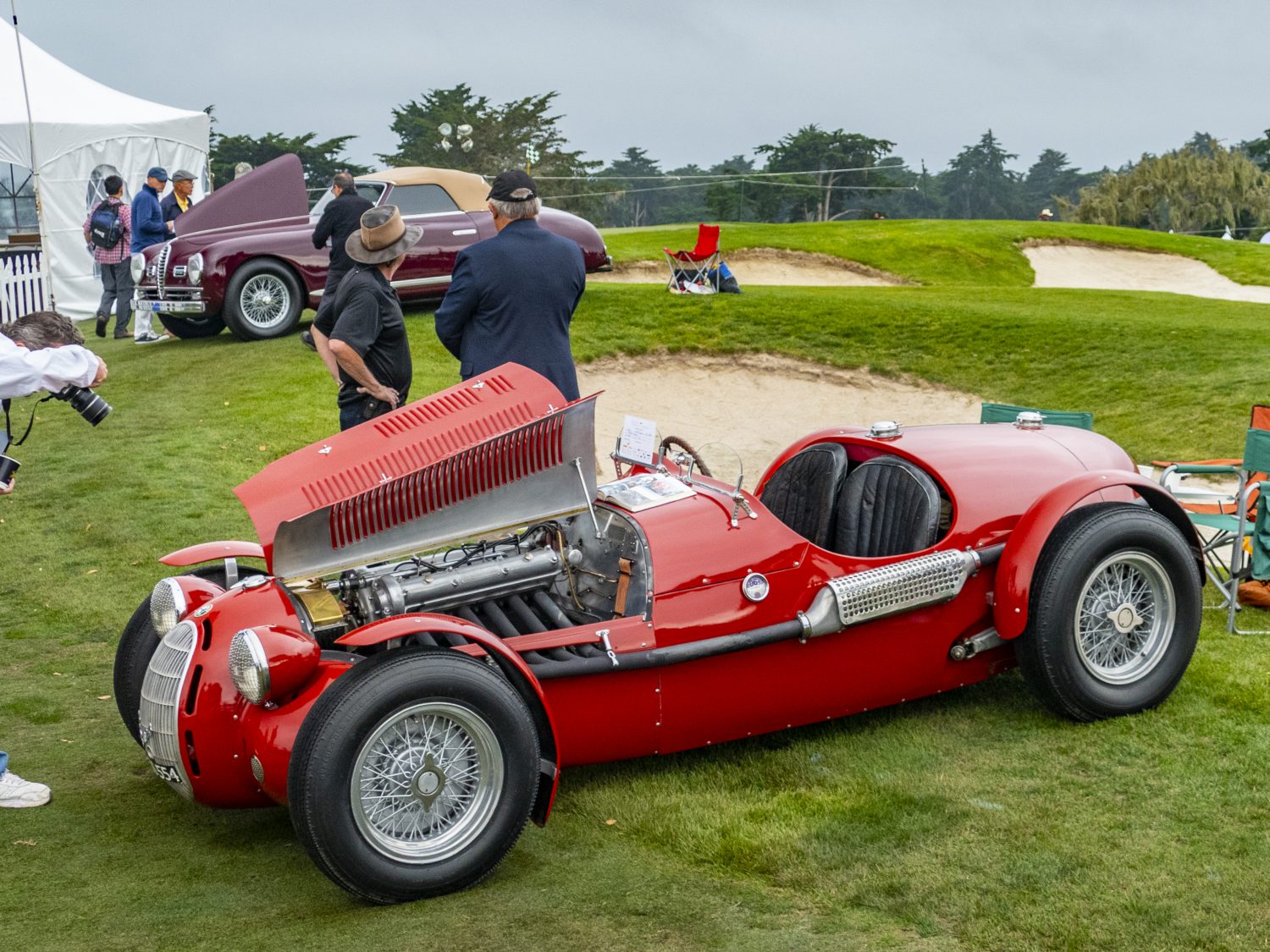 We also saw a cool little car built for an English Lady racer who was not even 5 feet tall so all the controls had been built for her. She went on to set a hillclimb record in England that held for years in her 1936 Alfa Romeo 6C 2300 now owned by Roberto Assael of El Paso Texas.
Another English connection was the Triumph Italia. Italian Designer Giovanni Michelotti took the ungainly TR3 and had the coachbuilder Vignale rebody them with elegant coupe bodies that obviously influenced the deign of the future TR-4's.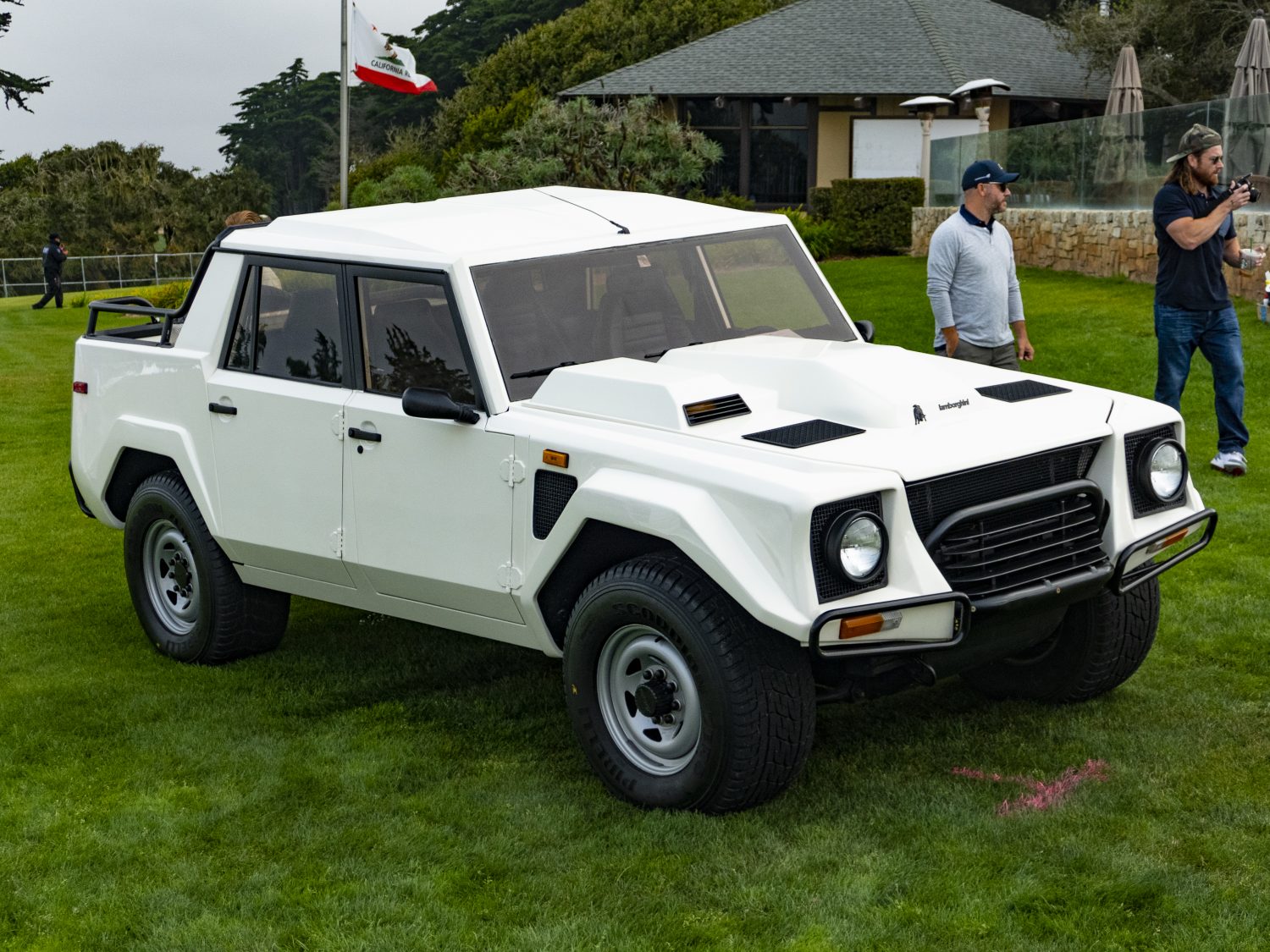 It is always a good day when you get to see a Lamborghini SUV, especially when it is an infamous Lamborghini LM002. Based on the Cheetah and the LM001 that were developed for military use and had rear mounted American engines. The LM002 is a front engine V12 which was built from 1977 to 1993 and sold over 300 of the Lamborghini Militaria series. The Civilian models, nicknamed the Rambo Lambo after the Sylvester Stallon movie were luxurious. Including leather, air conditioning, tinted electric windows and a roof console mounted premium sound system. Pirelli made Scorpion tires that were run flat and the thirsty V12 required a 45 US gallon gas tank.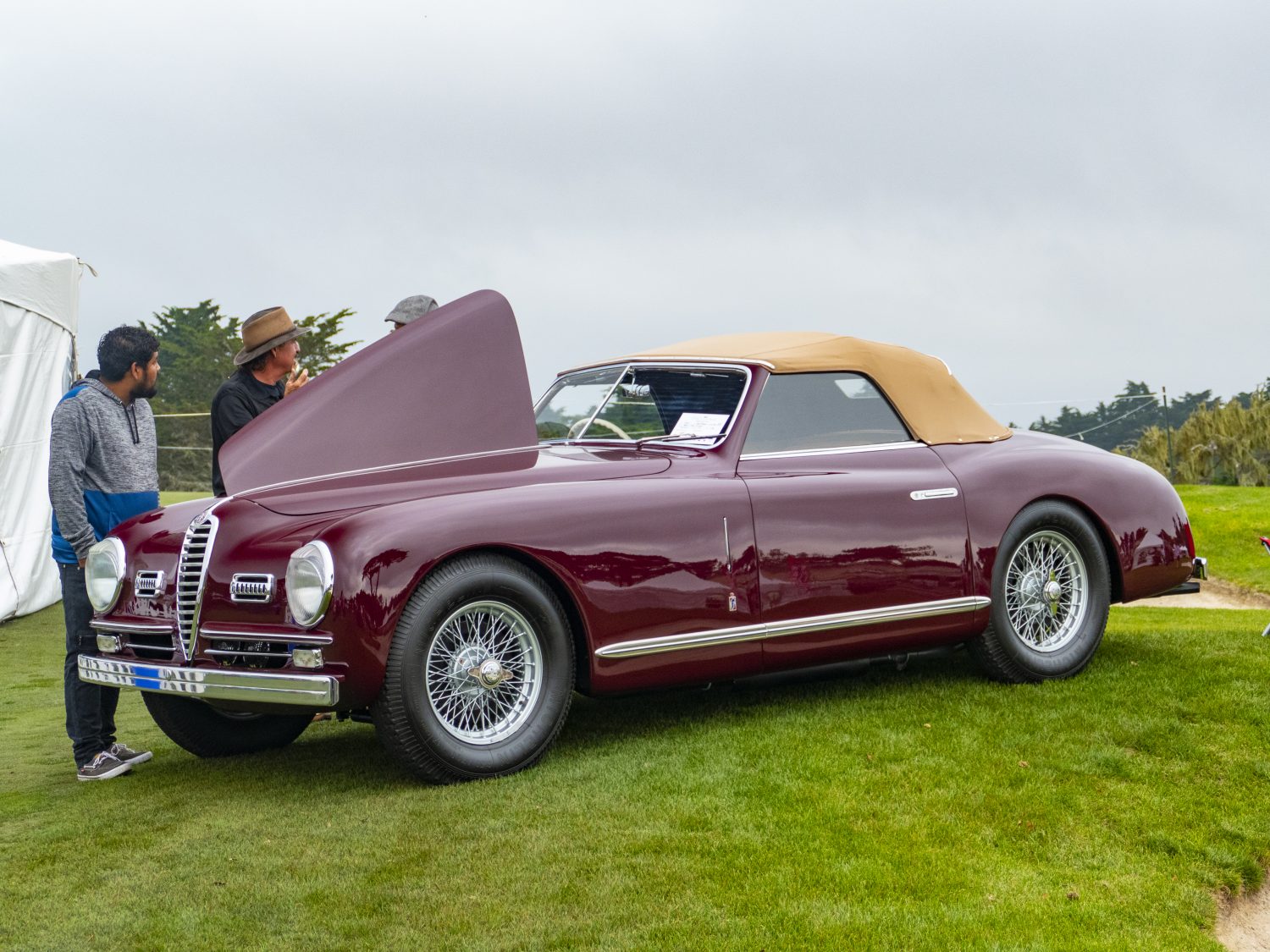 Best of show went to the 1951 Alfa Romeo 6C 2500 Super Sport, the last 6C cabriolet built and owned by Herb and Rose Wysard of Fullerton, CA. Another crowd favourite was the 1968 Alfa Romeo Giulia Ti "Polizia" that was a sedan in Police livery as a tribute to Alfa's role in the Italian police forces throughout Italy. The Giuila was advertised as "The family car that wins races."
With the success of "New" versions of iconic cars like the Fiat 500, The "New" Stratos based on a Ferrari F430 was a pleasing homage to the original Stratos. The show was a huge success and getting there early was helpful when photographing the cars on the field. I will definitely have this on my list of shows for the 2019 season and the 34th Concorso Italiano will be held on Aug 17 2019.
Following is, in no apparent order, some of my highlights from the show.
Another rare and pleasing car was the ASA 1000 GT with a body designed by Bertone's Giorgetto Giugiaro it was poised to take the elegant small cars of Italy to a higher level. The chassis was from the designer of the Ferrari 250 GTO, Giotto Bizzarini. Built from 1962 to 1967 the 94 hp 1 litre 4 cylinder is basically one third of the GTO's V12 Columbo engine.
As a Canadian the overwhelming variety of different Fiat models is staggering. To see the 1973 Fiat 130 Coupe powered by a 3.2-liter Fiat V-6 engine with a Pininfarina design was built for the more well heeled Europeans and were not sold in North America.
1936 Alfa Romeo 6C 2300 owned by Roberto Assael of El Paso, Texas
The name Alfa Romeo 6c was used from 1927 to 1954 on a variety of Road cars but also on sports cars and even race cars. Referring to a straight 6 engine followed by the engine size of 2300cc. This 1936 Alfa Romeo 6C 2300 was built from 1934 to 1937 based on Vittorio Jano's design. Becoming state owned in 1934 Alfa Romeo was struggling through the depression as all manufacturers were. The chassis followed earlier versions, but for 1935 the 6C 2300 B was introduced with a completely new chassis comprising of independent front suspension and rear swing axle and hydraulic brakes. 760 samples of the first gen were made followed by 870 of the "B" models.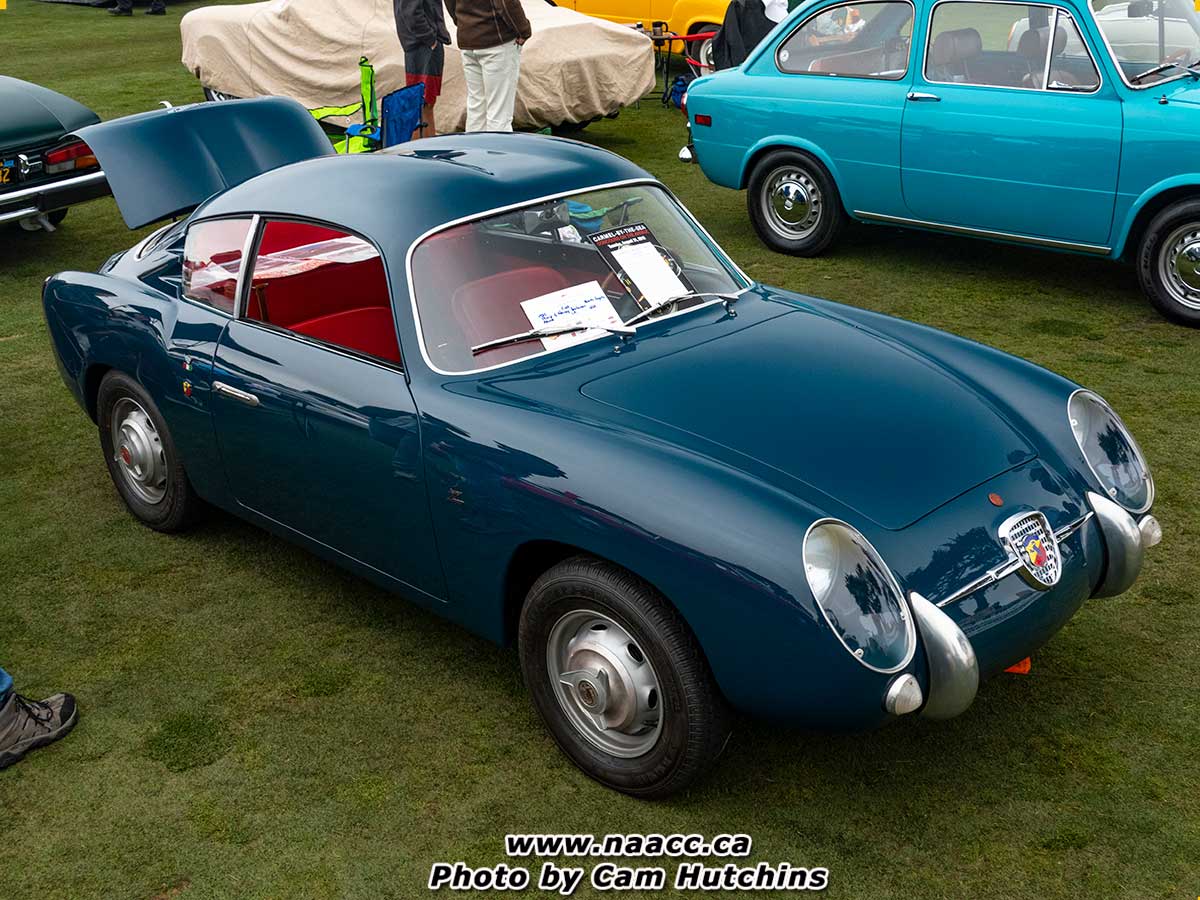 Built on exiting floorpan of Fiat 600 cars, Abarth modified engines and also offered custom bodied variants from Zagato and Allemano.
The Lamborghini Islero was introduced in 1968 at the Geneva Auto Show and although it's hidden headlights and square body seemed tame compared to the Muira, it's large interior and air conditioning appealed to a different customer. Ferruccio Lamborghini had hired former Touring designer Mario Marazzi and worked closely with him on the design.
Based on the 400GT 2+2 the Islero retained the square tube chassis and while keeping it's wheelbase the larger wheels and tires meant a wider track width. The V-12 produced 325 hp and had a 5 speed fully synchro manual transmission. The Islero S had a top speed of 160 mph, it's v12 produced 350 horsepower and allowed the car to run 0-60 times of 6.2 seconds. Lamborghini liked naming cars after a Bull, Islero was a Miura Bull that killedMatador Manuel Rodriguez in 1947. The car was built in 1968 and 1969 before being replaced by the Jarama. Only 125 Isleros were built along with 100 Islero S versions. The updated "S" had some styling tweaks as well as more power. Chrome slots on the front fenders, round side marker lights replaced the teardrop shal=ped lights, tinted glass, slighlt flaring of the fenders and a larger hood scoop.(Interestingly the hood scoop provided air for the passengers not the engine!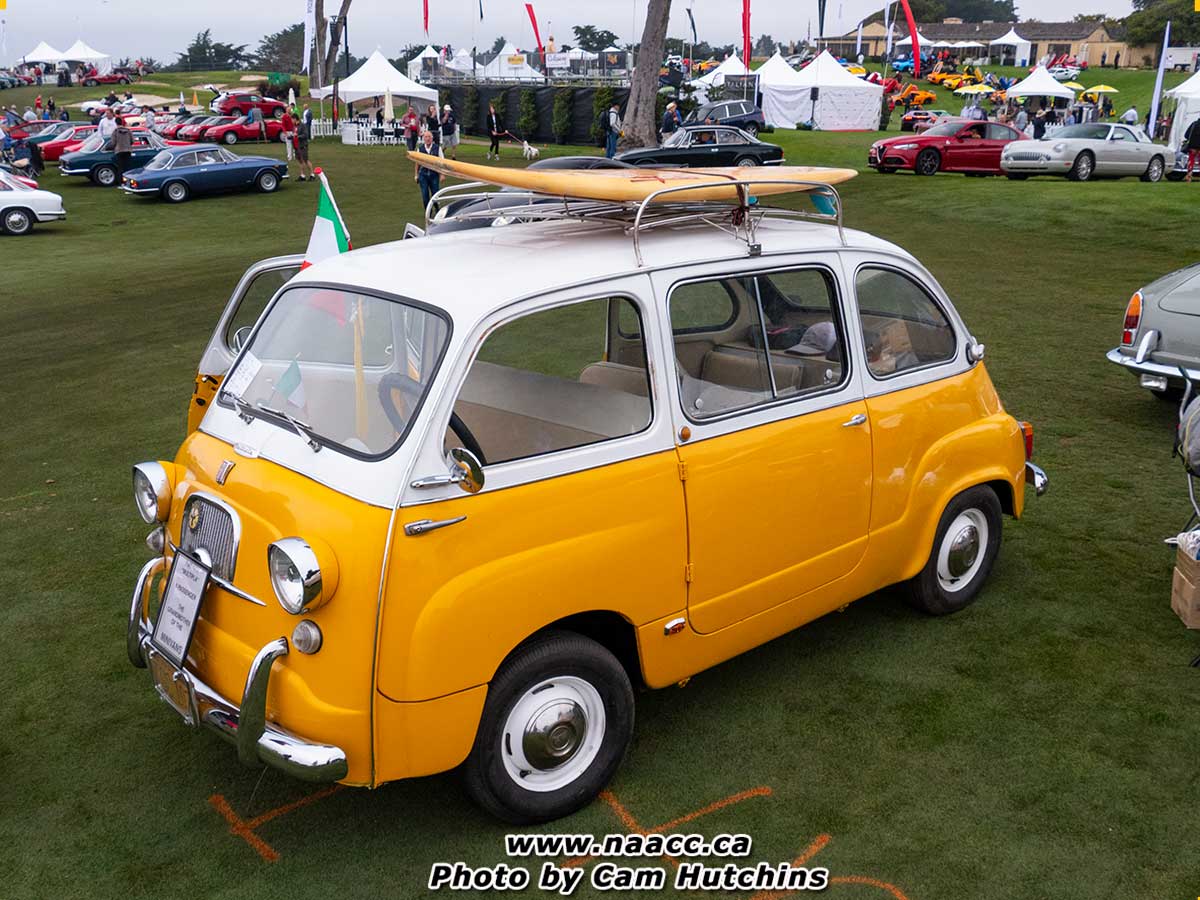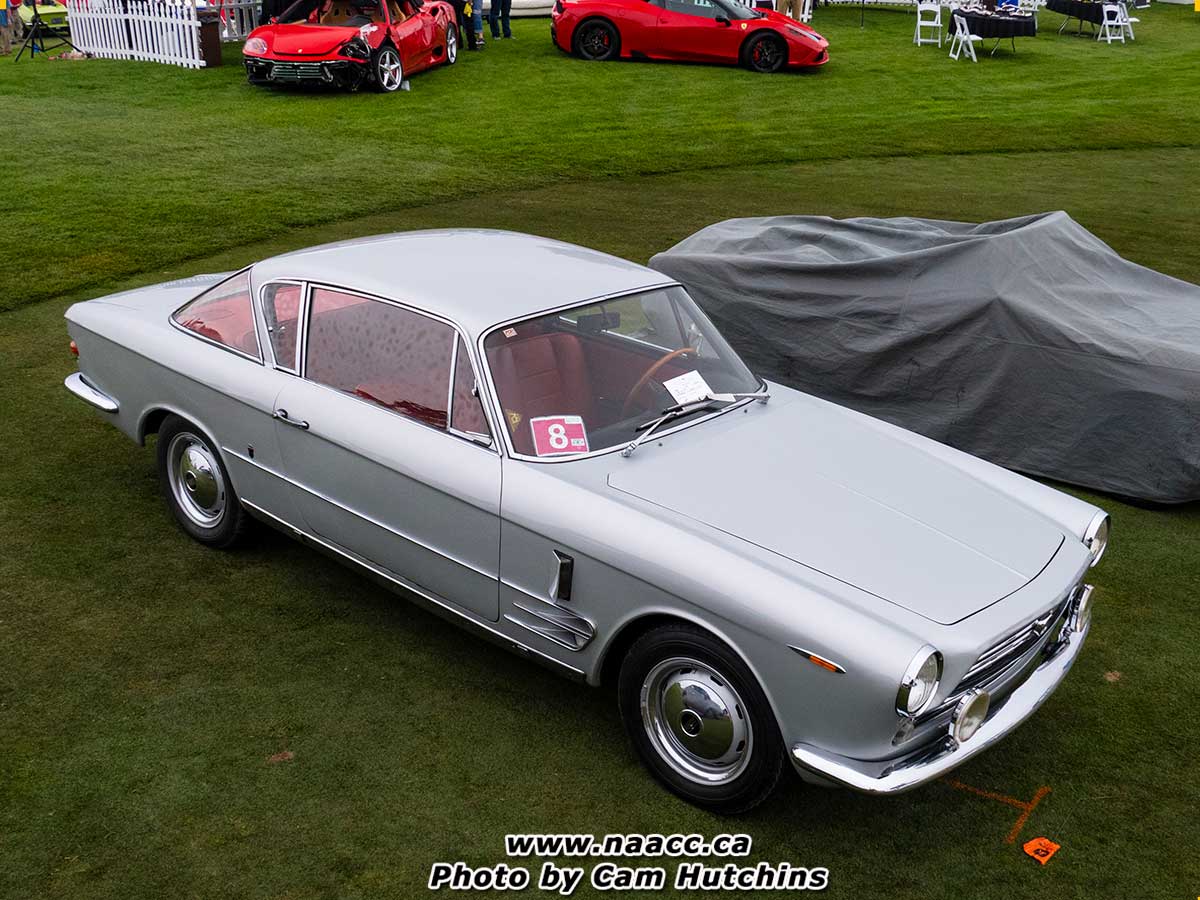 Fiats personal executive luxury car came equipped with a 2.3 litre 6 cylinder with 4 speed fully suncromesh transmission and optional overdrive. The "S" model has twin 2-baarel downdraft carbs. Ghia designed the coupe body and it was welded onto the standard 2300 chassis. Ghia could not meet the production demands so source production out to OSI. Starting in 1966 it was the first Fiat available with an automatic Borg Warner 3-speed transmission. It was available as a sedan coupe or station wagon with such luxuries as power windows.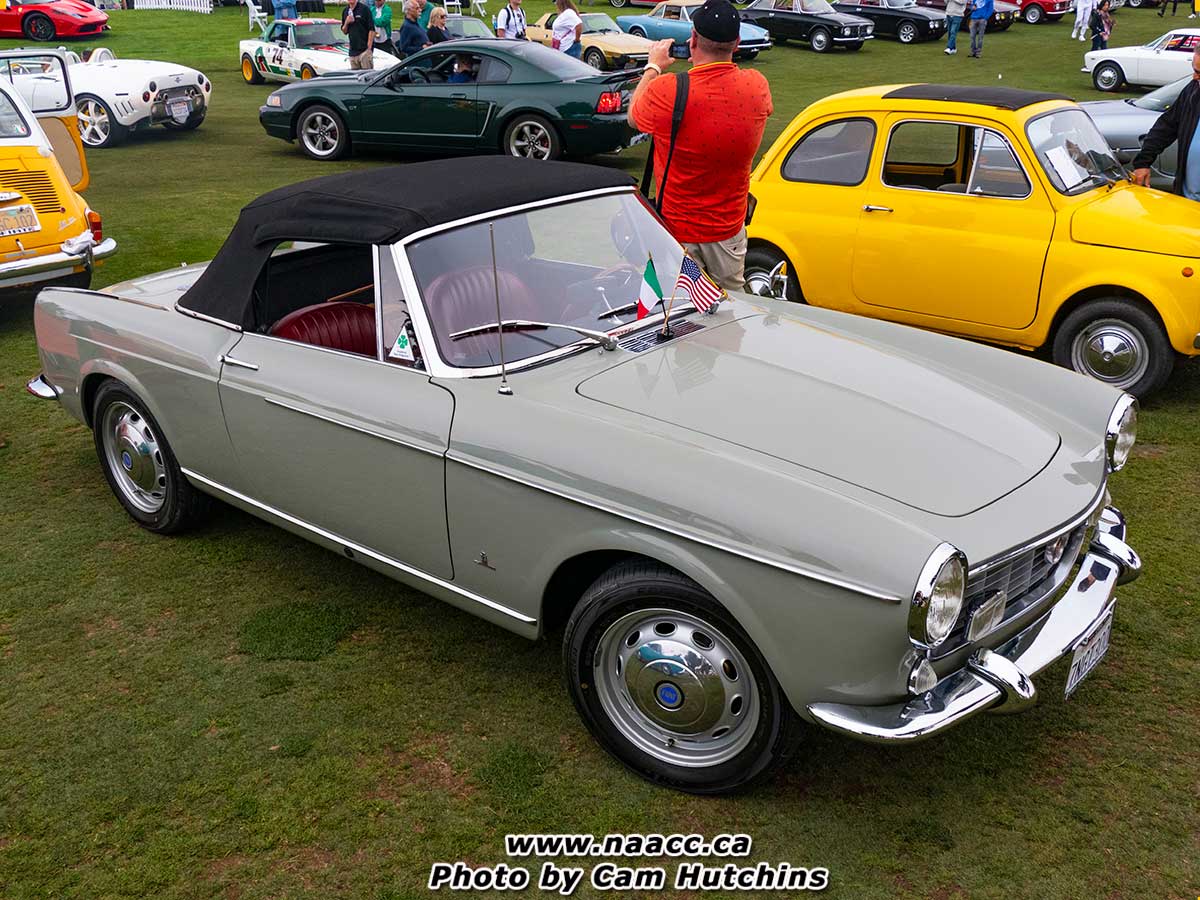 Wanting a piece of the action the British were enjoying with their smaller convertible "sports cars" Fiat took their 80 hp 1.5 lite 4 cylinder and made their own "MGB". Front engine, rear wheel drive, front disc brakes and a great looking Pininfarina design that copied heavily from the Ferrari 250GT. Very well appointed with roll up windows, fully integrated convertible pull up top, interior courtesy lights, adjustable seats, cigarette lighter and a locking steering column.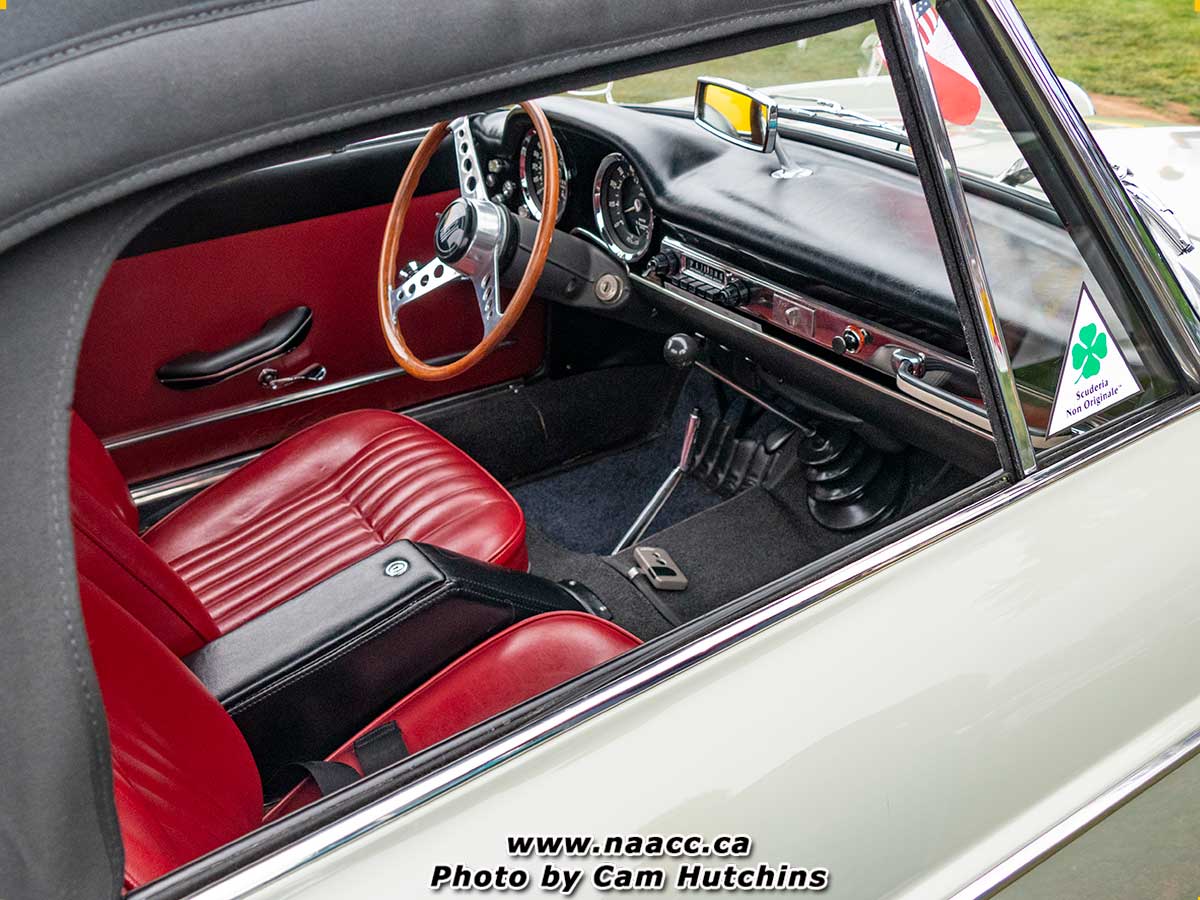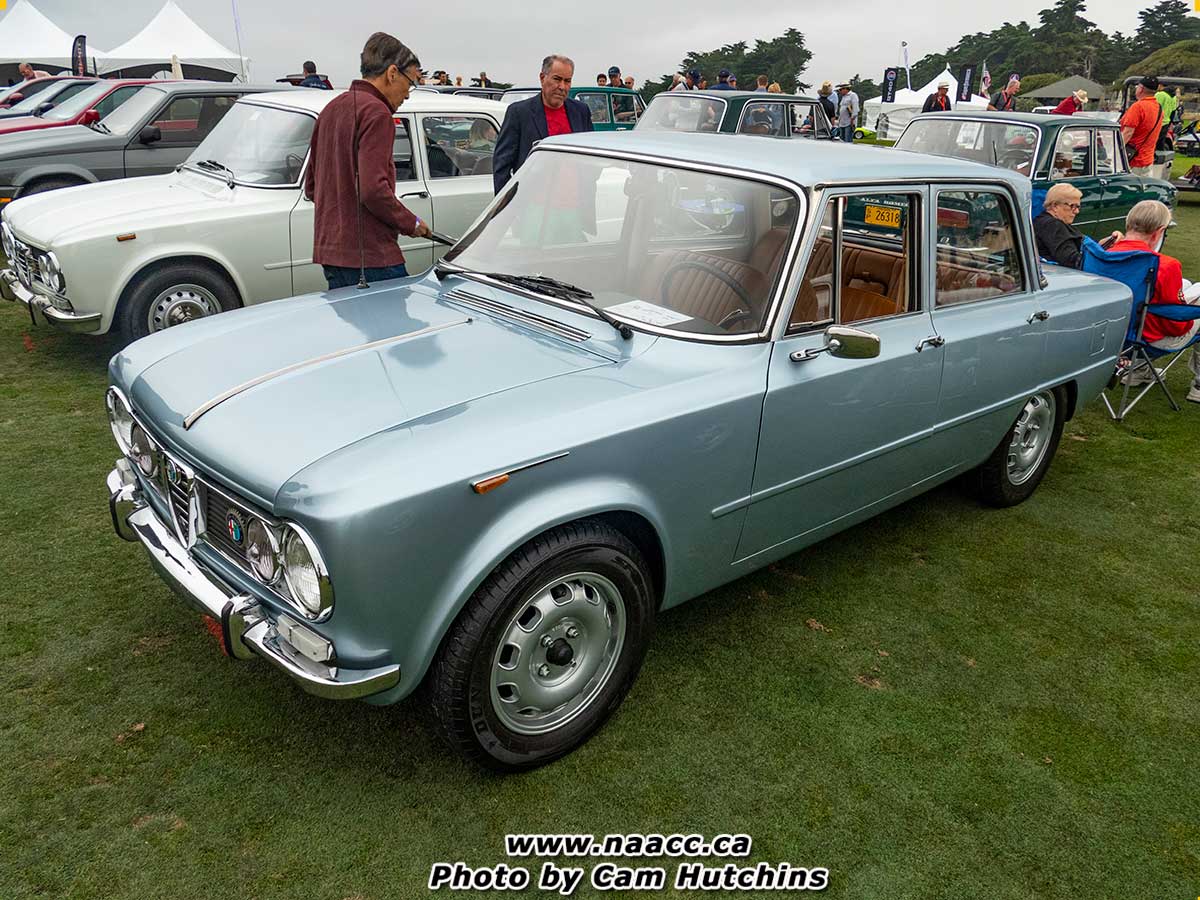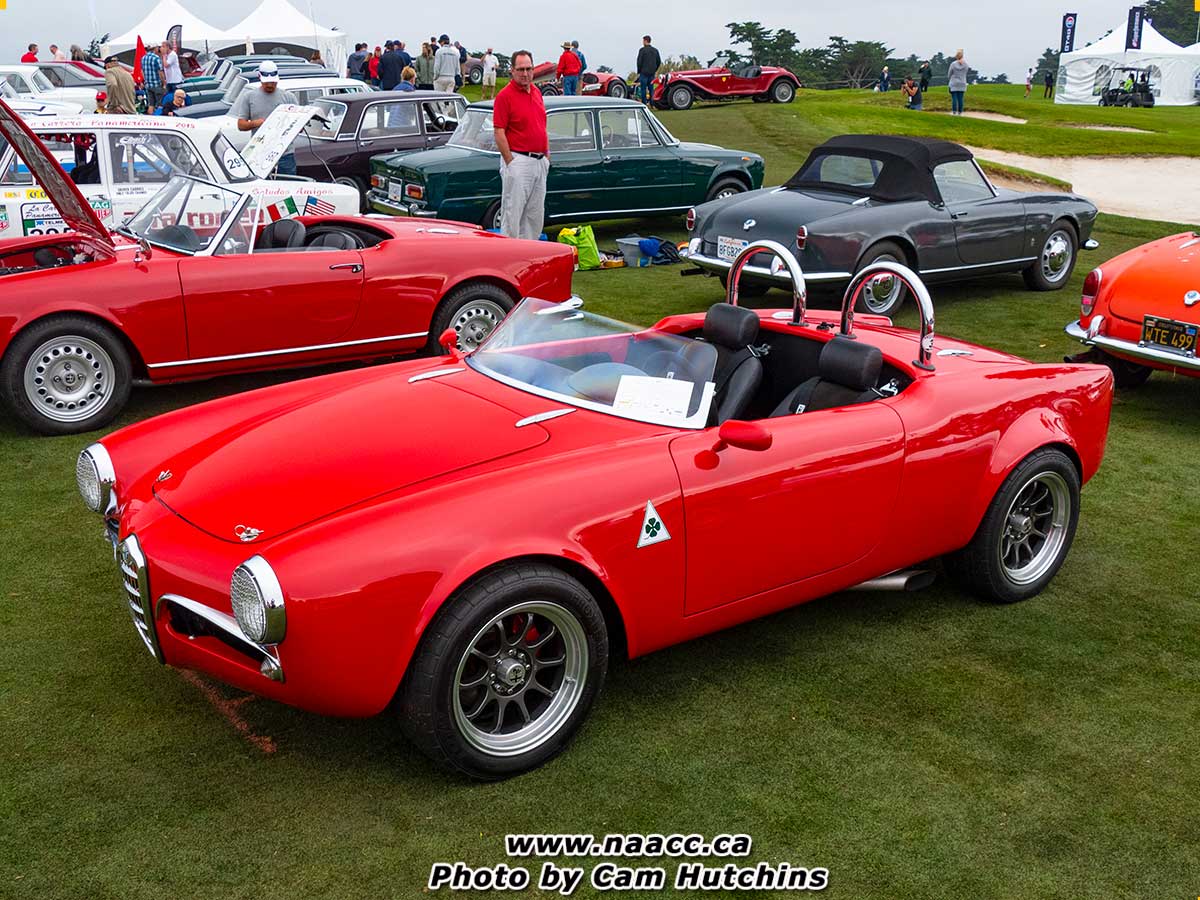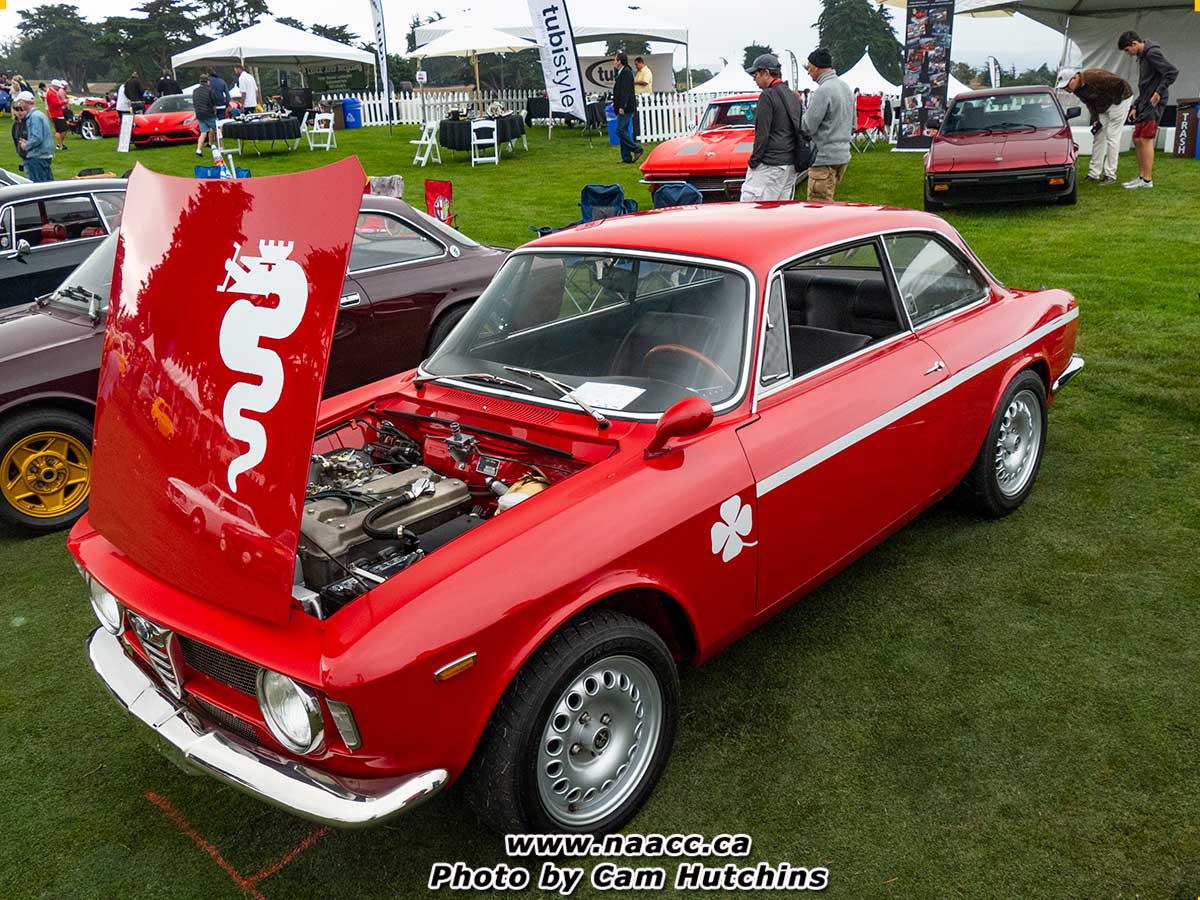 Built from 1963 to 1977 the series 105 and 115 Coupes were based on a shortened floorpan from the Giulia Sedan. Designed by Bertone, the name of the car started as the Giulia Sprint GT then Giulia Sprint, GTJ (Junior with 1,300cc initailly) with the GTV (Veloce) coming in the latter part of the 1960s. Autodelta, the racing division of Alfa, introduced the GTA for competition based on the roadgoing cars. The "A" stood for "Alleggerita", Italian for lightweight and was introduced in 1965 as a 1.6L and then later on as a 1.3 litre "Junior" version.
Series 3 Chassis Berlina(sedan) Sky Blue Celeste Ardenza Red Leather, Sliding pillar suspension, 4 door pillarless suiced rear doors. 2016 lbs column shift 4 speed 10 degree V-4 66cid engine with 48 hp. US Distributors Hoffman Motors Corp, New York City and Beverly hills, J.S. Inskip New York City and British Motor Car Distributors Ltd. Los Angeles and San Francisco. Priced when new $2, 892. Produced from 1959 to 1963 and only 150 1960 Series 3 Berinas inmported into the US.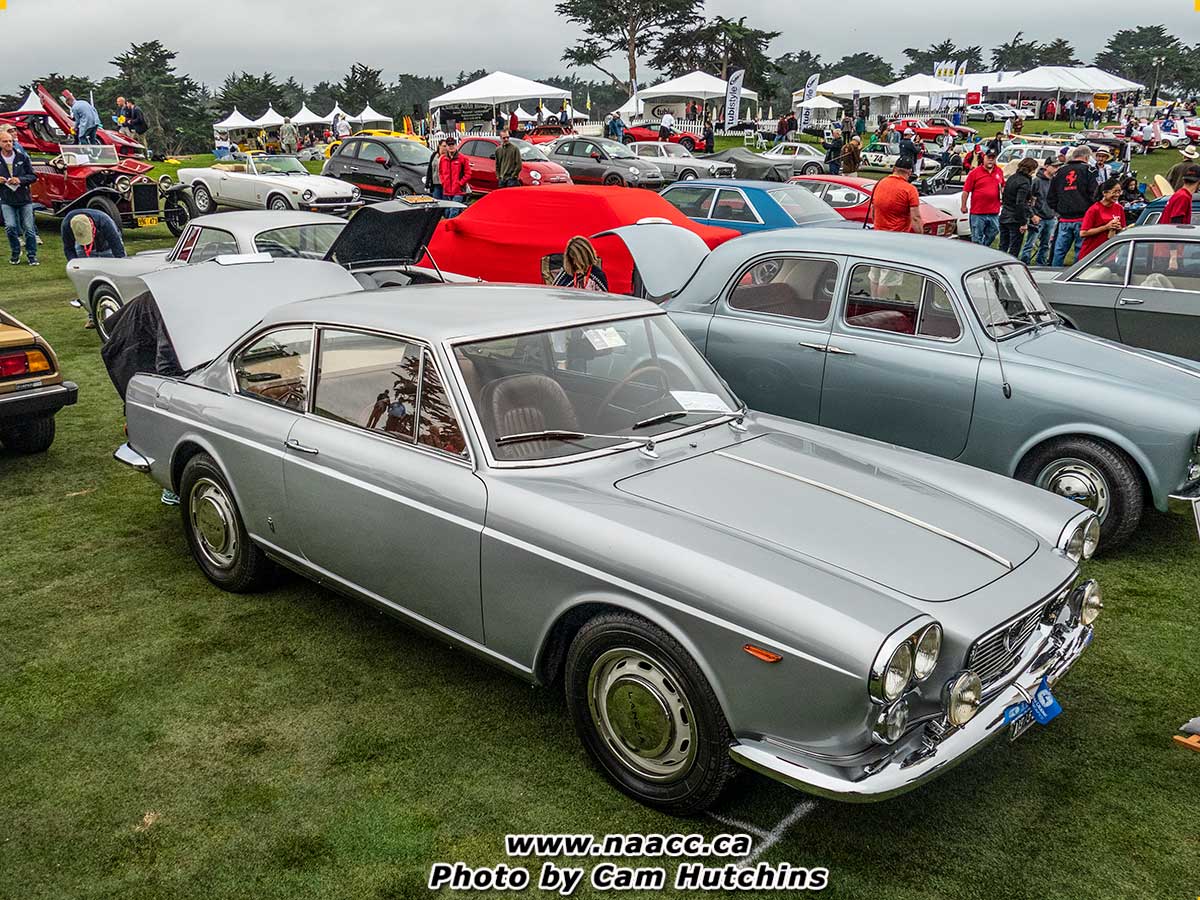 Ribbon Speedometer, leather interior Front wheel drive leather interior, price when new $4,700. Antoniao and Nancy Corbelletta California. Production from 1961 to 1968 13,417
1965 1,810
I enjoy wandering around looking at the quirky Italian cars, but the classic V12 front engine Ferraris are what makes me come back year after year. This year there was a 1963 Ferrari 250 GT/L Lusso, 1967 330 GTS from Indiana and a 1951 Ferrari 195 from Connecticut. Included in the line of Big Ferrari were a couple that had not been restored, or at least restored so long ago, they appear to be barn finds again.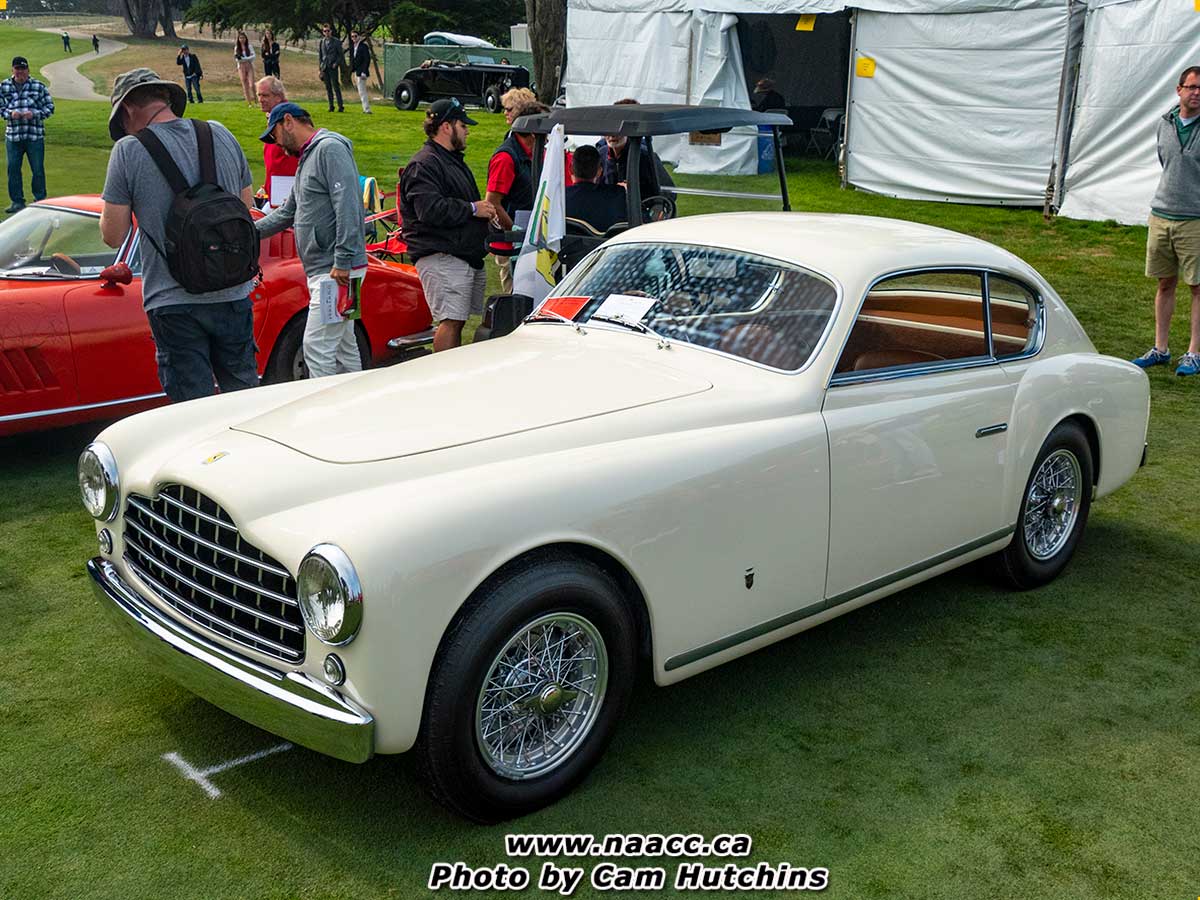 The Ferrari 195 inter was introduced in 1950 as a grand tourer based on the 195 S race car. Only 27 were built before being replaced by the larger displacement 212 Inter shown at the Paris Motor Show in 1951. The 2.3 L Colombo V12 was enlarge to 2.5 liters for the 195 by increasing bore to 65mm from 60mm but keeping the 58.8 mm stroke. Generally sold with one Weber 36DCF carb some had triple carbs.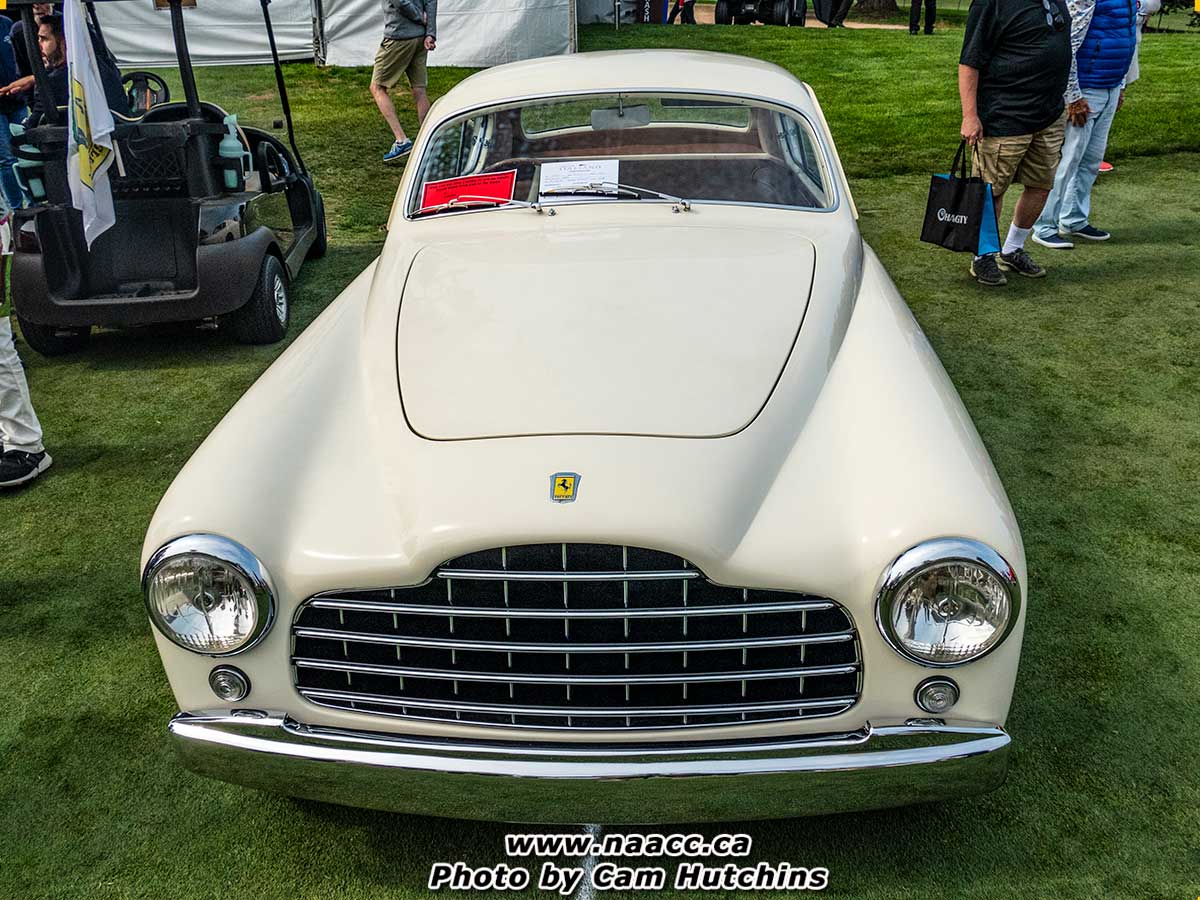 The Ferrari GTE was a 2+2 touring car produced from1959 to 1964 with 955 LHD and only 57 RHD units built.
The Lusso was the last of the 250 series of Ferraris and it as the name Lusso means Luxury is the most luxurious of the era. The finest materials and craftmanship including, large Tach and speedo for easier visibility, thin pillars and panoramic rear window add to the airy interior including a quilted leather lined luggage compartment behind the front seats. 2953 cc Columbo v12 and 4 speed manual transmission and 4 wheel disc brakes.