Carmel, California – When I think about memorable car events from 2010, The Quail readily comes to mind. The cars were fantastic, the food was outstanding, and the drinks were, well, you get the point. I like the fact that the Quail showcases both old and new vehicles. In one area you can see a pristine collector vehicle, just as it rolled off the assembly line. In another, you can view cutting-edge technology at its best. I always find it interesting seeing where we were and how far we have come. To emphasize this point, I have a few examples to share.
This year celebrated 45 years of the Shelby Mustang and paid tribute to Carol Shelby; I have never seen so many rare Shelby's in one place, it was truly unbelievable. Entrants included a green prototype "EXP 500" aka "green hornet" – think KR 500, red '67 GT 350S – rare factory supercharged model and white '67 GT500 Super Snake. There was a whole circle of these Mustang's and each one was meticulously restored and rare in some way.
Alright, I admit there were others much older than the Mustangs, such as a stunning blue 1935 Alfa Romeo 6C 2300 Aerodinamica Spider, but I have a soft spot for rare Shelby's. In contrast, there was also an impressive variety of new technology including Ferrari's 458 Italia, Porsche's GT3R – full race hybrid, 1200 bhp Bugatti Veyron Supersport, and ForceIndia F1 car sponsored by Kingfisher.
Other features of the 2010 Quail included: race cars of Nurburgring, motorcycles, great Ferrari's and Alfa Romeo special coachbuilders. Ferrari certainly had a stronger presence than usual this year. Red flags, banners and personally appointed mini-stage for the 458 were hard to miss. Another thing that was hard to miss were the two-dozen or so pre-war Bugatti's that rolled in for lunch from Laguna Seca. They left in a puff of blue smoke just as some vintage planes flew overhead to greet the crowd!
As always, I thoroughly enjoyed myself and can't wait to head back next year to see what The Quail has planned. I hope to see you there in 2011 at this exclusive venue.
Photos and captions compiled by NAACC photographer Cam Hutchins.
The Quail Award
1962 Cobra 260
Owner: by Carroll Shelby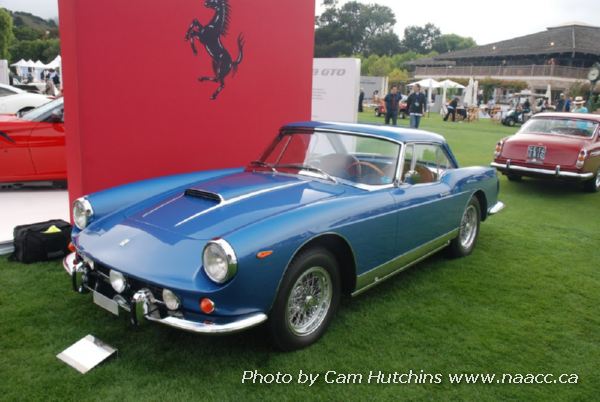 The Great Ferraris
1961 Ferrari 400 Super America
Owner: Peter S. Kalikow
In March 15,1961, the sales contract for this car was issued by S.p.A. SEFAC to its first owner Dr. Fortunato Gosce. The car was displayed at the 1961 Geneva Motor Show, Switzerland. In 1965, Dr. Gosce sold the car to Alessandro Ceasri S.r.l who then sold it to Marino De Medici in 1967. It was later owned by James Pew of Spring Green, Indiana, who sold it to Paul Swartzel of Dobuque, Iowa, in 1973. The present owner acquired the car 1998.
Super Cars
2009 Berton Mantide
Owner: Daniel Watkin
Special one-off custom bodied 2R1 designed by Jason Castrioda when he was head of Design at Bertone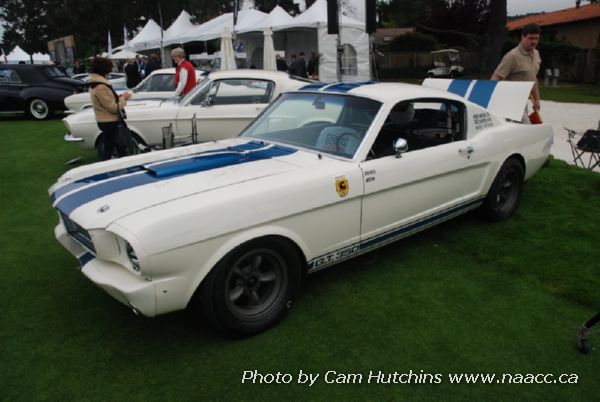 45 Years of the Shelby Mustang
1965 Ford GT350 Mustang
Owner: Mark Hovander
"003" was one of three hipo 289 Mustang fastbacks sent by Ford Shelby American to jump start the GT350 Mustang program in 1965. Due to an incorrect stamping of the VIM tags at Shelby American, this car received the chassis number SFMS003. Since the street version of the GT350 required the least amount of time and modifications to finish, this car actually turned out to be the prototype street GT350.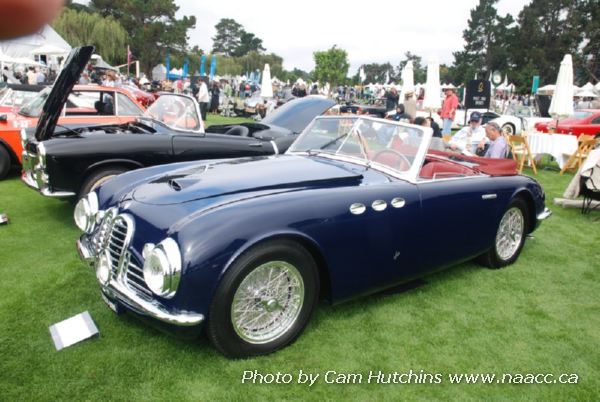 Post-War Sports Cars
1951 Maserati A6G/200
Owner: John Bookout
The first Maserti ever designed by Pietro Frua was A6G/2000 Syder. The first three models (#2015, 2017 & 2018) were built on the A6/1500 chassis shortened by 10cm at the wheelbase, while the subsequent chassis (#2029 & 2030) were from the A6G/2000 series, built on a longer wheel base with completely different first three vehicles had a central headlight set inside the grill and a split two piece windscreen, while the two later cars had sidelights fitted to the outer grill and the windscreen was a curved single-piece unit.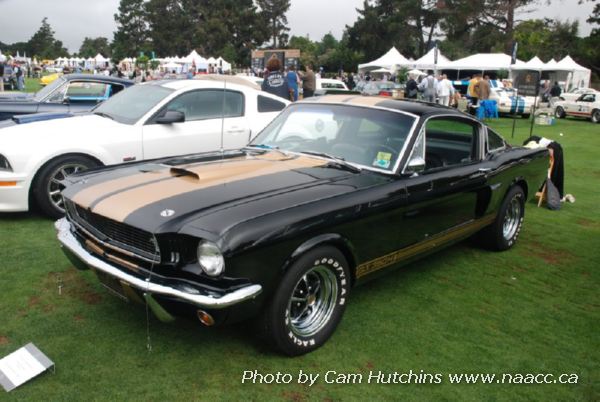 Road & Track Editors Choice Award
1966 Shelby Mustang GT350H
Owner: Michael & Barbara Malamut
This car is one of a small number produced and sold to Hertz Rent-A-Car. It was known as a weekend racer and has unique features including a black and gold paint exterior, 4-speed and is a rare authentic Shelby Super.
Sports and Racing Motorcycles
1993 Moto Guzzi 1000s
Owner: Gary Wasserman
This bike is a limited edition of only 84 models produced for world distribution, with 36 coming to the U.S. This bike is a totally original stock version and has the 00001 serial number for the U.S. it has a very low mileage and is a third-owner bike and a highly collectable part of the Moto Guzzi history.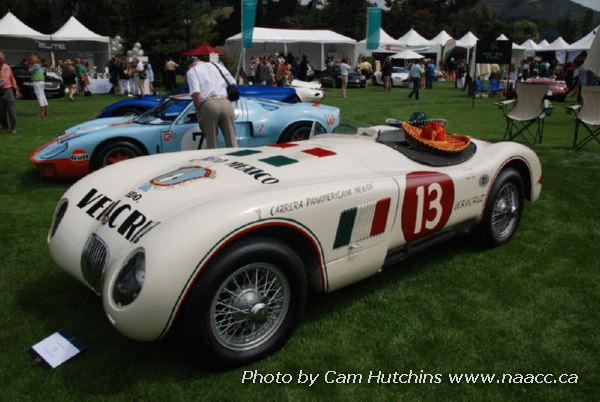 Post-War Racing Cars
1953 Jaguar C-Type
Owner: Gregor Fisken
Chassis XKC 029 was the only C-Type to run in the Carrera Panamericana in period, competing in both 1953 + 1954 with sponsorships from "Estado de Mexico" and "Verarcruz." 029 was owned for many years by one owner in the States before returning to the UK and staying with one family until this year. This highly original example has recently returned to its period from 1954.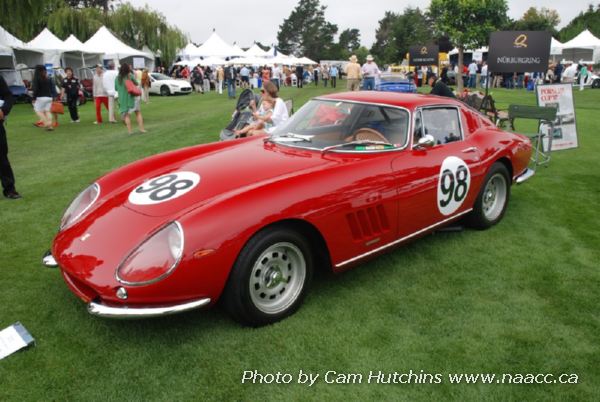 Nurburgring
1966 Ferrari 275GTC 'Clienti Competizione'
Owner: Mark Ketcham
In 1966 the car took 1st in class at the Nurbugring 1000kms. In 1967 it again competed at the Nurburbring, but was an mechanical malfunction. Car is matching numbers & original body one of only two "275 Clienti Competizione", the other is in France.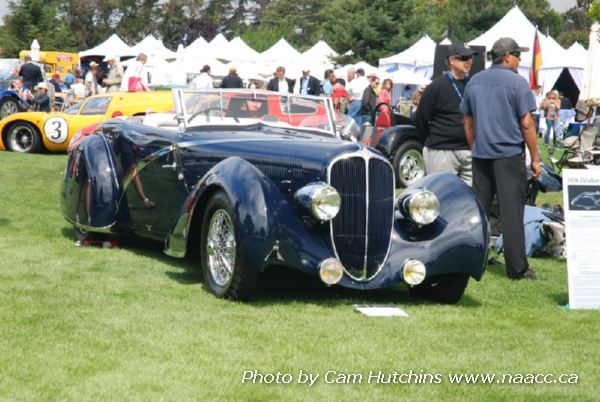 Best of Show
1936 Delahaye 135 Competition Disappearing Top Convertible
Owner: Ken & Ann Smith
Delahaye is one of the oldest French Firms dating to 1895. This particular example of Figoni-Falaschi coach building is extremely rare and a one-off design. A no-expense-spared restoration was carried out of Hill & Vaugh in the early 1990s and it has subsequently been fully restored again by the present owners. Both engine and chassis are compeition. The car was raced by the famous racing team of Guy Mairesse and Paul Vallee. Mairesse was the 1948 winner of the Grand Prix des Frontieres. The original owners were Mr. & Mrs. Wolf of Paris, France.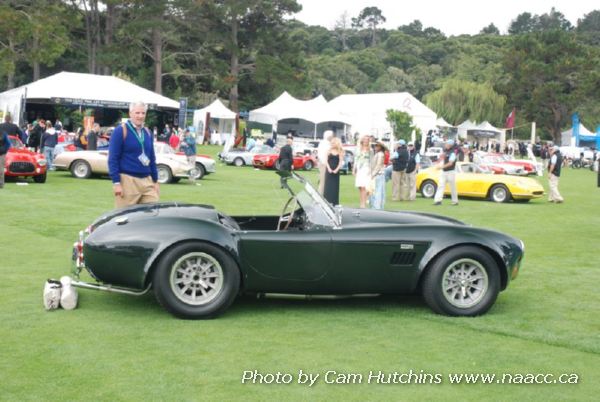 The Fiva Award
1967 Shelby Cobra 427
Owner: Roger Hoffmann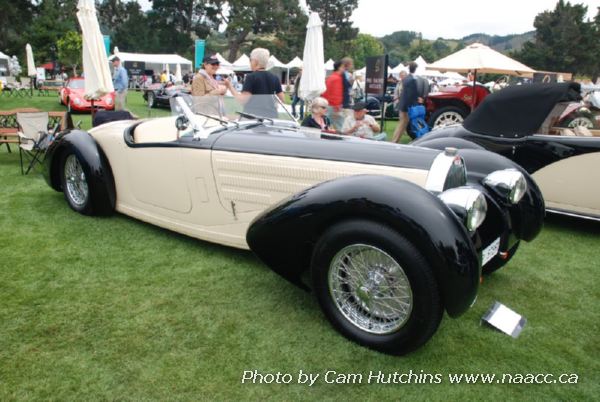 Pre-War Sports and Racing Cars
1938 Bugatti Type 57C
Owner: Richard Longes
The new body of this car – roadster – was created from a factory design. The original body was discarded in the early fifties.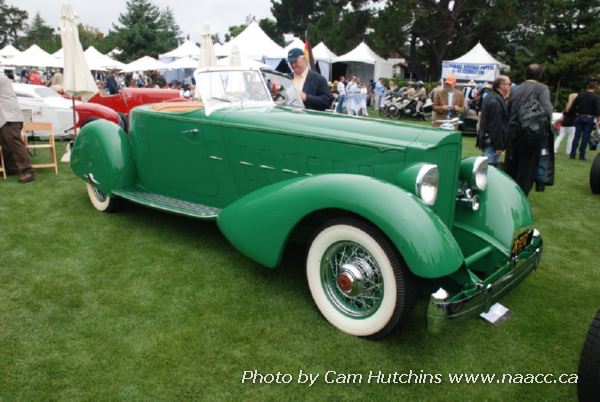 Milestone Cars of 1934
1934 Packard 1106
Owner: Robert M. Lee
This 12-cylinder Runabout Speedster falls into the 11th Series of Packard car production of 1934. Although built on the 135″ Super Eight wheelbase chassis, the 160 hp of the 12-cylinder engine turns it into semiperformance vehicle known as "Style 275". Only two body styles were available – the Sport Coupe by Packard and the Runabout Speedster by LeBaron. LeBaron built all the Runabout Speedster, which numbers only four, of which all are still in existence. A possible further distinction of this particular car is that it was one of the turntable cars at the Chicago World's Fair of 1934, making it a rare car indeed.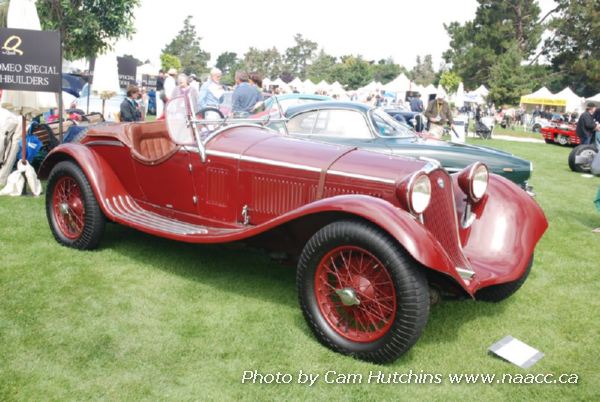 Alfa Romeo Special Coachbuilders
1932 Alfa Romeo 6C 1750 Gran Sport Zagato
Owner: Bowman Motors, LLC
The 1750 was the latest version of Vittorio Jano's 6C series. In 1930, the 6C 1750 could be purchased inone of three versions; a naturally aspirated Turismo, a twin-cam Sport, and the supercharged Gran Sport or Super Sport. These supercharged versions, used by the factory, were lightweight and powerful. With its supercharged performance and elegant coachwork, the 1750 has been described as the "ancestor of every GT car ever made."