The National Association of Automobile Clubs of Canada
L'Association nationale des clubs automobiles du Canada
Check out the new password protected page for
NAACC Members>>
The NAACC is pleased to announce that once again the month of July is set aside as Automotive Heritage Month in British Columbia and July 14th as Collector Car Appreciation Day in British Columbia.
more>>

Alongside the provincial proclamations this is from SEMA.

The SEMA Action Network (SAN) announced that the next Collector Car Appreciation Day (CCAD) will be celebrated on July 14, 2017. The date will mark the eighth consecutive commemoration in what is now an annual event to raise awareness of the vital role automotive restoration and collection plays in North American society. More>>
Addition to NAACC Judging Guidelines

Part 3 Radial Tires vs Bias --judging points

Selecting the correct type of tires for your restoration is always a serious consideration.
Judges look for the correct type and size of tires in true Concours judging. Many owners that show and drive their cars have two sets of tires and wheels.
more>>
Website updated April 18 2017
From Hemmings Daily

featured posts
Multiple state, federal bills introduced to stop the spread of E15
Despite the ongoing rollout of E15 fuel nationwide, a handful of bills introduced in legislatures in D.C. and elsewhere aim to put a halt to sale of the fuel blamed for causing damage to older vehicles.
More>>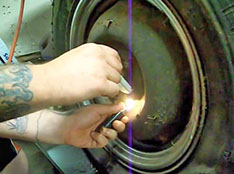 Special Report by Rob McLeese
Assistant Director of Media Relations (Eastern Correspondent) and the Chairman of the Cobble Beach Concours d'Elegance.

2016 Pebble Beach Concours d'Elegance honours Henri Chapron
One of the fine aspects of the Pebble Beach Concours d'Elegance is that each year there are special honourees. Each year the honourees may be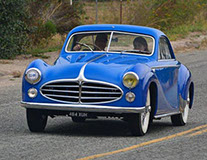 race car drivers, automotive designers or car collectors, some are wellknown, some not so famous. At the 2016 Pebble Beach Concours, the honouree this year was Henri Chapron, a famous French coachbuilder otherwise known as a carrossier.
more>>
Something to share with your Grandkids....sit at the computer with your younger relatives and get them to to type up the answers to a couple of dozen questions about your love of the automobile. This will jog the memory in many happy ways!!!
Share your answers with the NAACC and any clubs you may belong to.
22 questions of a Car Nut>>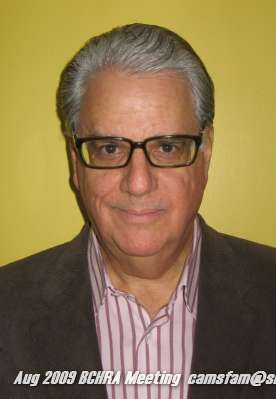 Feb 24, 2017 | BY MICHEL LAMOUREUX
Canada's first automobile was a watchmaker's dream.
Powered by steam, the Seth Taylor shares its birthday with Canada, as it also turns 150 this year.
Read the full story here>>


JAN 12, 2017 | BY MICHEL LAMOUREUX
Befoore Enzo & F1, Gilles Villeneuve Loved Fords and raced Mustangs.
For the full story click here
Villeneuve's Ford Fondness Had Him Racing Mustangs Before Joining Enzo in F1>>
News from Quebec:
From the NAACC's
Michel Lamoureux


Below are links to a "video duo" (with one version in French and the other in English) that provides a short narrative about a program I developed and helped launch across the Province, with support from a very cool, enthusiastic sponsor.
This unique initiative is about paying public tribute to some of Quebec's top-end restorers of antique vehicles who contribute in no small way to the preservation of our collective automotive heritage. more>>
Hobbyist of the Year Award
The 2016 recipient is Mr. Carl Becker from Sannich British Columbia. Carl founded (CMAFF) the Canadian Model A Ford Foundation and is the current president. He is a past judging committee member of the Model A Ford Club of America. The NAACC is proud to recognize Carl Becker as a recipient of this prestigious award.
Through Carl's and other Board members efforts CMAFF has been instrumental in updating the Model A Ford Club of America Canadian judging guidelines.
Literally, hundreds of hours have been dedicated to this project.
LeMay America's Car Museum Travels Across Country –2017
Travel with America's Car Museum. Mingle with fellow automotive enthusiasts and welcome three stunning red vintage vehicles, a 1957 Chevrolet Nomad, a 1961 Chrysler 300G and a 1966 Ford Mustang, as they make a pit stop on their 2,150-mile road trip through the snow and ice on their way "home" to the Motor City for the opening of the North American International Auto Show.
more>>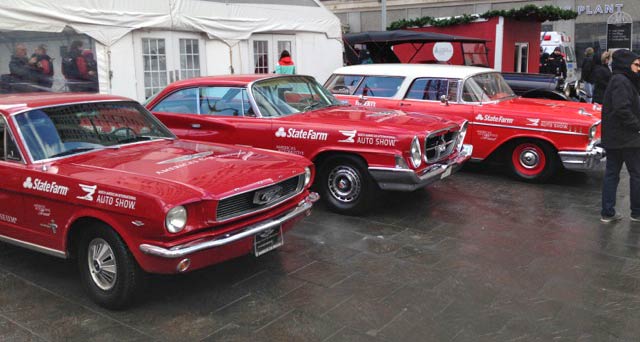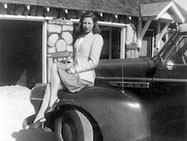 The unintended outcomes of a Concours d'Elegance.
Or how to preserve the automotive heritage…. musically!
Reports Number 95 and number 96
Report No 97
-2016 AGM
-50 year anniversary of the Coasters Cross Canada Tour
-July 2017 as Automotive Heritage Month in Canada
Report No 96
-BC Government has relaxed the rules for fenderless vehicles 1940 and older .
-Pacific North West Deuce Days
-Cobble Beach Concours d Elegance Plus more...
The 2016 Cobble Beach Concours
Best of Show...1932 Auburn Speedster Gerry Hockin Burlington, ON
Outstanding Pre-War
1938 Bentley B77LE 41/4L H.J. Milliner Disappearing Top - Karl Zoller Gwynedd Valley, PA
The 2016 Rolex Montery Motosports Reunion
Featuring the Cars of BMW and as a Canadian I have to admit I was not familiar with many of the cars from the 70's and almost none of the earlier BMW cars. The races are part of the "Car Week" and must be hell for anyone not interested in cars as the roadways are jammed almost all day every day for a week.
More>>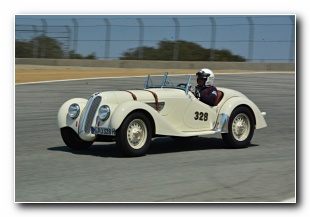 Fate has a way of making the strangest of things happen in our lives. At times, we're left gazing at the sky, dumbfounded, wondering what invisible lightning bolt just zapped us when, as the old phrase goes, planets line up – suddenly, unexpectedly, powerfully. This is one such story, which tells of the most revered road on the continent, of American automobiles at their best, and of the brilliant artists whose remarkable music, both now and then, brings it all together in timeless fashion. (click here to see full article)
First published in HAGERTY Weekly News (Feb. 15-21, 2016), this article and music provided courtesy of NAACC Quebec Director Michel Lamoureux working with celebrity singer/composer/pianist Carol Welsman. Turn on your sound!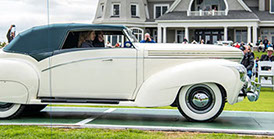 Best of Show
1938 Graham 97 Supercharged Cabriolet Coachwork by Saoutchik Edgar Masters,
Copake Falls, NY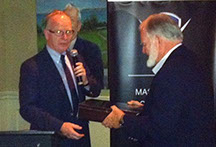 At the Cobble Beach Concours d' Elegance opening banquet the Lee Iococca Award was presented to the NAACC President John Carlson.
It is the first time in it's history that it has been awarded to anyone outside the USA
June 2015 ------Ethanol Free Gas
The 2016 Crescent Beach Concours
The selection of cars once again was exceptional and had a huge range of cars but one that struck me the most was thev first showing of a freshly restored 1922 Will Sainte Claire A68 Roadster powered by an Overhead Cam V8. Not the first American V8, certainly the first one with geardriven camshafts.
More>>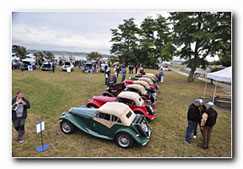 Pebble Beach Concours d'Elegance
The 66th Annual Pebble Beach Concours d Elegance was held on August 21st 2016. I arrived early enough to get a great spot to shoot the cars as they enter the field. The ocean in the background and the nice even light was great. Especially impressive was the cars were clean and not covered with ash like every other car on the peninsula.
more>>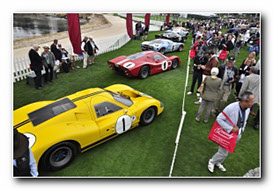 The Concorso Italiano
Black Horse Golf Course August 20th 2016
Celebrate Fashion, Food, Music and Style at the world's largest Italian automotive event. Concorso Italiano, featuring over 1000 exotic vehicles .
more>>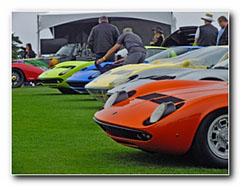 Northwest Deuce Days
Every three years the streets around the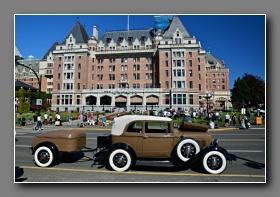 inner harbour, the British Columbia Parliament Buildings and the venerable Empress Hotel are filled with classic cars and more than a third of them are 1932 Fords of all models and descriptions.
more>>
Fenderless Law changed in BC.
July 2, 2016
This is one of the many announcements that will be coming to the Collector Car Hobby in BC.
Over the years many individuals and groups have worked very hard to help bring about this BC law change. more>>
CENTENNIAL CARAVAN: CANADA'S COASTERS RIDE AGAIN! 2017
By: Michel Lamoureux
For Fraser Field of Deroche, British Columbia, life on the road has largely amounted to attending the sick and aiding the injured. Which is what you do, of course, when you spend thirty years at the wheel of a fast-paced, wailing-siren ambulance as a paramedic. So it's no surprise that Fraser's knowledge of, and interest in, these life-saving utilitarians grew with time. Plus, if you're a car guy to boot, why not collect them too. And so, Fraser's job-to-passion transition led to him owning various such models and makes, including a unique 1957 Chevrolet Bel Air, a couple of late '60s Pontiac Bonnevilles, a 1972 Cadillac, as well as a rare 1948 Chevrolet Panel currently being restored for future use.more>>
​

The RPM Act: A Message From SEMA President and CEO Chris Kersting
Over the past year, the racing community undertook an unprecedented effort to protect Americans' right to modify street vehicles into dedicated racecars and our industry's right to sell the parts that support the sport. In February, more than 100,000 racers, industry members and enthusiasts rallied to sign a White House petition in a single day. Since March, you have flooded Congress with nearly 200,000 letters in support of the Recognizing the Protection of Motorsports (RPM) Act—a bill that makes clear that the Clean Air Act allows motor vehicles to be converted into dedicated race vehicles. The bill also protects our ability to sell the parts and equipment that enable racers to compete. more>>
2016 NAACC Canadian Standards for Appraisers, Insurance Companies & Vehicle Owners
Published by the NAACC Formerly NAAACCC
The NAACC want to welcome William Armstrong as a new NAACC Director representing Ontario Canada. more>>
©2015 National Association of Automobile Clubs of Canada
NAACC Corporate Secretary 529 Princess Street, Estavan Sask. S4A 2E8 Secretary@naacc.ca
NAACC Headquarters Office 3512 Marine, Belcarra BC V3H 4R8 President@naacc.ca