The National Association of Automobile Clubs of Canada
L'Association nationale des clubs automobiles du Canada
L'Association nationale des clubs automobiles du Canada
MISSION STATEMENT of the NAACC
The National Association of Automobile Clubs of Canada will strive to act as the unified voice of the automotive hobbyist in Canada by promoting and encouraging the preservation of the automobile, its historic lore, and its associated items. The NAACC will encourage a cooperative working relationship between governments, at both the federal and provincial level to prevent restrictive legislation.

The Rolex Monterey Motorsports Reunion has a new Logo and the 2016 Schedule has been updated for 2016.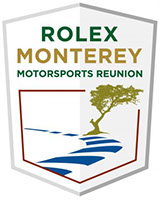 Described as a museum springing to life, the Rolex Monterey Motorsports Reunion is the largest event held during the famed Monterey Classic Car Week, and is the only event where cars are doing what they were originally intended to do…race. Approximately 550 race cars are invited to compete in the world's premier motoring event. more>>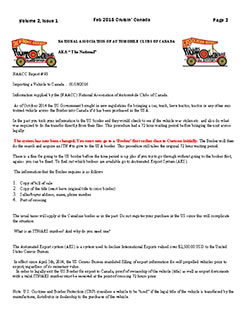 LeMay-America's Car Museum - Artifacts don't stay in museums anymore.
Three of ACM's cars, a 1957 Chevrolet Nomad, a 1961 Chrysler 300G and a 1966 Ford Mustang, drove from ACM in Tacoma Wa. to the place of their automaker's origin, Detroit, Michigan, Learn more of this historic trek here>>
​

EVERYTHING OLD IS NEW AGAIN!
Replica Market Revolutionized by Landmark Law
The year 2015 will be remembered for many things. For fans of classic cars, it represents the beginning of a new era. Thanks to a years-long effort by the SEMA Action Network (SAN), as well as the industry that supports us, the U.S. Congress passed a bill that will soon enable consumers to purchase turn-key replicas of classically-styled vehicles. more>>
The NAACC will be keeping a close eye on this as it concerns Canadian Laws.
The NAACC want to welcome William Armstrong as a new NAACC Director representing Ontario Canada. more>>
2016 NAACC Canadian Standards for Appraisers, Insurance Companies & Vehicle Owners
Published by the NAACC Formerly NAAACCC
©2015 National Association of Automobile Clubs of Canada
NAACC Corporate Secretary 529 Princess Street, Estavan Sask. S4A 2E8 Secretary@naacc.ca
NAACC Headquarters Office 3512 Marine, Belcarra BC V3H 4R8 President@naacc.ca