2017 Coast to Coast trip.
NAACC Directors.
Please read this info below before the AGM and also look at the Coasters web site. www.coasters2022.com
We want lots of active discussion at this coming AGM. Fraser will be in attendance in 2019.
My best to you all.
John Carlson
From: Fraser Field [mailto:fraserfield@canadiancoasters.ca]
Sent: Friday, August 03, 2018 10:17 PM
To: Fraser Field
Subject: 2022 Tour
I hope the summer finds everyone out and about with their cars enjoying the season.
Everything is coming together for the 2022 Cross Canada tour. The web site has had lots of hits and I'm adding information as things happen. Dorothy has ordered and received some clothing examples and we will have them at the Nakusp camp out. A simpler logo similar to the 2010 tour will also be shown at Nakusp. Now is the time to get your ideas and suggestions in as soon it will be to late to make changes. I've worked out a proposed travel route and will go over it with John Carlson in the near future. The National, NAACC, would like to be more involved in the planning process and Dorothy and I welcome their input.
I would also like to remind everyone that the tour deposit is due on the end of this month and it will keep you on the tour roster. We do have on going expenses, such as the web site, insurance, booking deposits, inventory items and the such. The deposits collected helps take care of these, remember the deposits are fully refundable as stated on the web page. www.coasters2022.com Tour Information section. The site also contains a lot of early information.
We have several people who have joined the Coasters Tour Group for the first time and they are all anxious to learn more and are looking forward to 2022. Great to have new people to enjoy the excitement of the Road less Traveled. A welcome to all of you.
Any questions, concerns, ideas or just want to say hello. Drop us an email
Fraser and Dorothy
2017 Coast to Coast trip.
They are a group of classic car enthusiasts that actually drive their old cars on one of the world's greatest tours, traveling coast to coast across Canada.  They are a collection of car buffs that come from every province in Canada, the USA and other parts of the world. Every ten years (or so) they all meet on one of Canada's coastal shores and take the two month tour of Canada's wonders, one time east to west then the next time west to east.  We have the privilege of meeting some of the greatest people in the world, members of other car clubs.  Their hospitality and friendship confirms we are one large family, sharing interests and of course great stories.
The first tour was held in 1967 to celebrate the centennial of Canadian confederation
for information contact fraser@canadiancoasters.ca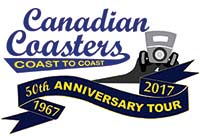 Photos from the NAACC Facebook page all in one spot and easy to find. The first 4 digits are the date the image was posted on the NAACC  Facebook page.
Meeting of the Ford Model T Club of Quebec Sunday, August 23, 2015 as they continue their multi-day regional tour.  100 members in all.
On tour earlier this week, therefore, with a stopover yesterday at Jean-Pierre Viau's house in St. Edouard, Quebec, on the South shore of Montreal, near the US border.
Himself a serious collector of amazing cars and one of the Coasters' organizers, as well as a past/future participant with wife Nicole. Way to go, J-P and Nicole! Troopers par excellence.
Jean-Pierre, Nicole and their family graciously hosted 50 or so members of the Coasters of Canada during the weekend, on the occasion of their organizational meeting to prepare the next trans-Canada trip in the summer of 2017.
This will be the Coasters' 50th anniversary (founded in 1967), celebrating once again in 2017 the anniversary of Canada's Confederation. From Victoria, B.C., to St. John's, Newfoundland, from sea to shining sea! A unique event anywhere in the world.
Photo credits go to Chantal Charbonneau, owner of a beloved 1951 Packard Convertible Model 250.
 AN  INTERESTING LETTER FROM A 1967 TOUR PARTICIPANT
Hello Fraser:
 I think I need to sign on for the 2017 Coast to coast tour. There is a good reason for this, as I was on the 1967 tour, so should do a 50th anniversary.
  I am 75 now, but got into the old vehicle hobby early with a $35.00 Model T, and a $15.00 1912 Indian motorcycle when I was 16. I joined the Ontario Region of the AACA, and the Ontario Region of the HCCA which later became the ACCCC and the HASC. I was a charter member of both, but more active in the latter. I was also a charter member of CHAF, the forerunner of the NAACC.
 I drove car #46 in 1967, a 1928 model A Ford Roadster. We drove the Ontario and Quebec sections, with another couple in the rumble seat.. I knew all the key players well, and remember the names of most who went the whole way. Jack Bray, Porky Schneider, Bill Sauder, Jack Veroche, George Brown, Sandy Intini, Tom Stewart, Jack Morton, Charlie Forester come to mind. I still have the brochure and my registration card. The oldest coast to coast finisher was Tom Stewart's 1909 Ford. I can probably dig up a few photos. Bill Sauder broke three crankshafts in his 14 Ford, but made it none the less, replacing them on the side of the road. He specialized in climbing stairs with the T, and climbed the stairs of the Parliament buildings with it. You probably wouldn't be allowed to do that today.
 I saw it mentioned somewhere that a water bomber dropped a load by accident on the campground. That was no accident. We were in a parade in Ottawa, and Ron Miller was following a float which had a man sitting in a bathtub ahead, advertising something or other. Ron and his wife had water pistols and were using the poor fellow as target practice. As Ron and his wife were on their honeymoon, they camped with their 1926 Dodge away from the crowd. The bathtub man, who happened to be a water bomber pilot attacked in the morning, and got his revenge. The rest of us were unscathed.
 I noticed mention of the 1975 tour with no details known. It was organized by Charlie Forester and Jack Bray, and had most of the "hardcores" from the 67 tour. We were living in Calgary then, and although we didn't attend, we had Tom Stewart, Jack Bray, and Porky and Marion Schneider as guests. We still had the Model A, and we all went to a local car event together. Charlie Forester fell ill just before the others left Ontario, and planned to catch up. His wife Pat phoned when we were all together in Calgary to tell us Charlie had died from a brain tumour. It put a damper on our party. All of the people previously mentioned are dead now, except possibly Ron Miller who was about our age, but I'm not sure.
 On the motorcycle side, I founded the Canadian Vintage Motorcycle Group, served as President of the US based Antique Motorcycle Club of America, and on the Motorcycle Commission of FIVA in Europe.
 I just sold my 1921 Stutz Bearcat, but still have a 1904 White steamer and 1978 Ferrari. I'll probably get something more suitable than either for the tour. The Ferrari would be fun but it doesn't carry anything. I couldn't get Mary Jane to ride on any of the nine motorcycles. She says after 50 years of marriage, she does't have to do that anymore.
 Best Regards,
   Pete Gagan,