2017 Coast to Coast trip.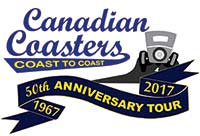 They are a group of classic car enthusiasts that actually drive their old cars on one of the world's greatest tours, traveling coast to coast across Canada. They are a collection of car buffs that come from every province in Canada, the USA and other parts of the world. Every ten years (or so) they all meet on one of Canada's coastal shores and take the two month tour of Canada's wonders, one time east to west then the next time west to east. We have the privilege of meeting some of the greatest people in the world, members of other car clubs. Their hospitality and friendship confirms we are one large family, sharing interests and of course great stories.
The first tour was held in 1967 to celebrate the centennial of Canadian Confederation.
Photo Gallery