The 66th Pebble Beach Concours d'Elegance featured the following marques and special classes:
Delahaye
Chapron Coachwork
100 Years of BMW
50th Anniversary of Ford GT40 Victory at Le Mans
Bizzarrini
Two-Man Indianapolis Race Cars 1930-1937
BMW Motorcycles
Click here for the list of Concept Cars on display in 2016.
The 66th Annual Pebble Beach Concours d Elegance was held on August 21st 2016. I arrived early enough to get a great spot to shoot the cars as they enter the field. The ocean in the background and the nice even light was great. Especially impressive was the cars were clean and not covered with ash like every other car on the peninsula.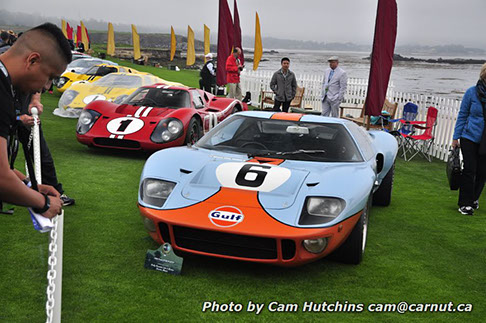 Once I entered the field, I was astounded by the row of Ford GT40's on display at the primo spot of the show….along the Ocean. I had not seen the GT 40's on the Tour D Elegance as the route was cut short and kept on the back roads of Carmel and Monterey. The normal route South of Carmel along the ocean was replaced so the Tour d Elegance would not interfere with the Forest fire fighting efforts.
I also got to see my fair share of Celebrities and right away Jay Leno walked past and I got to meet and speak with Bruce Meyers and get a shot of him with his Bizzarinni. BMW, Two-Man Indianapolis Race Cars, Bizzarrini, Delahaye, Parisian Coachbuilder Henri Chapron as well as the Lamborghini Muira's 50th anniversary added to the list of great cars…albeit in the shadows of the Ford GT40's commemorating their 50th anniversary of their domination at LeMans.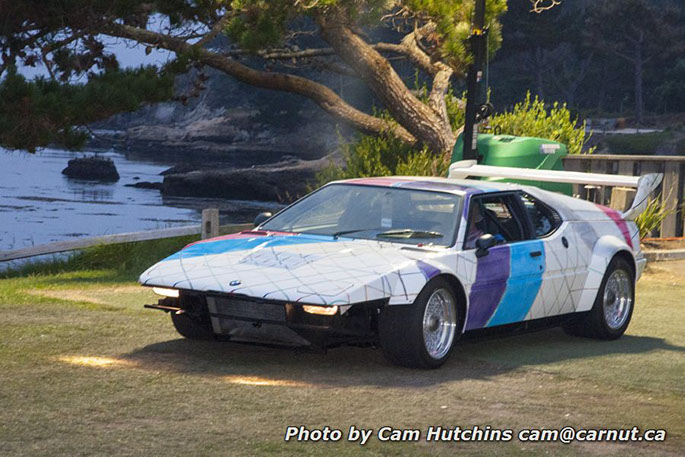 228 cars and motorcycles from more than 16 countries around the globe and three cars from Canada were on hand to please the massive crowds that surged forth at 10:30 when the general admission tickets were allowed entry.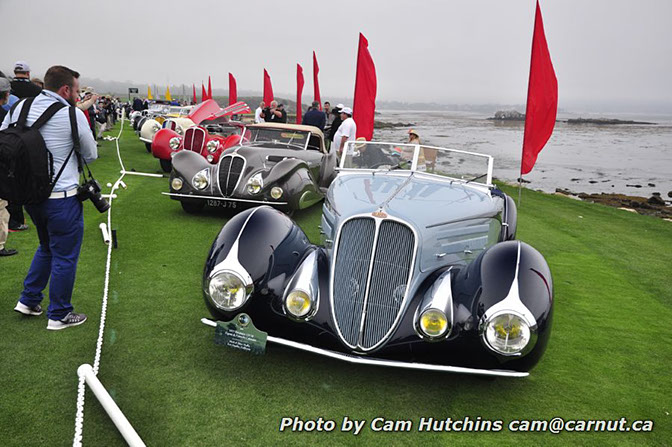 The judging is done by some of the best qualified experts of each class and once a car has won it's class, it is eligible to compete for best of show. Once owned by Eric Claptons, the 1936 Lancia Asturia Pinin Farina Cabriolet now owned by Richard Mattei of Arizona won Best of Show.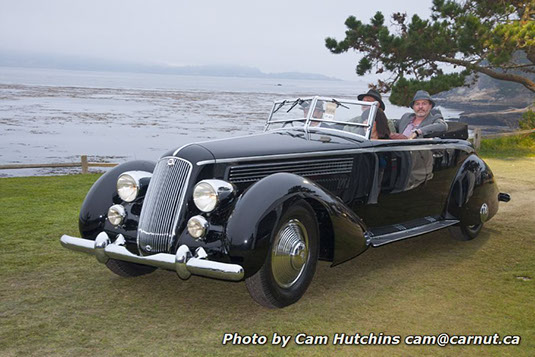 Of the other cars nominated for Best of show one almost did not make it onto the field. As the car entered the show it stopped to be given it's "gift" and after shutting off the car to speak with the presenter the car failed to start.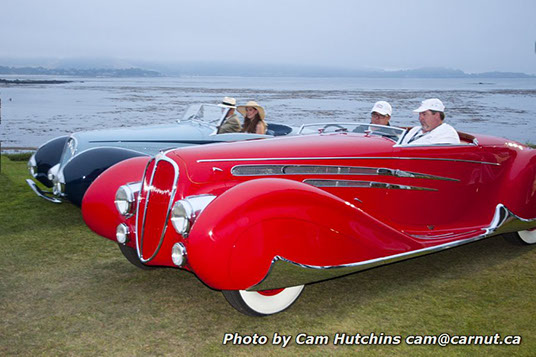 We joked that the driver was just making sure all the early morning Dawn Patrol photographers were getting the time to take the perfect photo of the 1938 Delahaye 165 Figoni et Falaschi Cabriolet owned by the Robert M. Lee Automobile Collection.
Photo Gallery