The good folk at Pebble Beach pass out a little pocket sized guide of the cars shown at Pebble Beach and it is an invaluable guide for fellow Carnuts to learn about the entries. Here is the excerpts for each of these 1932 Hot Rods from the Car Guide
By Cam Hutchins and JJ Carlson
Click here to read the car guide>>
V-01 1932 Ford Ted Wingate Roadster
owned by Rich & Karen Atwell, Fredericksburg, Texas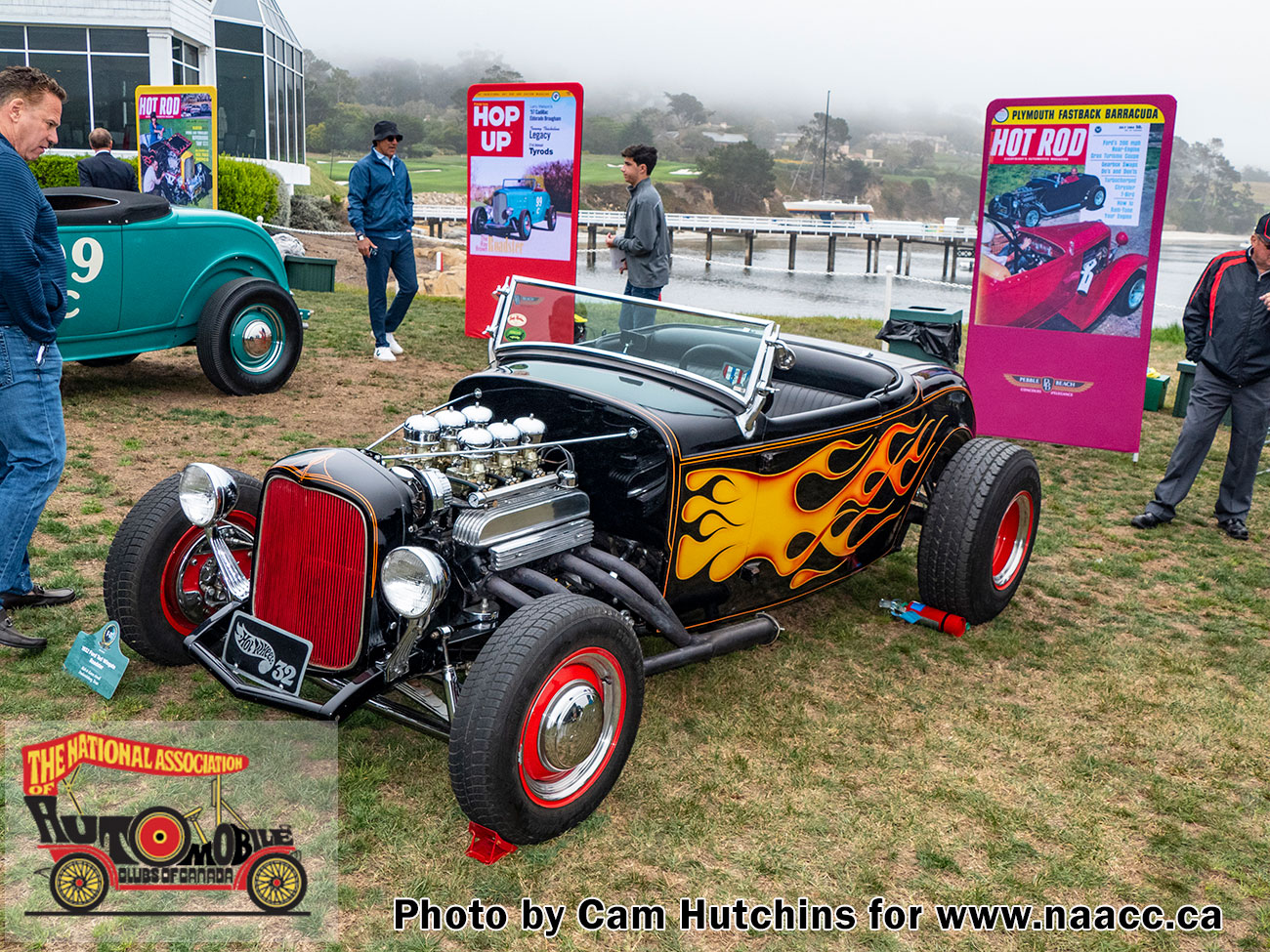 This 1932 Ford Hot Rod was built by Ted Wingate of Winchester, Massachusetts, in 1951 and ' 52, and used for transportation and drag racing on weekends. he original Ford V8 was replaced with a bigger Buick V8 in I 957. Wingate took the roadster with him when he moved to California in I 960, and it was featured in Hot Rod magazine in I 964. Les Jarvis purchased the Roadster in I 973, painted it black and had his friend Larry Woods add flames to it. Inspired, Woods, who worked as a toy designer for Martel, used the car as a model for a "Hot Wheels" toy. The Roadster was also a Street Rodder cover car in 1974.
V-02 1932 Ford Pacific Gunsight Special Roadster
owned by Kim McCullough, Pompton Plains, New Jersey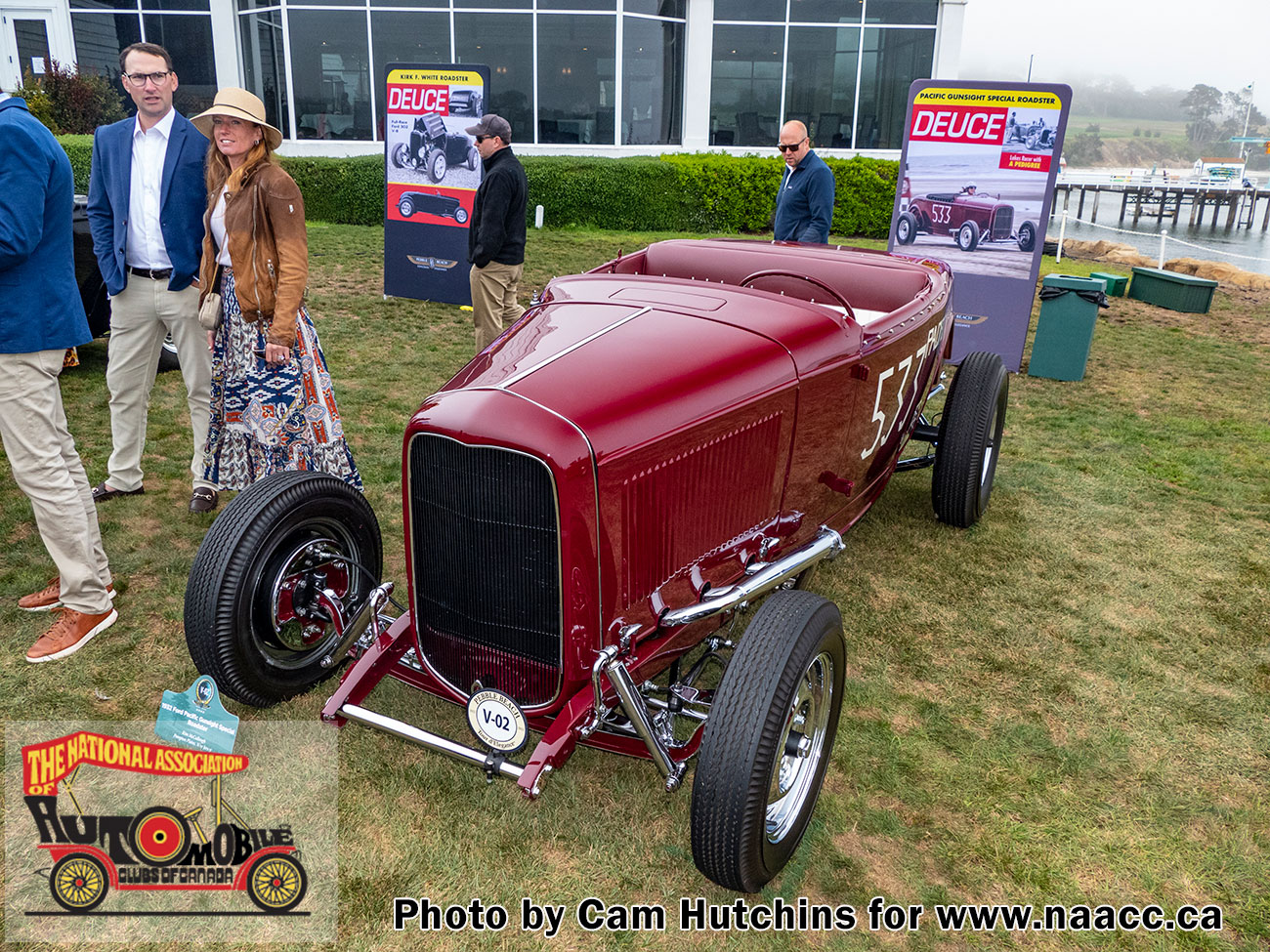 Kim McCullough is on hand with the ex-Roy Mac Kinney-Leo Juri "Pacific Gunsight Special," a road-going, lakes-racing '32 with a long pedigree. Mac Kinney dreamed up and built this highboy, and then ran it at drag races in Salinas and Redwood City, California, from the late 1940s up to 195 I. He sold it to Leo Juri in 1952 and, with sponsorship from Juri's employer, it earned it's nickname. AI Reyna! and AI Reyna! Jr. purchased the car from Juri, restored it with his help, and it was featured in Nod & Custom magazine in I 963. It also earned a Blue Ribbon Award at the I 967 Oakland Roadster Show and the Stoker McGurk Award at the 1968 Western Nationals. Jim Palmer next owned it, for 45 years, restoring it in 1998 and winning a restoration award at the 50th Anniversary Grand National Roadster Show in 1999. It also first appeared at the Pebble Beach Concours that year. McCullough purchased it in 2017 and promptly raced it on the beach at The Race of Gentlemen. A complete restoration in the winter of 2021 returned the car to the original four-carburetor configuration used at Bonneville, complete with the original Edelbrock manifold.
V-03 1932 Ford Bob McGee Roadster
owned by Bruce Meyer, Beverly Hills, California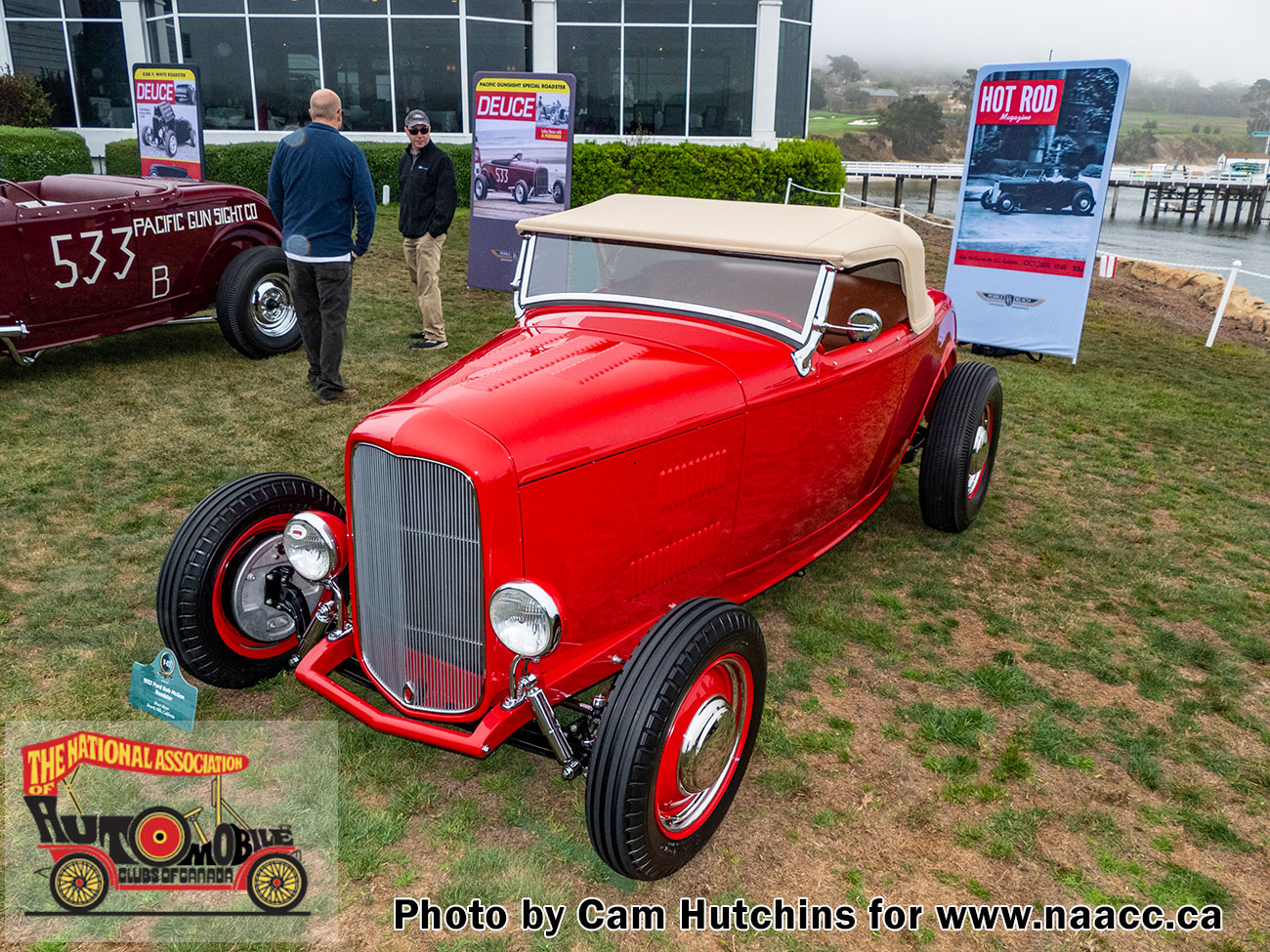 Featured on the October 1948 cover of Hoy Rod Magazine in a memorable photo by Bob Petersen, Bob McGee's classic roadster set the tone for countrywide copies. At first glance, this bright red car seems straight forward, but it's loaded with clever features like '40 Studebaker hidden hinges, a full-length decklid by California Metal Shaping, a three-piece hood and aluminum dash built by Whitey Clayton and reminiscent of Ford-Miller Indy race cars, a V-ed front spreader bar, headlight stands fabricated from the original light bar, and circular Pontiac taillights. This red rocket set the pattern for a legion of cars to come. The engine was a '34 Ford 21-stud V-8, with solid copper Federal-Mogul heads, a Burns dual manifold, Spalding ignition, and a Pierre Bertrand cam, good for a respectable 112.21 mph at Harper Dry Lake. McGee drove his roadster almost every day until 1954. Dick Hirschberg bought it in 1955, installed a Chevy V-8 and repainted it yellow. Later, Dick Scritchfield traded his Cadillac-powered '48 Lincoln Continental for the roadster, installed a 350-cid Chevy with a Weiand runnel ram, twin Holley 4-bbls and a T-1 0 gearbox, backed by a Halibrand quick-change. Scritch lobbied for a Bonneville Street Roadster class, and when it was approved in 1971, he set a two-way average of 167.212 mph with this car. Scritch sold the roadster in 1989, and its new owner, Bruce Meyer, commissioned the So-Cal Speed Shop to restore the car to its earlier Bob McGee configuration.
V-04 1932 Ford Ken Gross Roadster*
owned by Ken Gross, Hamilton, Virginia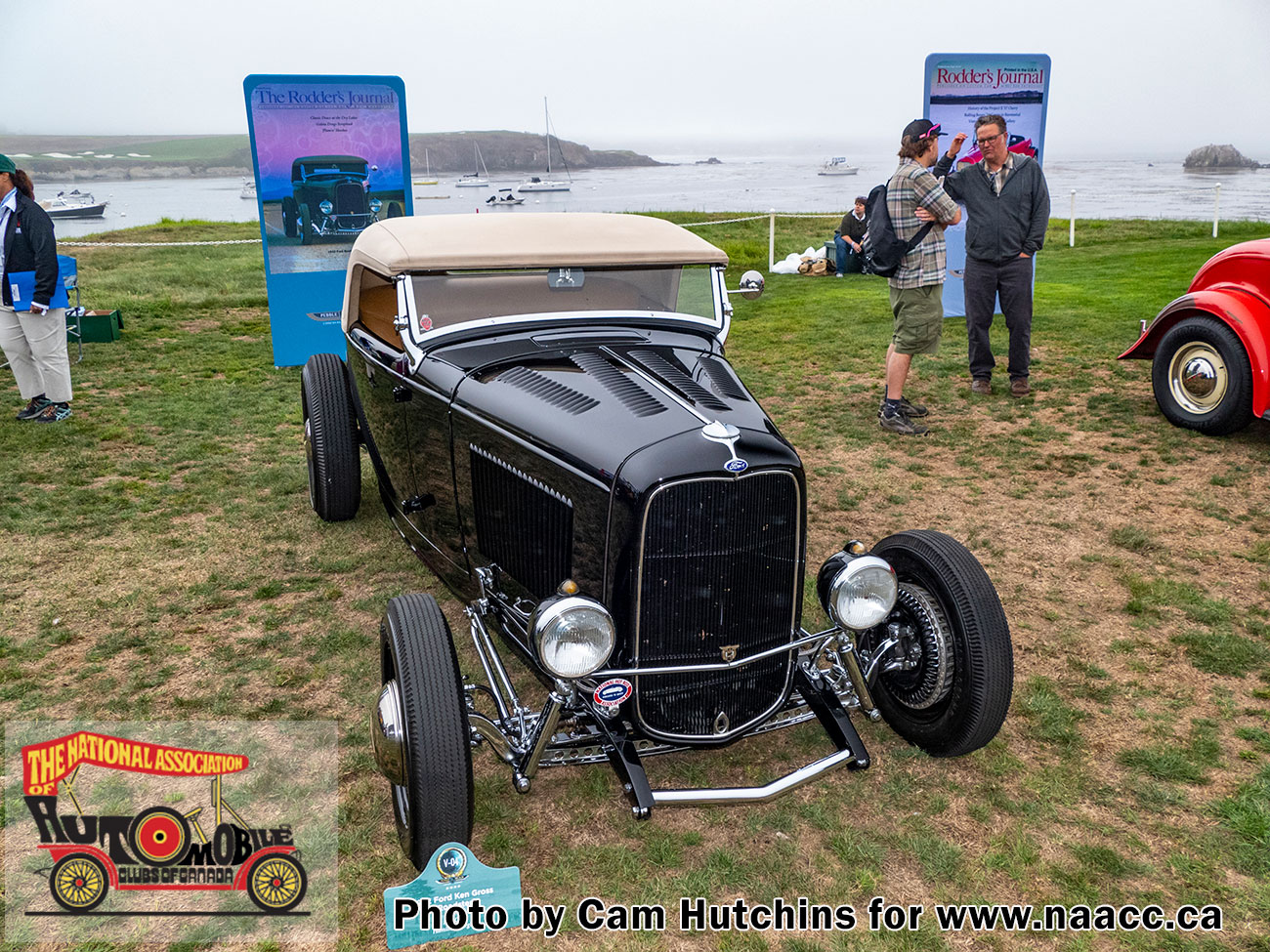 When Ken Gross couldn't find a "pedigreed" historic Deuce, over thirty years ago, he did the next best thing, scouring swap meets for cool parts, locating an old hot rod with an original '32 frame and body, and then commissioning Dave Simard, of East Coast Customs in Leominster, Massachusetts, to massage the vintage metal and assemble a period-perfect '40s-era roadster. Mark Kirby, of Motor City Flathead, built the bored and stroked 304-cid, SCoT-blown flathead with Eddie Meyer heads and a Harman and Collins magneto. Steve Pierce fabricated a Carson-style padded top and a tuck-n-roll tan leather interior, and Kevin Olson and Phil Austin applied 24 hand rubbed coats of black acrylic lacquer. Desirable goodies include ultra-rare Kinmont disc brakes and a Culver City Halibrand quick-change. This car won the coveted Bruce Meyer Preservation Award at the 50th Grand National Roadster Show in 1999 and was a Rodder's Journal cover car. It's a driver, with over 7,000 miles on the odometer.
V-05 1932 Ford Ray Brown Roadster*
owned by Petersen Automotive Museum Leslie Mark Kendall, Los Angeles, California
Ray Brown began building this roadster in his backyard in 1945 and '46, at age 18. A dual-purpose roadster, he used it as his daily transportation to work during the week and he raced it on weekends. The canvas painted a 1946 Buick color, a distinctive Sherwood Green, and he installed a two-gallon tank in the trunk and a parallel fuel system so he could run his roadster on alcohol fuel when desired. ln races at the dry lakes in 1946 and '47, he earned 11 timing tags. He sold the car in 1948 and it was then stored for over tour decades. ln 1991, the roadster was discovered in untouched original condition. A restoration returned it to its original racing configuration. The car has won AACA Junior and Senior awards and was the recipient of the 1994 AACA Past Presidents Award.
V-06 1932 Ford Lee Titus Roadster
owned by Ross & Beth Myers, Boyertown, Pennsylvania
Lee Titus opened a speed shop in Culver City, California, in 1955, and soon enough he decided to build this 1932 Ford Roadster lor himself. An experienced and highly competitive dry lakes and Bonneville salt !tats hot rod builder and racer, he had a dear idea of how to transform this roadster into a car worthy of the Hot Rod Magazine cover and feature article that would feature it in May 1959. Retaining its fenders, finished in black lacquer with a red interior, and powered by a fuel-injected Corvette V-8, it was pure California and pure Lee Titus. Hot Rod Photographer Andy Southard was the car's next owner, during which time the car was the subject of a multipart feature in Rod Action magazine as Dick "Magoo" Megugorac removed the fenders and transformed it in to a highboy. Subsequent owners have included Jim Busby, Bruce Meyer, Bill Hammerstein and Andy Cohen. The roadster was recently restored to its 1959 Hot Rod Magazine configuration.
V-07 1932 Ford Kirk F. White Roadster*
owned by Rob & Melani Walton, Scottsdale, Arizona
When noted Ferrari collector and dealer Kirk F White decided he wanted a classic Hot Rod in the early 2000s, he asked Pete Chapouris III of the SO-CAL Speed Shop to gather the best of all artisans to construct it. Doane Spencer, one of the finest Fabricators in the land, agreed to build one last Ford small-block engine. Thom Taylor laid out the overall design. Ryan Reed and Tim Beard did the metal work and paint on what was a Brookville steel body. Gabe Lopez finished the interior, and the result was this stunning, traditional yet contemporary steel-bodied '32 Roadster that marries historic charm with modern performance. The car is now owned by Rob and Melani Walton.
V-08 1932 Ford Gray Baskerville Roadster
owned by Jim & Chris Shelton, Las Vegas, Nevada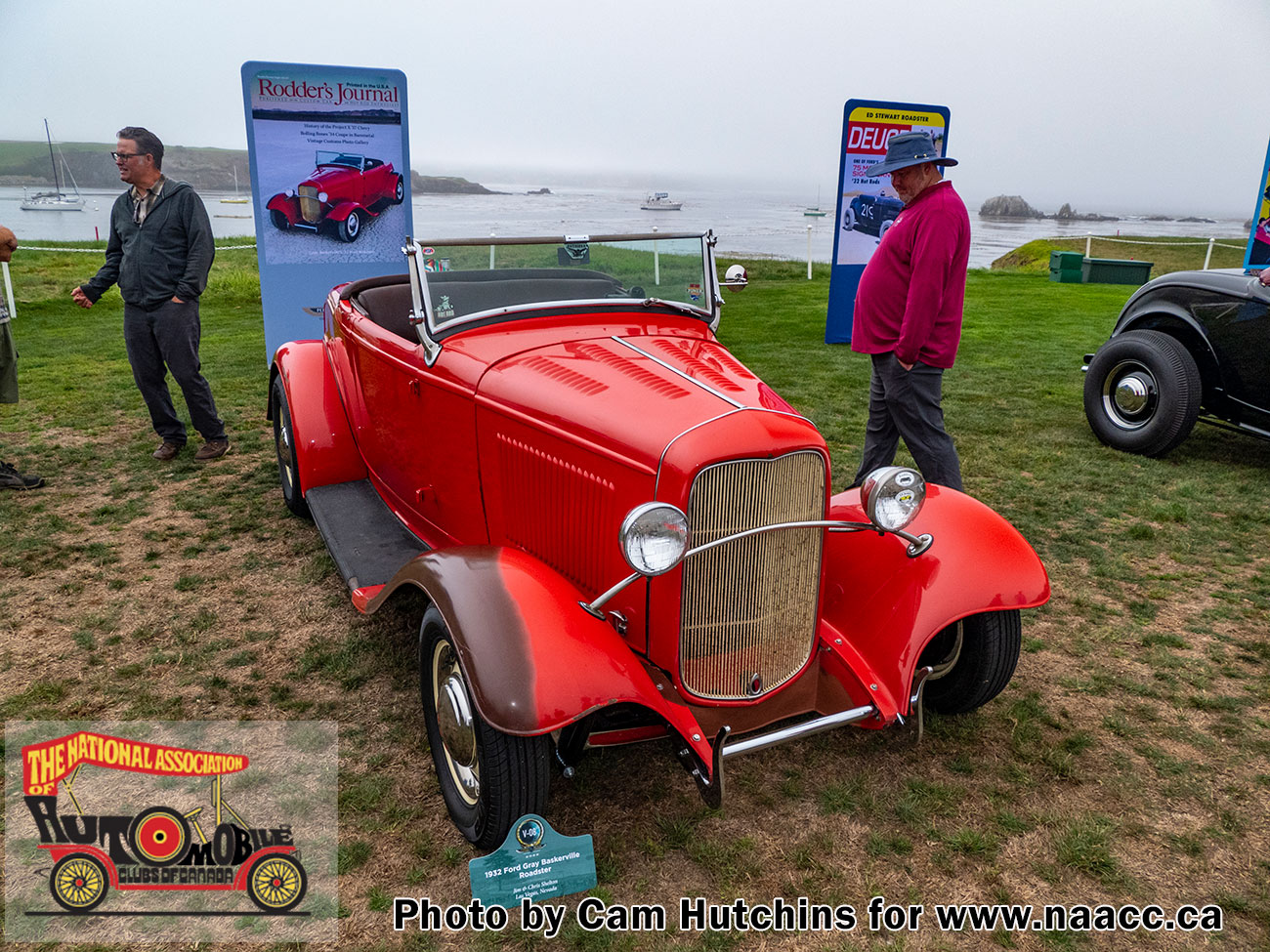 For years Gray Baskerville drove his '32 roadster to work at Petersen Publishing. His perennial Deuce was built from cast-off parts by two friends, Paul Horning and Ernie Murashige. Engines included a 6:71 -blown six-carb Olds with a straight front axle for racing, then a Hilborn-injected, roller-cammed Chevy V-8. It was really too heavy for racing, so Gray swapped the engine into a record-setting Altered roadster, and when his '32 hit the streets again, it had an Okie Adams dropped axle, Lincoln brakes, a smallblock Chevy and a Powerglide trans. Gray freshened up his daily driver in 1975 with some new paint, plating and interior work. Art Chrisman ensured the mechanicals were "reet," as Gray would say. This car always had a few primer spots, and in 1999, because of them, Gray was refused entry at the Grand National Roadster Show. It didn't bother him a bit. Jim and Chris Shelton, father and son, continue to drive this Deuce just as Gray did, primer spots and all.
V-09 1932 Ford Tom McMullen Roadster*
owned by Dana & Palli Mecum, Lake Geneva, Wisconsin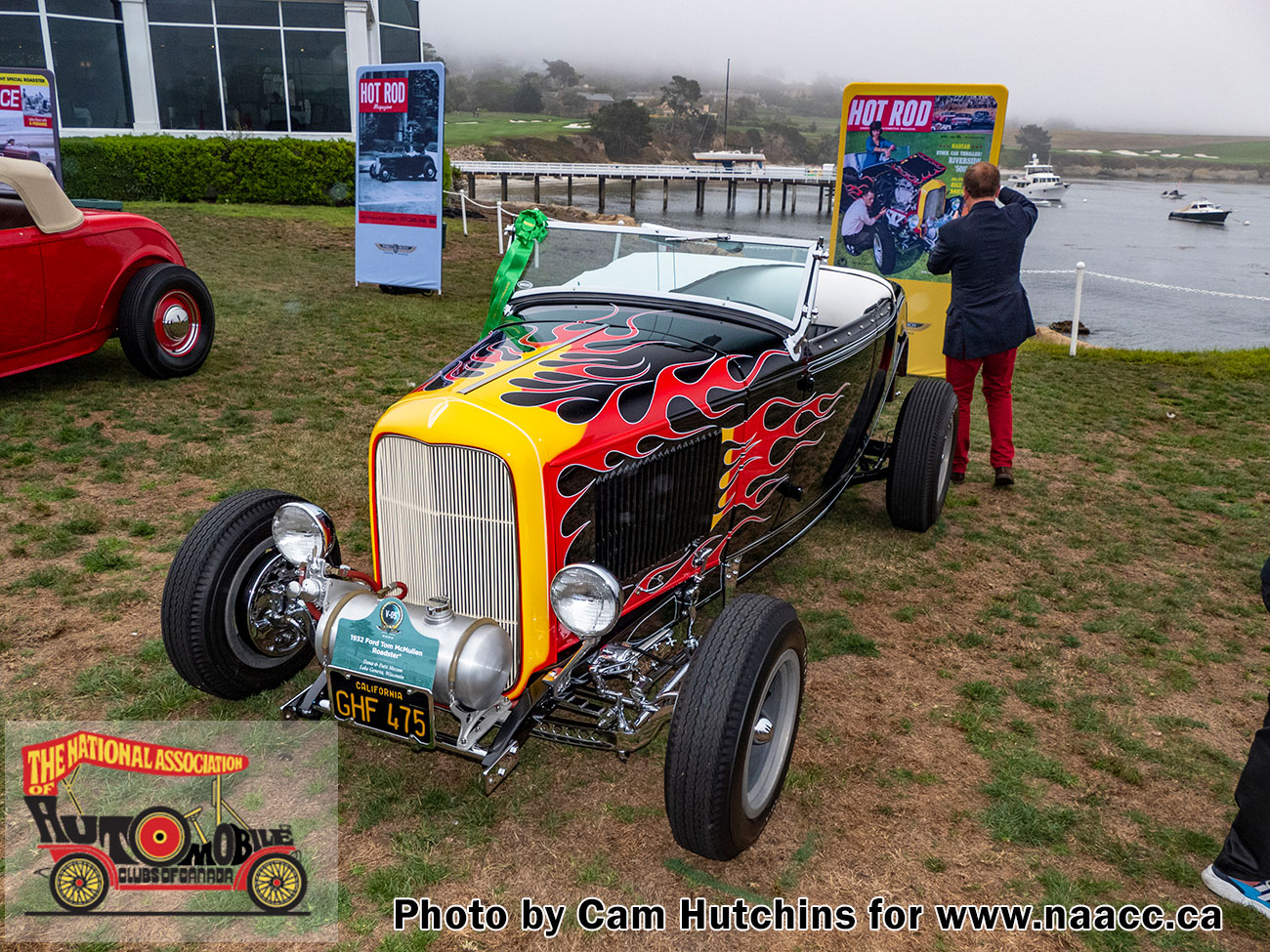 Tom McMullen's flamed roadster did it all, from the street to the drags, to the lakes and to Bonneville. The irrepressible McMullen wanted a traditional Deuce that would shake up the establishment. When this car appeared on the cover of Hot Rod Magazine in 1963, it blew people away. Pat Ganahl later wrote, "There just weren't any fenderless, wildly-flamed, mag-wheeled, GMC-supercharged early Ford roadsters like this on the street or anywhere else, really'." But these elements were not all for show. Tom had installed a Moon aluminum fuel tank, with a pressure pump, between the front frame horns, to combat fuel starvation, and he attached a Diest chute on the rear because il was an SCTA requirement for dry lakes racing. The magnesium wheels were lighter than steel ones. And while the flames were reportedly an impulsive decision, they were done, as was the wild pinstriping, by "Big Daddy" Ed Roth. "Tom didn't like to lose, so he was always improving this car. When it was obvious he'd gone as far as he could, he sold his roadster in 1969, then built several even more powerful cars.
V-10 1932 Ford Ian Cusey Roadster
owned by Robert Owens, Wellington, Texas
This 1932 Hot Rod Roadster was built in the 1950s with a hot flathead and black paint. Future LA Roadster member Tan Cusey purchased the roadster from fellow classmate Don Streiff, then in 1961, he removed the flathead in favor of a 283 Chevrolet and painted the car Jade Green. It was featured in Rod and Custom magazine in 1962 and it was on the cover of Speed and Timing in 1963. It also shared an album cover with Tom McMullen's flamed '32 roadster in 1964. Cusey kept the roadster in complete form until 1982, when it was disassembled on the pages of Slreet. Rodder in an article written by McMullen. Robert Owens purchased the disassembled car in 2014 and brought it to Jamie Johnson's Hot Rod Haven to be restored in 2020.
V-11 1932 Ford Ed " Axle" Stewart Roadster
owned by John Mumford, Portola Valley, California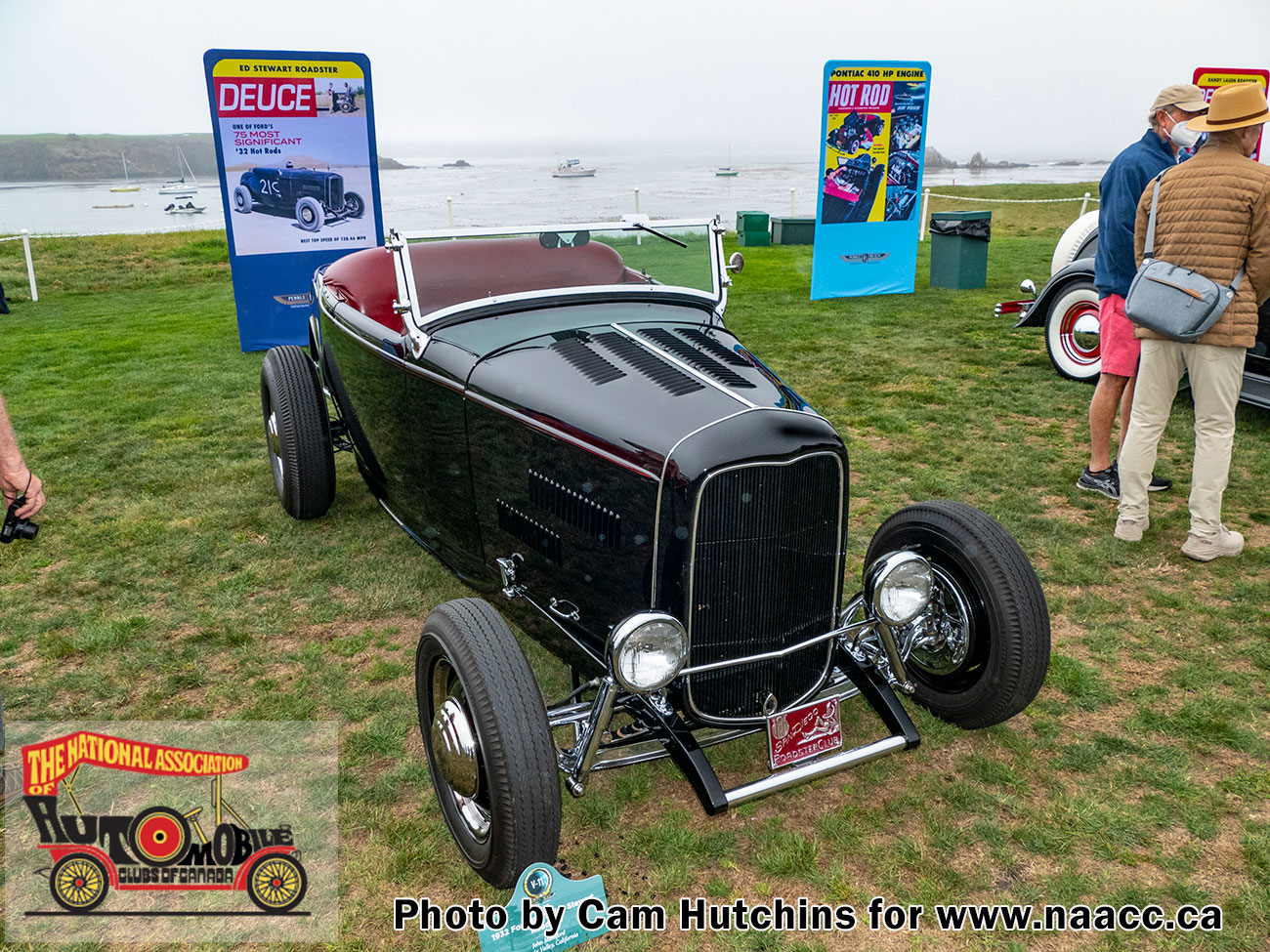 It took a clever mind to devise a single piece of equipment that's been a hot rod mainstay since the late 1940s. With the help of a local heat-treating specialist, Ed Stewart, a San Diego speed shop owner, learned to drop hammer and recurve stock beam axles to lower an early Ford's front end for better looks and in1proved handling. Soon, any lowered hot rod was said to be Dago'ed. Ed's nickname, "Axle," stuck with him all his life. In 1953, a dropped axle was 8 I 7. 50, and Ed sold hundreds. Stewart's own highboy was a frequent lakes competitor. He ran a three carburetor flathead with Evans speed equipment. In 1948, Ed turned an impressive 128.93 mph run at the lakes, a very respectable time, as Hot Rod Magazine noted, "for one of the few un-channeled '32 roadsters running." After Ed's death, his son Bob inherited the roadster. A complete restoration was done in 1987, and Bob "Little Axle" Stewart drove his dad's old car to many West Coast gad1crings. Besides the authentic SCTA timing tag on its dash, this roadster sported unique, oversized Stewart-Warner gauges that were the envy of all who saw them.
V-12 1932 Ford Randy Lauen Roadster
owned by Ed & Sherry Gilbertson, San Francisco, California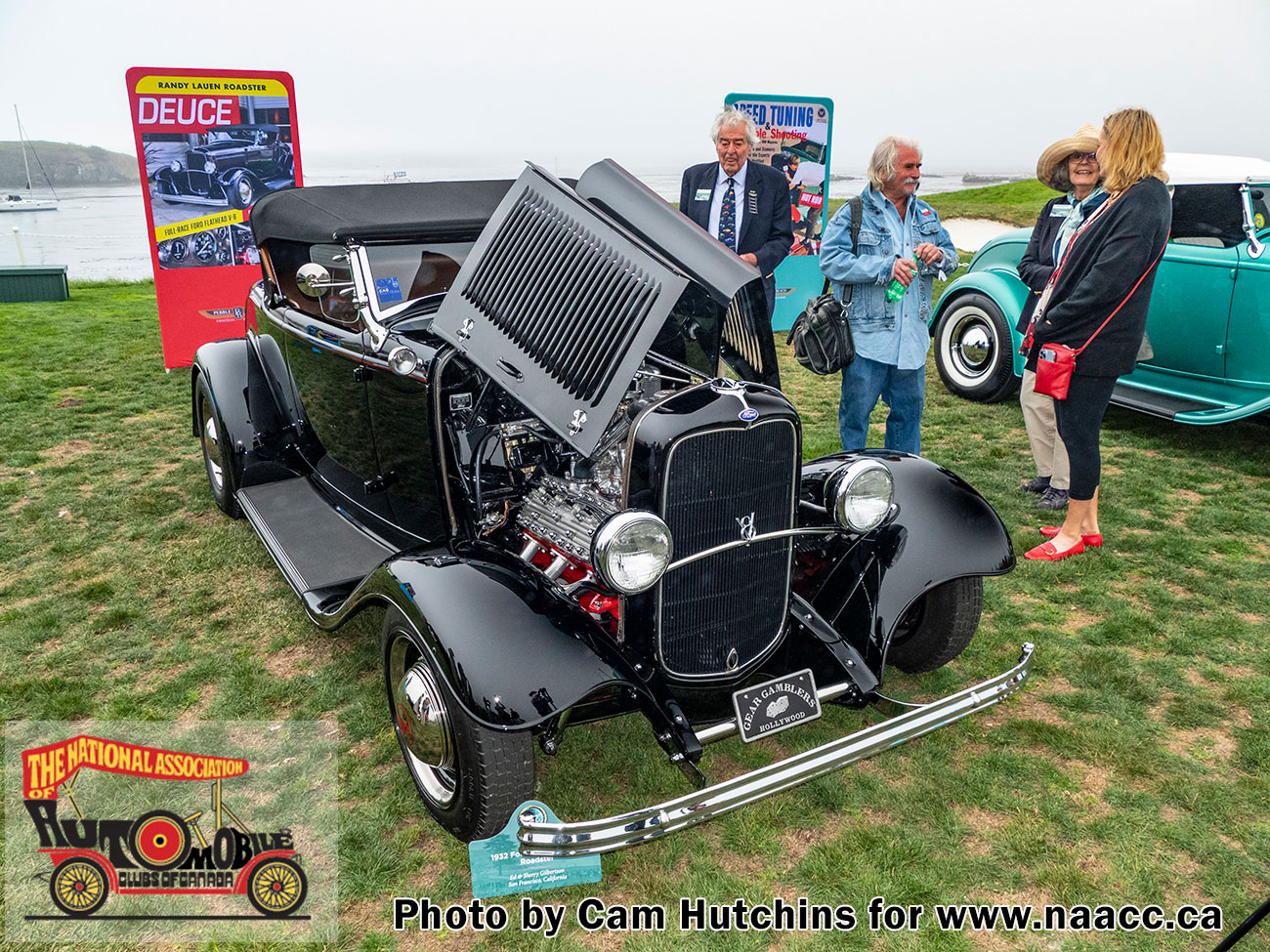 Concours Chief Judge Ed Gilbertson, long a Ferrari fan, is on our show field with his dream Deuce, a quintessential street rod with all-period speed equipment. With his vision, an original 1932 Ford DeLuxe Roadster model I8, with genuine Henry Ford steel, has been converted to a 1932 Ford Hot Rod. The car came from Iowa but lived in Wisconsin, and it was restored by Randy Lauen, a hot rod builder who resides in South Dakota. Rick Schnell, a national flathead dragster record holder, rebuilt the 1953 MercuryV-8 flathead and 1939 Ford transmission with Lincoln Zephyr gears. The motor is a full house hop-up with finned high compression heads and an Eddie Meyer high rise with twin Stromberg 97 carburetors. The back end was rebuilt by Wayne Atkinson, who was with Hot Rod Works in Griggs, Idaho. The car also features 1940 Ford juice brakes, a 4-inch dropped beam axle, a 3-inch windshield chop, a 9-inch Ford rear end, a 1939 Ford steering column and banjo steering wheel, and a 1932 Lincoln instrument panel. It is black with a thin red pinstripe folding black top, and tobacco brown tuck-and roll leather interior.