The 2019 Cobble Beach Concours d'Elegance presented by Porsche held on September 14 and 15 at the Cobble Beach Golf Resort Community on the shores of Georgian Bay (Featured photo credit: Cory Finkelstein, Hagerty).
The Cobble Beach Golf Resort Community hosted its 7th annual Cobble Beach Concours d'Elegance the weekend of September 14/15, 2019. This extraordinary automotive weekend kickstarted on Friday evening with a cocktail reception at the Cobble Beach Clubhouse. This event gave residents, judges and participants a chance to reconnect before the weekend activities kicked in. On Saturday morning Cars & Coffee at Cobble Beach, spectators enjoyed over 150 cars primarily from around Ontario as they gathered on the Cobble Beach driving range and enjoyed a day on the sparkling shores of Georgian Bay.  Some of the Clubs that participated included The Porsche Club of America, Upper Canada Region and the Corvette Club of Ontario.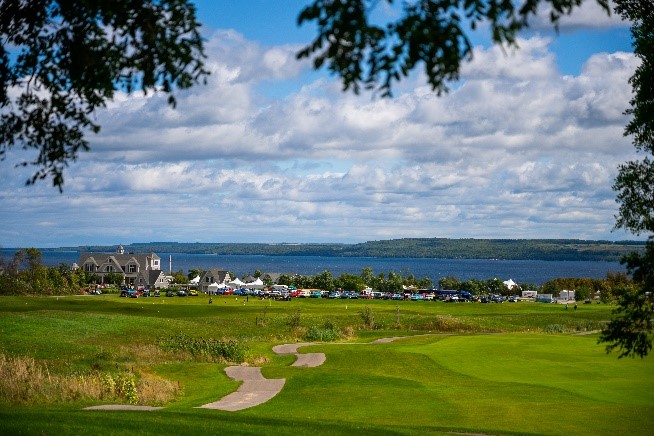 While folks enjoyed Cars & Coffee, Concours Participants and Judges took part in a 100km tour of Grey County with stops at the Grey Roots Museum and Archives including the Moreston Village (which has a replica of a garage from the 1920's) and a delicious lunch at the Wiarton Keppel International Airport which included the landing and inspection of an early 1970's prototype Russian trainer before returning to Cobble Beach for homemade ice cream from the local Big Bay General Store.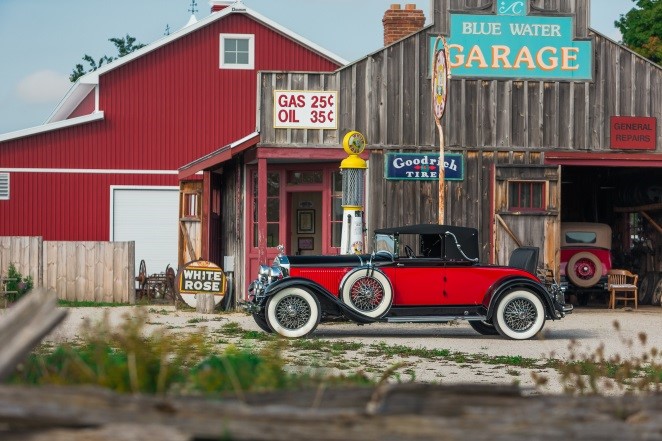 Saturday afternoon was filled with two seminars. The first "Why I Collect, What I Collect presented by Hagerty" was packed with attendees eager to hear from the panel of expert participants on why they collect what they collect. Moderated by Jonathan Stein from Hagerty, the panel, (Scott Sinclair, J.C. O'Steen and Brent Erickson), discussed what motivates them as collectors and why they built their collections. They explored why does one specialize in a certain type of car or even marque, while another likes all kinds of cars?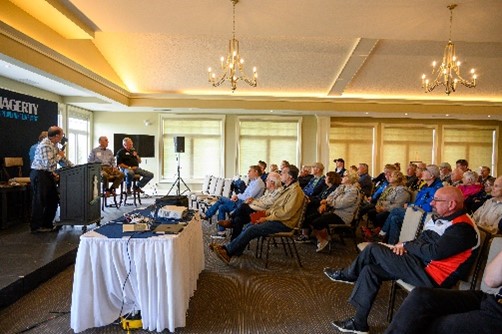 The second seminar was "Three-Five-Six: A primer on Porsche People, Race Heritage and Vehicles" presented by Porsche Canada. This seminar looked at three Ferdinands you need to meet, five race victories that shaped the Porsche brand and six Porsche vehicles that made a mark.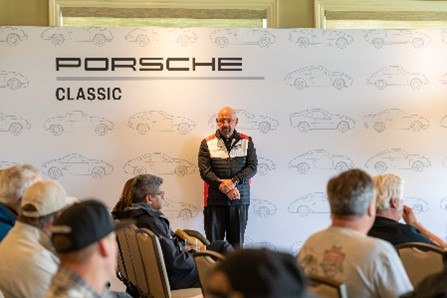 Saturday evening the Cobble Beach Golf Resort hosted the Collector Dinner. This dinner celebrates the car owners, judges and sponsors who make this event possible. Each year the Cobble Beach Concours d'Elegance supports two charities through live auctions, raffles and direct donations. We are pleased to announce that $68,230 was raised in 2019 bringing the grand total over 7 years to just over $500,000. The auction featured a special guest, Retired Colonel Chris Hadfield, is a former Canadian Space Agency (CSA) astronaut, engineer, science communicator, singer, and fighter pilot. The first Canadian to walk in space, Hadfield has flown two Space Shuttle missions and served as commander of the International Space Station (ISS). Colonel Hadfield kicked off the Concours auction by singing Space Oddity (which he also sang and broadcast from the International Space Station) and played a guitar which was then signed and auctioned off in support of Sunnybrook Foundation.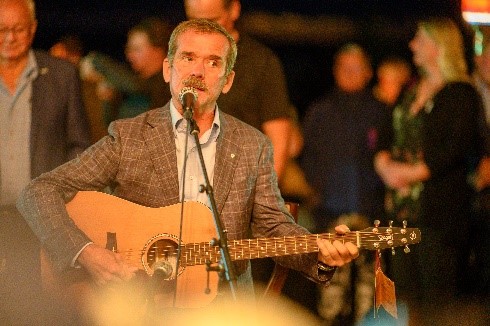 Sunday early morning as the Concours cars were loaded onto the 18th fairway, saw a vibrant coloured sunrise.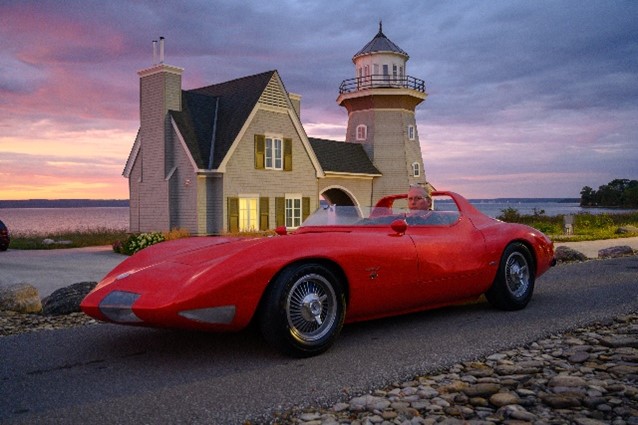 By the time gates opened at 9:00 a.m. the show had seen some rain but it did not last long. By 10:00 a.m. the sun started to peek out between the clouds. The early rain did not discourage automotive lovers and their attendance at the show.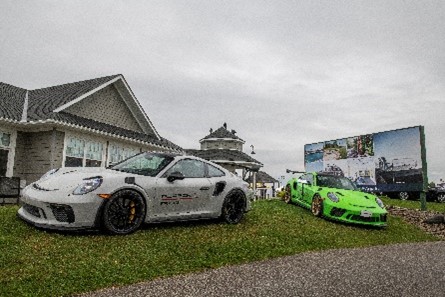 The Concours saw over 10,000 people attend over the weekend and the competition for Best in Show was fierce. "This has been one of the most impressive collections of vehicles in Cobble Beach history" said Rob McLeese, founder and chair of the Cobble Beach Concours d'Elegance.  "We focus on quality over quantity of vehicles on the show field.  With just over 110 impressive vehicles, one has the opportunity to thoughtfully look at each vehicle and learn its history. These aren't just pretty classic cars, they are artifacts of history that often carry rich and meaningful stories" added Mr. McLeese.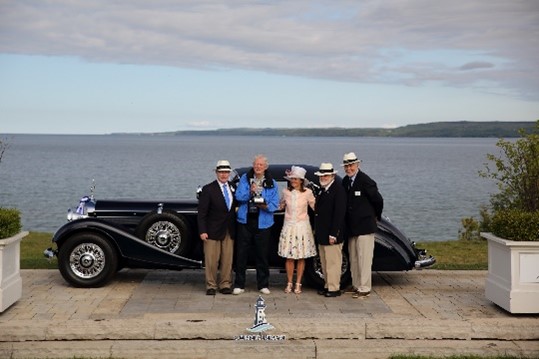 As Sunday's show drew to a close, the 1938 Mercedes-Benz 540K Cabriolet owned by Robert Jepson, Jr. of Savannah, Georgia, was crowned 2019 Best in Show.
This one-of-a-kind 1938 Mercedes-Benz 540 K Cabriolet was originally ordered in the late fall of 1937 by Mr. Max Gumpel, a Swedish citizen who won two Olympic gold medals for swimming in 1922. On September 30, 1937, the ordered chassis and engine arrived at the Norrmalm body factory in Stockholm, Sweden to fit a special body with unique appointments. This is the only body Norrmalm produced on a Mercedes chassis. This finished Cabriolet body featured twin batteries; a 60-gallon fuel tank; Marchal lights; a siren and a special split front bench seat, allegedly so that neither of Gumpel's lady friends would be relegated to the back seat. Gumpel's signature mascot, the Roman goddess of the hunt, Diana, replaced the typical Mercedes-Benz three-pointed star. Upon completion, the car weighed 6,300 pounds. Max Gumpel traveled in high society in Sweden in the 1920s and 1930s. His license plate carried a special number, "A54" ("A"for Stockholm, the country's capital), and the low number signified very high status, befitting for the Royal Family. This plate carried the essence of diplomatic immunity. Gumpel was even allowed to keep the plate if he were to sell the car. Mr. Gumpel was a close friend to many notable women of the day. One in particular was Greta Garbo, a frequent visitor who would stay with him in his home. They were often seen driving around the countryside in this Mercedes. The car was put up during the Second World War and Mr. Gumpel even arranged a special "non-conscription" status for the car, allowing him to keep the car and not have it mandated for use by the Swedish army. Mr. Gumpel kept the Mercedes until 1955, when it was sold to Michael Savosnick. The car changed hands several times, and one owner had the car repainted in 1986 and showed it at the Pebble Beach Concours d'Elegance. The next buyer, Jerome Sauls, purchased the car and had it completely restored in Canada. In May of 2001, Mr. John W. Rich of Frackville, Pennsylvania purchased the car. Mr. and Mrs. Jepson purchased the vehicle in 2017 and initiated a complete restoration by Prueitt Automotive Restoration in Pennsylvania. This stunning automobile turned heads in Sweden 81 years ago and, with its unique beauty, continues to garner the same admiration today.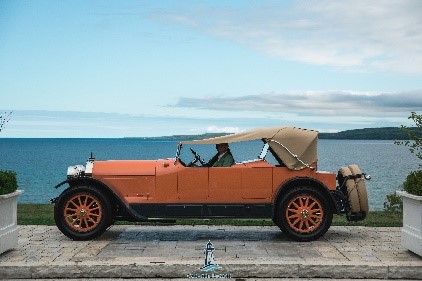 Our pre-war winner was a 1917 Locomobile 48 TYPE M SERIES 7 owned by John and Mary McAlpin from Naples, NY.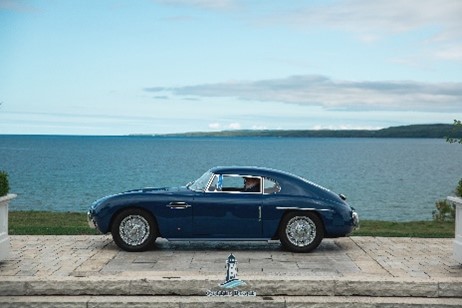 Our post-war winner was a 1954 Siata 200CS owned by Walter Eisenstark, Bluffton, SC.
Each vehicle that competes at the Cobble Beach Concours d'Elegance is only eligible to re-apply for a coveted spot on the lush 18th fairway once every four shows.  This minimizes repeat vehicles and ensures a completely unique show each year for attendees and participants alike.
The Cobble Beach Concours d'Elegance team is looking forward to another great show on September 18, 2022. We hope you can join us.