Part 5 of the report on the 2017 Pebble Beach Concours d'Elegance.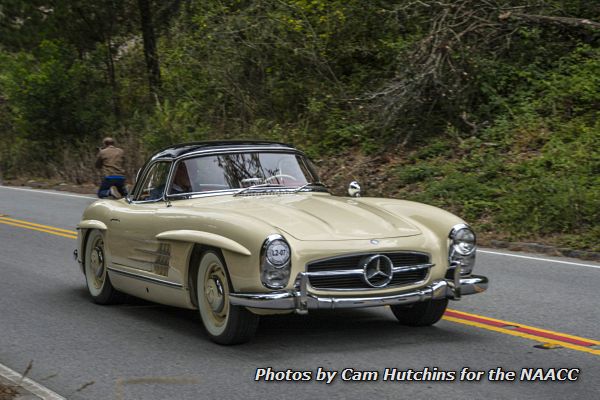 This 300 SL was once owned by prominent 300 SL collector C. Jewett Henry of Pennsylvania. Previously it had been in Oslo, Norway. Powered by a 225 bhp version of the 3.0L straight 6 cylinder fuel injected engine, the 300 SL Roadster was introduced in 1957 at the Geneva Motor Show. Extensive engineering was needed to change from the gull wing body to the roadster body with its lower door sills.
Produced from 1957 to 1963 was 1,858 cars.
This Ferrari won Le Mans for the last time for Ferrari.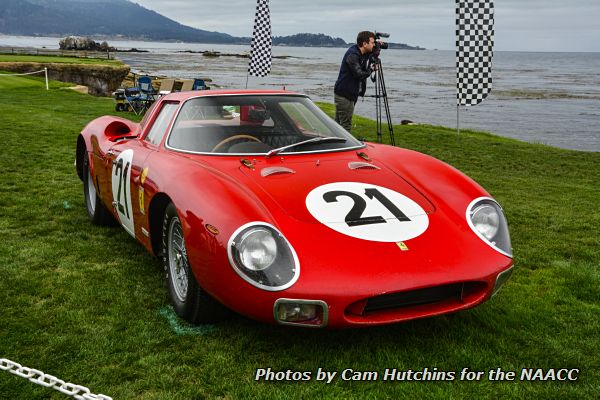 A very important but sad fact is this car (chassis 5893) in the hands of Jochen Rindt and Masten Gregory
driving for Luigi Chinetti's NART racing team won LeMans for the last time for Ferrari in 1965. Failing to meet the required numbers for Homogolation, the Ferrari 250 LM had to race as a protoype. Introduced at the 1963 Paris Auto Show in October it was built to replace the 250 GTO but only 32 cars were built. This was Ferrari's first mid engine design and began it's career with a win at the Reims 12 Hours in July 1964 with Graham Hill and Jo Bonnier at the wheel. After it's Le mans win it raced for another 5 years in long distance battles such as Daytona and even again at Le Mans before retiring and now resides at the Indianapolis Motor Speedway Museum.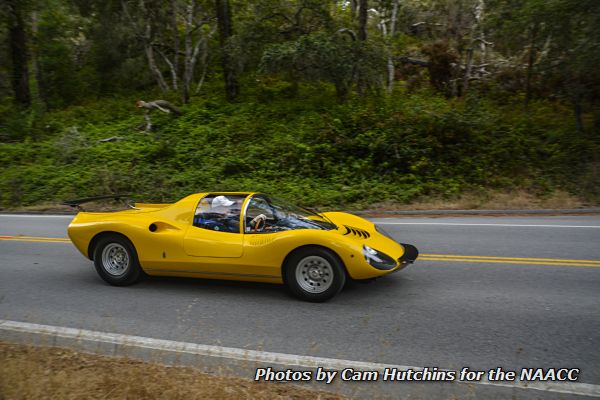 This P2 Fantuzzi Spyder (chassis 0838) had a number of famous American drivers at it's wheel. Masten Gregory, Bob Bondurant, Mario Andretti and David Pearson all took turns behind the wheel of this car. Competing in the 1965 World
Manufacturers' Championship, The North American Racing Team (NART) finished 7th at the 1965 Le Mans and won the Reims 12 Hours 4 weeks later. In 1966 it raced at Daytona but was damaged at Sebring and was quickly re-bodied as a Berlinetta by Piero Drogo in Modena so it could race at Le mans in June.
After it's racing days were over it went to the Pierre Bardinon Collection in France, then back to the states in 1983. It is now back in it's NART Livery.
M3-11 1975 Ferrari 312 T F1 Race Car (no photo), Richard Griot, Tacoma, Washington
This 312 T Formula one car (chassis 312-022) was first raced in the 1975 Grand Prix season by either Niki Lauda or Clay Regazzoni depending on the track. Lauda won at Silverstone and at the French Grand Prix and it's last competitive race was in 1976 at the South African Grand Prix with Regazzoni driving. Of the 5 312 Ts built, all survived and get regular track use at Vintage events.
Powered by a flat-12, 510 bhp engine with a transverse five-speed gearbox mounted ahead of the rear axle , the 312 T's won Ferrari four Constructors championships as well as three drivers with a total of 27 wins.
A true star car, driven by both Steve McQueen and James Garner and even in a Movie!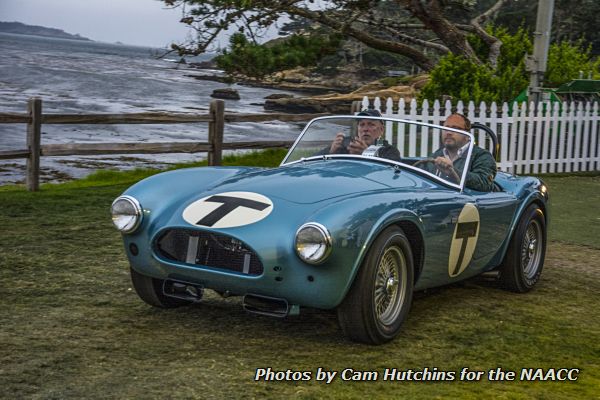 Another "Star Car" this was the fifth Cobra built and was in the movie "The Killers" before being sent to the Carroll Shelby School of High Performance Driving at Riverside Raceway. Steve McQueen and James Garner took their turns behind the wheel and the car is presented in it's school livery of Blue with a Letter T for trainer instead of a number.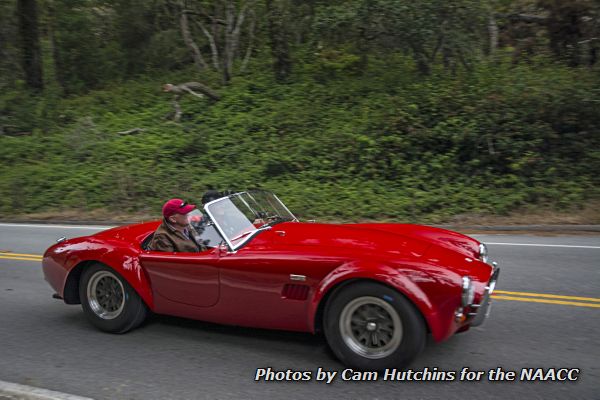 This is one of the first 10 427 road Cobras built and is unrestored. It still features it's original rear-exhaust pipes and Halibrand wheels.
A Racing Corvette SR-2 chassis lurks under this Wild car.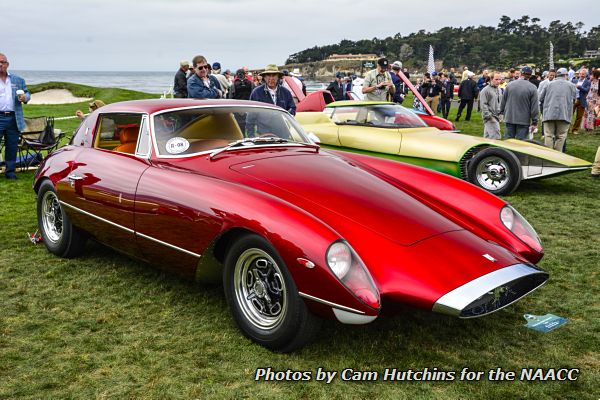 After building his own sports car, the Bosley Mark I, as a daily driver, Richard Bosley later traded that car for a racing Corvette SR-2 . The famous Corvette chassis became the under pinnings for his Bosley Mark II Interstate. Named for the newly built "Interstates" where the car was to be driven. A monocoque fibreglass body added to the SR-S chassis with a 345 bhp, Tri-power Pontiac V-8 engine and a Corvette manual transmission for motivation. Featured in Magazines early on, it was abandoned until the early 90's.
Built on a Maserati Grand Prix car of the 50's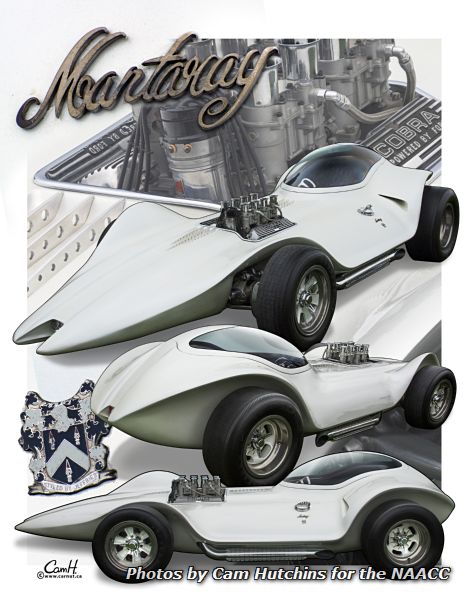 The most prestigious award for a car customizer in the 60's was the Tournament of Fame grand prize to be awarded at the Oakland Roadster Show. Dean Jeffries built his Mantaray to compete for the 1964 show. Using parts from an old Maserati Grand Prix car that his Father in Law had kicking around. From that chassis he took 86 individual pieces of sheet aluminum to form the Mantaray's body. The Plexiglas bubble top was formed by heating the plastic and blowing air up from underneath. Jeffries took the car to the Oakland show on February 14, 1964 and won the first-place prize of $10,000 and a trip to Europe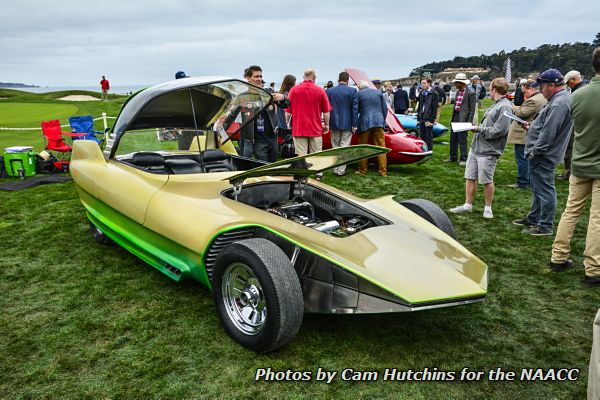 This extraordinary car was designed and built for the 15th annual Hartford Autorama by Californian Gene Winfield. The aluminum body was welded to a steel tubular framework mounted onto a modified Citroën DS chassis with a turbocharged engine from a Chevrolet Corvair. The hood, doors, hidden headlights and roof can all be operated by remote control. Originally called the Autorama Special, the car was sold after the show but was soon purchased back by Winfield and renamed the Reactor. The car became famous after he showed it around Hollywood, where it was invited to appear on TV shows Star Trek, Batman and the comedy Bewitched, which featured the Reactor in an episode specifically written for the car. It was often surrounded by celebrities who wanted to have their picture taken with it. After several owners, Gene purchased the car back in 1995.
The Last Bugatti Built… before they built more!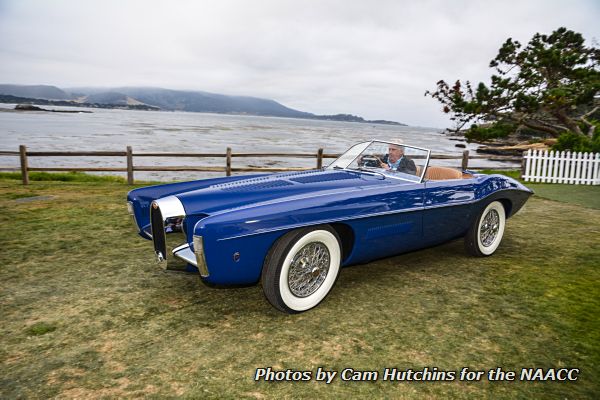 In September 1949, Bugatti planned to manufacture 16 new chassis based on the prewar Type 57 but only three were completed. Using an improved Type 57 chassis as the
basis for the new Type 101, Bugatti announced plans to produce 50 cars but only six chassis were actually finished. Five were custom bodied by other coachbuilders and later, in 1965 Virgil Exner designed this Ghia Roadster and Exner's son, Virgil Jr., designed its interior., this car (chassis101106), is the last Bugatti to be built. This unique Bugatti was exhibited at the 1965 Turin Motor Show, but financing could not be arranged and future production plans were scrapped. Virgil Exner owned the car himself for many years but drove it less than 1,000 miles.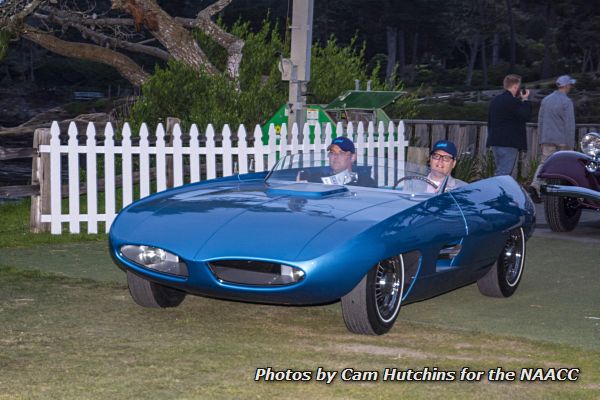 The Vivant was created by Pontiac engineer Herb Adams in 1965. He was inspired by the three Alfa Romeo B.A.T. prototype coupés. The lightweight roadster body was hand-formed by a trio of European panel beaters over Adams's own space-frame chassis. Pontiac cues were deliberately incorporated into the design as well as many Pontiac mechanical components, including the 370-cubic-inch V-8, which is one of a limited run of engines assembled as part of Pontiac's horsepower development program. The Vivant made many show appearances in the mid-1960s and then disappeared until 2009 when collector Mark Brinker found it. Its appearance at Pebble Beach this year is its first public appearance in more than half a century.
As mentioned, into the event on a bus sitting beside a fellow who worked at the Lane Motor Museum. He told me they had just got it driving again but only to speeds of 20mph so not suitable for the tour d elegance.
Gyro Transport Systems of California, hired designer Alex Tremulis in 1967 work on a gyroscope balance two wheel car. Dubbed the Gyro-X it was powered by a 4-cylinder, 1,275 cc Austin Mini engine and controlled by a hydraulically driven gyroscope developed by the "gyrodynamicist" Thomas O. Summers. The Gyro-X never went into production and this prototype is all that's left of the exercise. Road tested by Science & Mechanics magazine, it was claimed it could reach a top speed of 125 mph and easily turn without tipping. During warmup it relied on a set of training wheels on retractable outriggers. This will be the car's first show and the first time the Gyro-X will be seen moving—at least in a forward motion!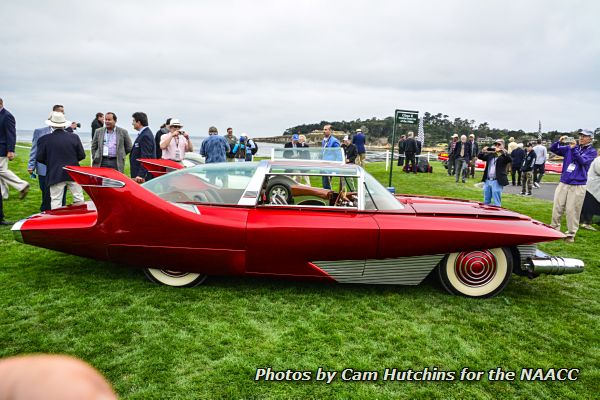 This low-slung, be-finned coupe is as amazing today as it was when crooner Bobby Darin and his wife Sandra Dee rolled up in it at the1961 Academy Awards. The car was designed in 1953 by Andrew Di Dia, a clothing designer, who Bobby Darin had met whilst on tour in Detroit in 1957. Darin telling Di Dia at the time that he would purchase the car if he ever "hit it big". The car took seven years and about $94,000 to complete. He commissioned Chrysler stylist Edward V. Francoise to render the car, and it was built by Bob Kaiser from Clark Kaiser Customs, a noted Detroit concept car house. The car was built on a tubular chassis with an aluminum body that featured "skyview" roof sections, a double wraparound windshield and a huge, one-piece Plexiglas rear window. The paint, reportedly done by George Barris, consisted of 30 coats of Swedish Pearl Essence, supplemented by crushed diamonds. Darin paid an incredible$150,000 for the DiDia 150, which caused a sensation wherever it was seen. After Darrin's death, the DiDia found its way to the St. Louis Museum of Transportation.
Showing that I really do not know enough about cars, when I first saw this car I thought is was too quirky looking to be at Pebble Beach. The History of LeRoi "Tex" Smith's Hot Rod magazine XR-6 is very interesting.  Tex was an associate editor at Hot Rod magazine and the XR-6 was a way of taking the staple of the hot rodding world, a 1923 Model T body with a pickup box and using easy to get pieces build a car any of the readers could easily replicate. Based on sketches by Steve Swaja, you add a racecar front end, an aluminum Slant six dodge engine with three 45 mm weber carbs. The VW front suspension with a 2×4 rectangular tube frame and a double trailing link rear suspension with Dodge Lancer rear axle. Like the XNR it featured asymmetric styling, hidden headlights and fenders al a the Jetsens! Assembled by Tex's friends including Gene Winfield, George Barris, Steve Swaja and Tony Nancy. The  XR-6 won the Grand National Roadster Show's top award for "America's Most Beautiful Roadster on its first outing. The car was featured in Hot Rod Magazine and was a very competent car capable of driving and toured on the show circuit around the country. The lure of the traditional Hot Rod was too strong for the XR-6 to compete.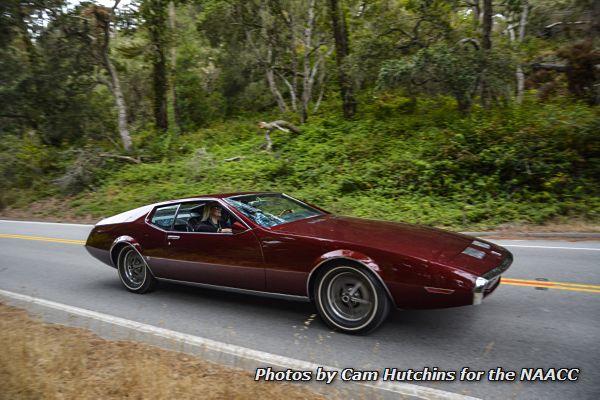 The Farago was a design exercise by ex-Ghia engineers Paul Farago and Sergio Coggiola. Farago had worked with Vigil Exner in developing the Chrysler/Ghia concept cars and was also the chief engineer for the Dual Ghia project. He later designed the Ghia L6.4 built for some of the Hollywood elite. Farago and Coggiola opened Carrozzeria Coggiola in Turin in 1966 and went on to produce prototypes for many companies, including SAAB, Lancia and Volvo.  One of the first projects to be completed was this car, the Farago CF 428, which was built for John DeLorean while he was head of the Pontiac Motor Division of General Motors and was intended to show GM what an Italian-designed Pontiac could look like.