Part 4 of the report on the 2017 Pebble Beach Concours d'Elegance.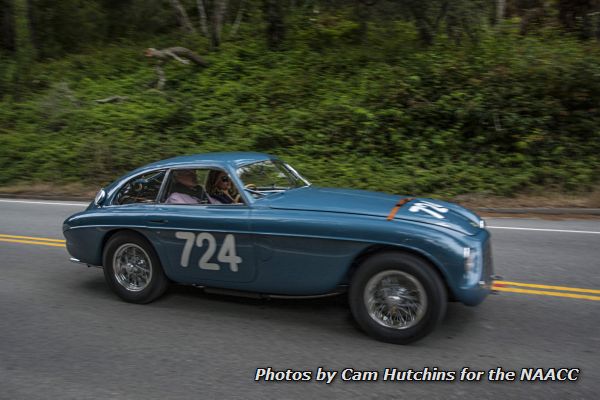 Built with the larger 2.4-liter, V12 engine this 166 MM (chassis 0026M), won the Mille Miglia with Giannino Marzotto driving. Marzotto also drove the car to a first-place finish in the Notturne della Caracalla race in Rome, and then the car ran at Le Mans. Sold to an enthusiast in Switzerland in 1957 but was abandoned a decade later. It was to lay in pieces in a scrap yard with other Ferraris, including a GT SWB and a 275 GTB. Purchased in 2003 and restored in 2007 by the current owner.
Interestingly Marzotto was a very interesting character in the Italian racing scene.
He started racing his father, Count Gaetano Marzotto's Lancia Aprilla and did very well. After meeting Enzo Ferrari in 1948 he explained he wanted a 2 litre grand touring coupe. This is believed to be the forth customer Ferrari built. He and his 3 brothers all raced Ferrari's in the 1950 Mille Miglia and because Marzotto had a companion his victory was called the "double Breasted Victory" because he always raced in a nice suit.
When he first got his Ferrari he almost did not accept it because it was not as fast as the Lancia. It was explained that one of Ferrari's technicians, Luigi Bazzi, had detuned the car for fear of the 20 year old getting hurt while racing.
Sold New In Uruguay.
Starting with the cars based on the lowly Fiat 500 Topolino the wealthy industrialist and sportsman Piero Dusio started the small Italian automaker Cisitalia in 1946. Starting with single-seat racers, in 1947 Dusio produced his first road car, the Cisitalia 202. Styling by Pinin Farina and later Vignale  small run of cars were built, a few of which were built in steel and aluminum.  This car was sent to Uruguay in 1950 for Emilio Fontana, the Cisitalia dealer for South America. The second owner was a US Air Force pilot who had it from 1959 until 1970. An Italian collector, brought it to Italy restoration. The present owners bought it after seeing it in the Mille Miglia Museum.
Owned by Clark Gableand customized by the Barris Brothers.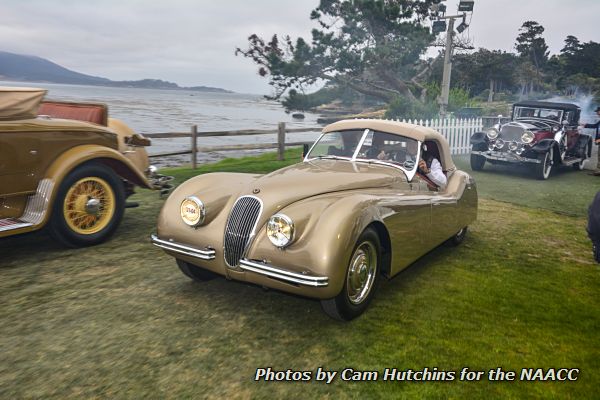 Once Clark Gable saw the Jaguar XK120 he knew he wanted one and purchased the first left hand drive XK120 in America. He liked it so much he bought a few of them and this car was customised by the "Kings of Kustoms," Sam and George Barris. A padded Carson top was added to give more headroom and the car was painted Barris Gold Bronze Lacquer after a few minor touches like filling seams and other tasteful changes.
It was restored in 2014.
This Bentley was in Australia for 47 years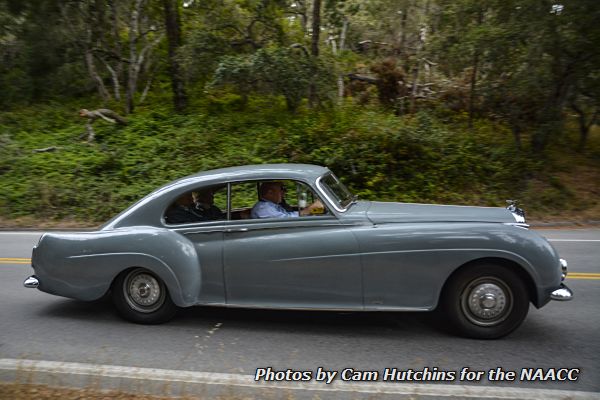 This car was sold new to golfer and pilot Philip Scrutton, then to another sportsman Stanley Hailwood in 1955. Hailwood is the father of motorcycle champion "Mike the Bike." While Hailwood owned the Bentley it was entered into the Cannes Concours of Elegance. Another aviation buff, Frank Cavanagh from Australia bought the car while on business in England in 1968. He shipped the Bentley back to Australia where it shared an aircraft hanger alongside his other toys including a Ferrari GTC, a Cessna and another Bentley S1 for 47 years.
In September of 2015 the car was for sale at JD Classics' showroom in Maldon, Essex, in the UK and it was in a rough state, but they were convinced that it is only original once and it should not be restored nor even washed!
Named the Continental the car was designed for England and only 43 left hand drive cars were built. Introduced in 1952 The R-Type Continentals were built at the Rolls Royce factory at Crew and then bodied at H.J. Mulliner
From the https://www.rmsothebys.com website.
178 bhp, 4,887 cc inlet-over-exhaust six-cylinder engine with two SU carburetors, four-speed manual gearbox, independent wishbone front suspension with coil springs and an anti-roll bar, rear live axle with semi-elliptic leaf springs, and four-wheel mechanical servo braking system with hydraulic front and mechanical rear brakes. Wheelbase: 120 in.
Even after becoming the "Silent Sports Car" in the mid-1930s, Bentley held tight to its performance heritage. Later in the decade, the company began experimenting with aerodynamic designs, eventually evolving the Georges Paulin-designed Corniche prototype of 1940. The Corniche did not survive World War II, but its spirit did, and after the war, it evolved into H.I.F. Evernden and J.P. Blatchley's R-Type Continental, "a car which would not only look beautiful but possess a high maximum speed, coupled with a correspondingly high rate of acceleration, together with excellent handling and roadability."
H.J. Mulliner was contracted to design and build the prototype Continental, which was based on the frame, suspension, steering, and braking components of a standard R-Type. The body, window, and seat frames were built of light alloy, resulting in a four-passenger body that weighed only 750 pounds, totaling to less than 4,000 pounds when mated to the chassis. After extensive road tests in France, the prototype's gearbox overdriven top gear was found to be unsuitable for the rpms offered by the engine, so it was replaced by a direct-ratio top gear and lower axle ratio, which was a combination that proved best for both high-speed touring and well-spaced gear changes for city driving.
Of the 207 production Continentals built between May 1952 and April 1955, Mulliner would body 193 of them to variations of their prototype design, which was dubbed the Sports Saloon. The Mulliner-bodied R-Type Continental created a space for itself that was unique. It combined the swiftness of a Ferrari, the driver-friendly agility of an Alfa Romeo, and the luxuriant comfort of a Rolls-Royce in one elite, built-to-order package that cost $18,000. In the early 1950s, there was no other automobile quite like it in the world, which made it a "must-have" for the burgeoning jet set. In the words of Autocar magazine, it was "a modern magic carpet."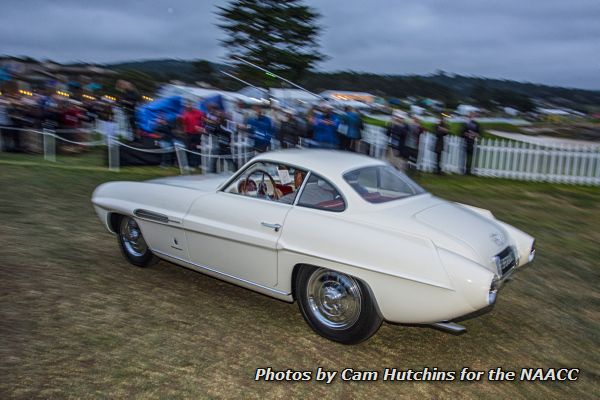 Introduced at the 1952 Geneva Auto Salon the Fiat 8V (the Otto Vu) was powered by Fiat's new 70-degree, overhead-valve V8 engine designed by Dante Giacosa. Only 114 examples were built, with 40 having Fiat factory coachwork and the rest by other Italian carrozzerie. Howard "Dutch" Darrin bought two and sold one to Briggs Cunningham and the other to Lana Turner. Found in Beverly Hills in the early 60s without the original engine and transmission and painted red.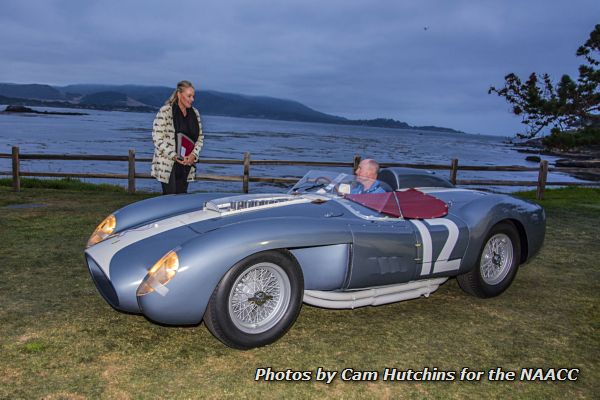 The "Super Testa Rossa." 4 litre Spyder (chassis 0764) bodied by Scaglietti with the pontoon fenders like the earlier smaller engined Testa Rossa's. Finished in 1958 and first presented at the New York Auto Show. First owned by Alan Connell and raced at and raced at Daytona and Nassau in 1959 and 1960. After an engine failure the car was shipped back to Maranello  for a rebuild but the car was returned while the engine stayed in Italy. After 20 years apart Robs Lamplough put them together and raced it at Vintage events. After another failure and repair it reached an incredible $9 million dollars at auction but Lamplough turned it down and eventually sold it to an American collector William Bauce for $3 million. After a full restoration it was sold to a Japanese collector then back to American Bruce McCaw. Sold to an Austrian, it was restored back to it's original Alan Connell Livery by the very capable Paul Russell.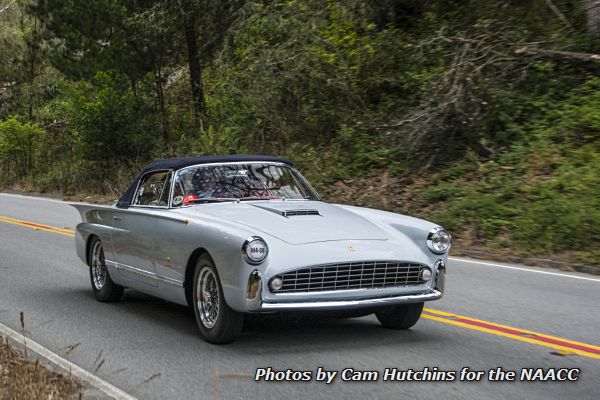 This unique Ferrari is identical to the first 1956 410 Superamerica Boano Cabriolet (chassis0485SA) that was shown at the 1956 Turin Auto Show. This is the first body Boano built on a 250 GT chassis. The second car was a coupe and they chassis with 410 Superamerica Boano Cabriolet bodywork is owned by Robert M. Lee and his wife Anne and hey are great supporters of the Pebble Beach Concours. This trio first appeared together on the lawn at Pebble Beach in 1987.
Sports Car Enthusiast Mickey Marston took a wrecked Austin Healey 100 to Joe Huffaker and had them design a tube frame with a de Dion–type rear suspension with inboard rear brakes and torsion bar springing. Originally powered by a rare Hunter twincam head and having a practical and light all-aluminum body designed and built by by Huffaker. The Healey Special raced throughout California, This car competed in the Del Monte Trophy at the 1956 Pebble Beach Road Races. The car has been actively vintage raced by the Pavesi, Marston and Huffaker families since 1978, with 17 appearances at the Monterey Historic Motorsport Reunion.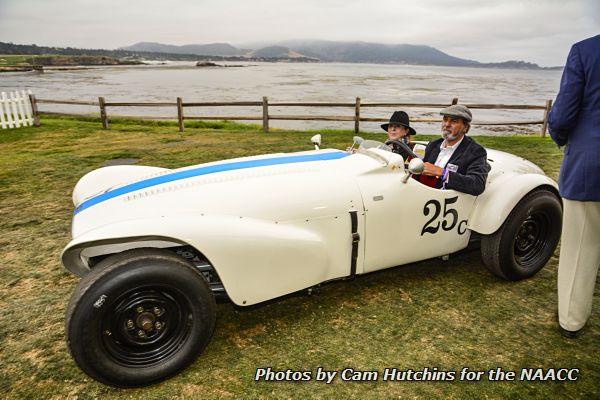 Clearly one of the more unique entries is this Tatum GMC Special built after Chuck Tatum said he could build an American car that would beat all the British cars that were so popular. Featuring an alloy body designed by Arden Farey and fabricated by Jack Hagemann. Suspension out of a Ford with drum brakes and a 6-cylinder, GMC truck engine was bored out to a displacement of 302 cubic inches. Winning it's first race in the spring of 1953 at Golden Gate Park in San Francisco and went 157 mph at the Bonneville Salt Flats in 1953. It also got a part in a movie with Tony Curtis and Piper Laurie in the movie "Johnny Dark". The 1953 Tatum GMC Jack Hagemann Special competed in the 48-lap Del Monte Trophy feature race at the 1954 Pebble Beach Road Races.
First shown at the 1955 Turin Auto Show, this Pinin Farina coachbuilt Jaguar XK120 was sold by Max Hoffman to one of his important clients. After being the importer of Volkswagen from 1950 to 1953, Hoffman's suggestion of how to sell more European cars in America, icons like the Mercedes 300 SL Gullwing, BMW 507 with the V8, Alfa Romeo Giulietta Spider and the Porsche 356 Speedster were built. Born into the automotive world in Vienna as his Father was the Vienna Rolls Royce dealer. After a career driving racecars in Europe he fled to America ahead of the Nazis.
Becoming the Jaguar dealership in New York City, Hoffman had Frank Lloyd Wright design his New York Show room on the ground floors of an office tower at 430 Park Avenue. But with the success of the Mercedes 300 Sl he switched away from Jaguar.
He imported the first ever Jaguar XK120 into the States, and this 1954 Jaguar XK120 SE Pinin Farina Coupé was a corroboration between Hoffman and Battista Farina as a reinterpretation of Jaguar. The coachbuilder Pinin Farina only bodied one of these with the rest being built by other Italian carrozzerie. Not much is known about this car, except  it resided in Germany between 1979 and 2015. The present owner commenced restoration when they got the car in 2015.
First built as a coupe by Vignale, Jaques Herzet raced in the Coupe de Spa-Francorchamps, the Rallye des Alpes, the Liege-Rome-Liege, and the Tour de France. After placing second in the 1953 European Championship it went racing in South America. Back in Europe, Carrozzeria Oblin in Brussels re-bodied the car as a spyder. This newly bodied 166MM (0300M) raced at the 1954 Twelve Hours of Reims and eventually was put out to pasture in 1957. A recent restoration takes the car back to the livery of the end of 1954, Black with the red stripe.
The importance of this little car cannot be overstated, the first Ferrari to win the Mille Miglia was the reason for the name change to 166MM. The 166 MM Barchetta won the 1949 24 Hours De LeMans for the first time for Ferrari with Luigi Chinetti at the wheel and then two weeks later a 166MM won the 24 hour race at Spa Francorchamps. With Luigi Chinetti's setting up Ferrari North America, thus enabling the burgeoning club racing scene in America to have the 166MM to race by many privateers. Wealthy Sportemen and drivers started snapping up used Ferraris to take on the new road courses popping up across the United States.
All this done based on just 46 cars that were built between 1948 and 1953 with bodies built by Stabilimenti Farina, Touring, and Zagato. Surprisingly few exist today in original form.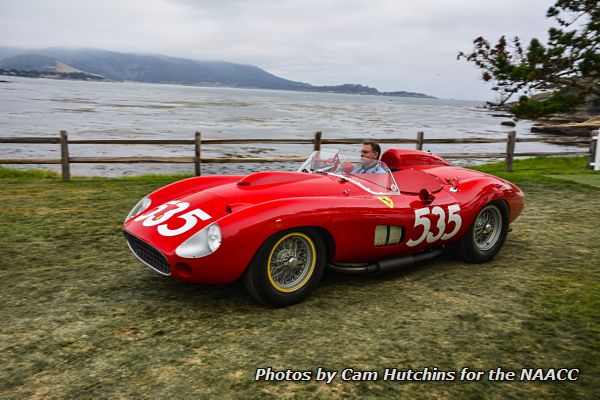 This significant Ferrari 315 S won the placed fifth at the  1957 24 hours de Le Mans and was the only factory car to finish allowing Ferrari to win the World Championship for Sports Cars for 1957. Winning the 1957 Mille Miglia with Piero Taruffi driving without a navigator at an average speed of 94.841 mph, this car is considered the ultimate Mille Miglia Ferrari and it is the only one left in existence. The car was restored in Italy by Fantuzzi in 1985.
The re-engineered Ferrari V12 was introduced in 1956 and had been increased to 3.8 litres for the new 315 S so it could beat the Jag D Type and the Maserati 450S.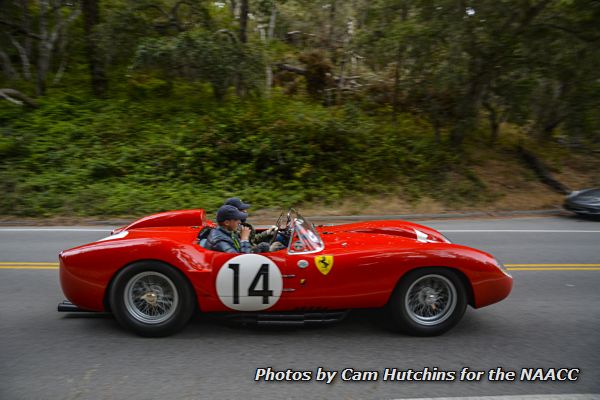 Possibly the most famous Testa Rossa of all time this car at the hands of Phil Hill and Olivier Gendebien won Le Mans in 1958.  Chassis 0728 was also third overall at the 1958 Targa Florio with by Mike Hawthorn and Wolfgang von Trips. Originally left hand drive with the classic pontoon fenders it was converted at the Ferrari factory to an envelope body. Typical of the day the car went through a number of privateers ands a number of power plants before being reunited with its original engine by Ferrari collector Pierre Bardinon in France.