Part 2 of the report on the 2017 Pebble Beach Concours d'Elegance.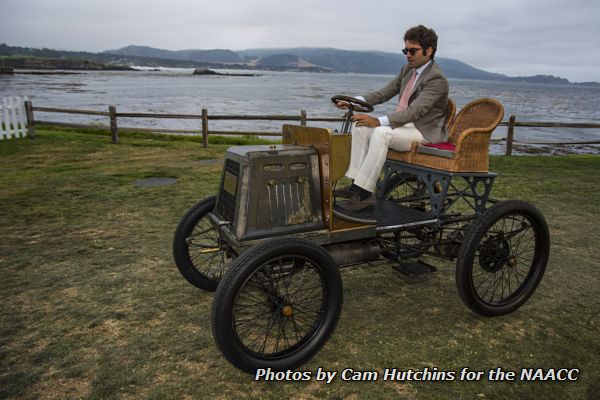 This little running chassis has spent more time tucked away in storage than not. Built after Isotta Fraschini formed in 1900 in Milan to assemble and sell Renault cars in Italy. This modest Isotta Fraschini, chassis no.1 is the first
automobile to carry the Isotta Fraschini badge. Powered by a single-cylinder De Dion-Bouton engine it was used by the factory as a test bed, then put in storage until 1931. Sanctioned by then Prime Minister Mussolini, it was given to Henry Ford for his new Museum, all while negotiations were ongoing regarding Ford Building cars in Italy. The Henry Ford Museum had the chassis on display for a short time before once again going into storage until the 80's. After 83 years abroad, Corrado Lopresto bought the car in 2014 and returned it to Italy. Fitting simple wicker seats to the chassis so it could take part in the 2015 London to Brighton Run.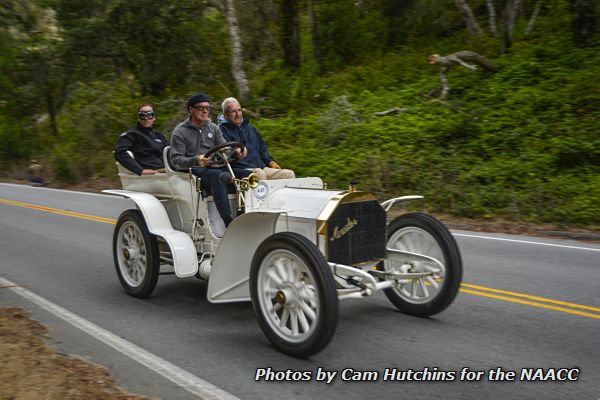 First introduced in March 1903 this car was delivered to it's first owner that month, making this one of the oldest Mercedes in the world. The Simplex name was used to indicated how easy it was to drive and this car is considered the first modern Mercedes and departs from the previous model's designs.
Competing in a hill climb against similar models, E. T. Stead a pioneer of the British racing scene reached speeds of 60 mph. This car has taken part in the London to Brighton Veteran Car Run on several occasions.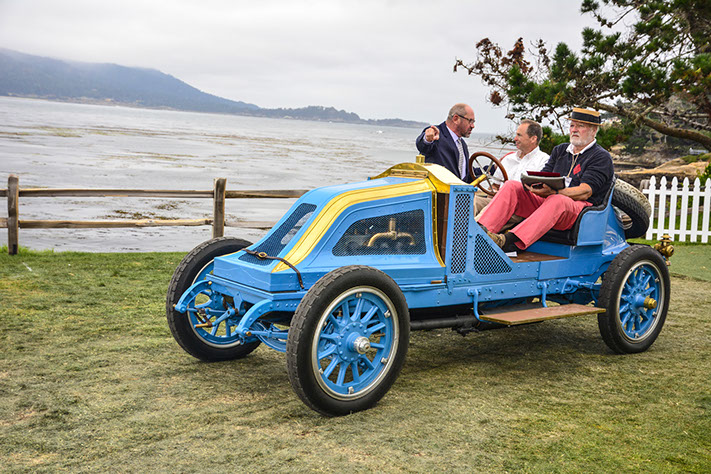 I was lucky enough to meet the son of the fellow that bought this car in 1928. He purchased the car off his father a long time ago and probably knows as much as anyone alive on how to keep these great old cars running. He rode in the car as it was being placed on the prime spot by the ocean with all the other Renaults.
These type cars were ordered by  "Willie K." Vanderbilt Jr. and his rich young friends directly from the Renault factory at Billancourt in the Seine region of France. All of these "AI's" were owned by the very wealthy of the time. The Type AKs, were more suites for Grand Prix racing, but "AI's" often raced in local race and hill climbs with one "AI" winning the1908 Morris Park New Jersey 24-hour endurance race.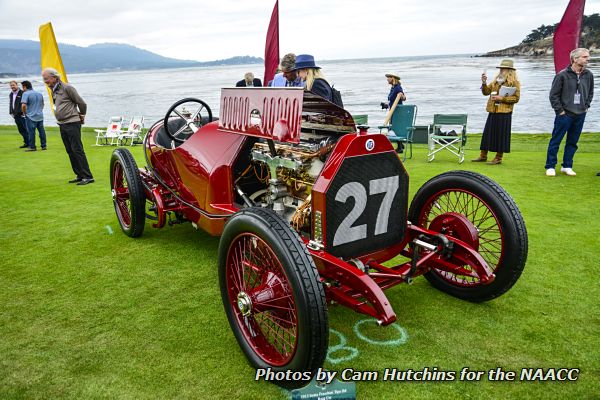 Only 6 of these Isotta Fraschini Tipo IM Race Car were built in 1913 partially due to a strike at the Factory. Of the  three that raced at Indy that year, they were completed by an outside company and the gas tank's rivets failed on two  of the cars and what is believed to be this car, a chain break caused a disqualification because the driver pushed it  into the pits. Teddy Tetzlaff was sixth place overall at the 300 mile mark when the break occurred. Only two of the 6 built in 1913 are known to survive and this car was purchased by B. J. Pollard in 1939 and almost go lost to the war  effort. The government wanted him to surrender the old cars to scrap metal. Using his skills and contacts he was able to amass a huge collection of scrap metal, steel and aluminum to trade in hopes of keeping his prized collection.  After a trip to Washington, Pollard was able to make a deal where he would strip all the old tires and surrender one  car a week to the Ford Rouge Plant.
He and Henry Ford were not friends and so he took only Fords over but after a few weeks stopped taking any cars at all. The  race-bred 4-cylinder engine produced 120 bhp and was designed by Giuseppe Gaetano Stefanini. Working with Giustino Cattaneo they were pioneers of the overhead-camshaft engine. This car survived the fire at Pollards in 1976 and George Wingard purchased it in 1980 and restored it.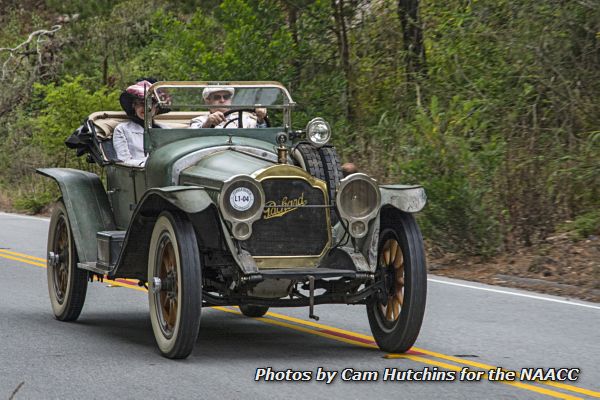 This car was ordered new by Carl G. Fisher and driven as the pacecar for the 5th running of the Indy 500 in 1915. He made a fortune as a parts supplier after purchasing an interest to manufacture acetylene headlights and then selling the company Prest-O-Lite to union Carbide in 1913. He ran what is believed to be the first Automobile Dealership in the States and was a Principal in the Indianapolis Speedway. This 1915 Packard 2-38 Six Runabout was used by Fisher to survey the route for the transcontinental Lincoln Highway.
Debuting in 1912 the smaller 6-cylinder motorcars came in 14 body styles and was aluminum over white ash wood .This was the first Left hand drive Packard's and the first with an electric starter. After 80 years languishing in  storage,  Allen Strong cleaned it up and after getting it running took it to the Indianapolis track 101 years after its  first appearance as pacecar.
A Rolls-Royce factory in Springfield, Massachusetts starting building Rolls Royces for the American Market in 1921. Then in 1926 After acquiring the Brewster Body Company, a number of standard Brewster-built coachwork  designs were offered on its New Phantom (later called the Phantom I), which replaced the Silver Ghost and offered a larger 7.7-liter engine. This car (chassis S203KR), has Ascot Sport Phaeton coachwork, and around 350 Phantoms were produced at the Springfield  factory for 1929.
Jay & Christina Moore, Lahaina, Hawaii purchased this Phantom in 2013 and  restored it to the Ascot Sport Phaeton coachwork complete with Buffalo Wire Wheels.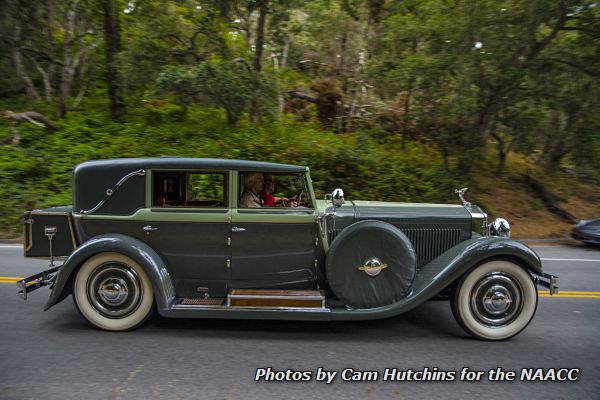 This 1929 Tipo 8A Castagna "Toy" Limousine, as it was titled when delivered in the United States, is the second custom-bodied Isotta Fraschini bought new by Howe Willis, the prominent Chicago financier who owned a total of seven  Isottas, headed the Isotta Fraschini Owner's Association, and became one of the world's leading authorities on the  Isotta Fraschini marque. The  Tipo 8A straight 8 engine was one of the most powerful engines of the mid 20's and were guaranteed to do 90 mph, and also 6 mph in the same gear!
An extremely long 145 wheelbase chassis was used for most of the Tipo 8A's. After a run of around 950 Tipo 8A's from 1925 to 1931, the Tipo 8B was introduced but the depression proved too much for the struggling company. Henry Ford tried to save the company and wanted to build Fords in Italy and in return he would build Isottas in Detroit but the Italian  government would not allow it.
The struggling company was bought by Count Caproni di Talideo, who needed the Isotta Fraschini aircraft engines for his planes and he basically shut down automobile production very soon after purchase. There was an attempt at revitalization after WWII with a rear engine V8 car, but eventually Isotta Fraschini ended as a car manufacturer.