Part 3 of the report on the 2017 Pebble Beach Concours d'Elegance.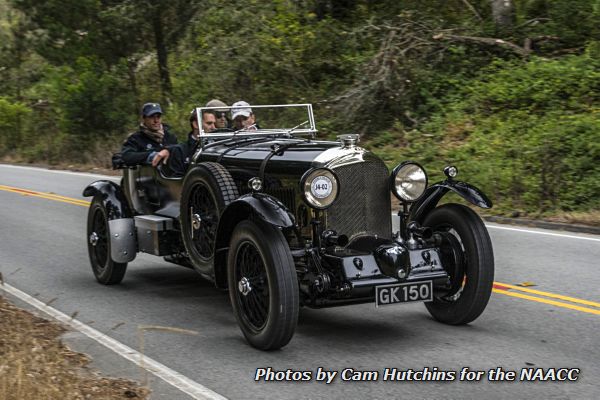 Only three of the 50 supercharged 4½ Litre Bentleys were built to Le Mans specs with external fuel tank, longer hood and special team gauges. Fiske lapped Brooklands' outer circuit at 121.4 mph. and also raced the first Stutz car entered in the 1930 24 hour du Le Mans. He gained fame at St Moritz in 1928 by being the youngest to pilot a bobsleigh to victory. three of the 5 man crew had never been in a bobsleigh before and answered an ad in the Paris edition of the New York Herald Tribune. He carried the flag for the US Olympic team at Lake Placid but will always be known for the Cresta run at St Moritz. He won the solo head-first event on the skeleton toboggan and the major Cresta trophy from 1935 to 1938. He was attending Cambridge and held the unofficial Cambridge-London road record in his supercharged Bentley, but will always be known for being the first American pilot to die in the Battle of Britain. After his death in 1940 his car was owned by one enthusiast for 50 years.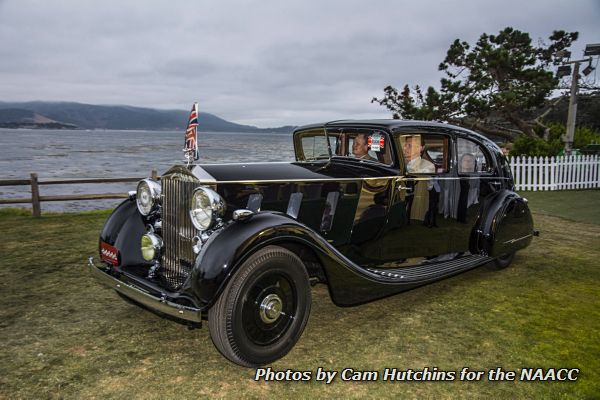 The innovative design of this car, tested in an early wind tunnel and said to reduce drag by 15% was designed by the de Havilland Aircraft Company and built by H.J. Mulliner for use by their chairman when he was in England and Europe.
Donated to the war effort it has been seen in newsreels as transportation of many dignitaries such as Sir Winston Churchill, President Eisenhower and even King George VI. Known as Monty's Rolls it was owned by Field Marshall Bernard Law Montgomery for over 20 years. This well loved Rolls-Royce Phantom III (chassis 3AX79) has covered nearly 350,000 miles.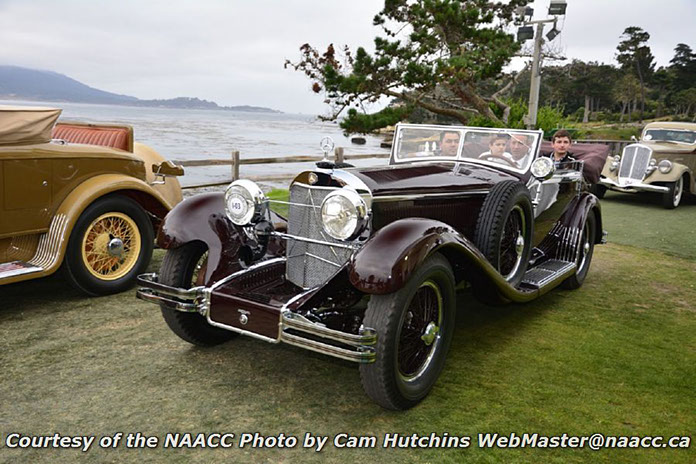 This car is a supercharged Model 380K and was exhibited at the 1934 Geneva Auto Show. Of the approximately 150 Model 380K built only 16 were Cabriolets and very few are know to survive. It has a straight 8 cylinder of 3.8 litres based on the 390 S Mannheim but with bigger overhead valves. This car was recently restored to it's original two-tone deep red paintwork with red leather interior.
J1-03 1931 Bentley Speed Six Vanden Plas Open Four Seater Sports, Ivor Dunbar, London, England
Built for a member of the Cadbury chocolate family, Sir Egbert Cadbury with a Mulliner Saloon Body. Sir Egbert, shot down two Zeppelins in WWI as they were heading to London on a bombing mission. He eventually got bored with the body and had the Vanden Plas "bobtail" coachwork from another Speed Six installed. A recent restoration uses "new" Rexine fabric and is the exact specification of the original Vanden Plas body.
J2-03 1936 Bentley 4¼ Litre (No Photo)
James Young Drophead Coupé
William & Kathy Heinecke, Bangkok, Thailand
Built for Prince Birabongse Bhanudej Bhanubandh (better known to motor racing fans as Prince Bira of Siam) for use while he was studying at Cambridge. He also drove an ERA for the White Mouse team at this time.
Under Rolls Royce ownership(since 1931) Bentley launched this more powerful 4¼ Litre model and sold around 1,200 from 1936 to 1939. This car is almost as interesting as it's owner, William Heinecke, An American born Thai Businessman who starting as a student writing a go karting column in a newspaper in trade for advertising space beside the column. He went on to build up Inter-Asian Publicity, a radio advertising company, that he sold to Ogilvy & Mather. He also helped introduced American fast food restaurants to Thailand including Burger King.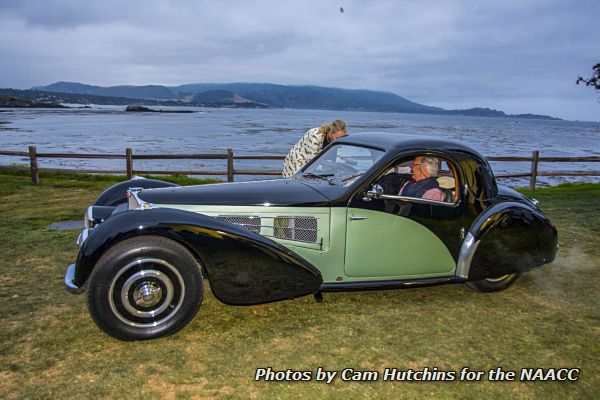 The present owner of this Bugatti Type 57S was educated in Hong Kong and Switzerland and is a prominent Business man in Hong Kong to this day. An avid photographer and helicopter pilot he owns a few other highly desirable cars.
This Bugatti Type 57S was built in Molsheim and as indicated by the "S" as lowered and in reality an entirely new type of Sports Car for Bugatti. Although immediately successful they only built 43 Type 57S chassis. Only two of the high compression engines were fitted with a Roots Supercharger when while many were added as an upgrade later on. The factory offered complete cars, Type 57S were available with factory-built Atalante coachwork, but some were sold as bare chassis to be bodied by other coachbuilders.
Kadoorie's Bugatti Type 57S(chassis 57501) has a Gangloff coupé body that is similar to the Atalante body. Originally owned by  Camille Jourde, This unique 3-seat coupe spent a short period at the Schlumpf Museum. Previously shown at the 2007 Pebble Beach Concours d'Elegance and won the coveted French Cup.
The early thirties were not kind to Alfa Romeo and the financially trouble company was rescued by the Italian Government. The racing program was kept but now headed by  Enzo Ferrari and this along with the government support allowed the Alfa Romeo engineers to create some of the most elegant cars that were state of the art for the era. Introduced in 1934 the Alfa Romeo 6C 2300 featured a dual overhead cam six-cylinder engine. Horsepower was from 70 hp to nearly 100hp in racing form. Some were known as the "Pescara" in honour of an Alfa Romeo "sweep" at the Targa Abruzzo in Pescara.
Improvements to the Chassis, including lightening, fully independent suspension, hydraulic brakes called for the name to be changed to Alfa Romeo 6C 2300B for 1935. In 1938 the 6C 2300B Mille Miglia version, honouring the many wins at the Mille Miglia using the short chassis and a 105 horsepower engine. 107 6C 2300B MM were built from 1938 to 1939 and many were elegantly bodied by Carrozzeria Touring.
This 6C 2300B Mille Miglia lightweight body, was ordered by Martin Mueller, owner of the biggest wheat mill in Switzerland and the only Mille Miglia–style car with coachwork by the Swiss firm of Graber. Mueller kept it until his death in 1958 and it went to Italy in 1968 and was later  to the famous Righini Collection in Bologna. The engine is the 2.3-liter version of Vittorio Jano's engine and was a continuation of the 1500, and it truly created recognition for the Italian based manufacturer. Followed by the 1750 and 1900, then came the 2300. Similar to its predecessors, using two overhead camshafts with two valves for each cylinder. The block was cast-iron with a light-alloy head, a four-speed gearbox and hydraulic drum brakes.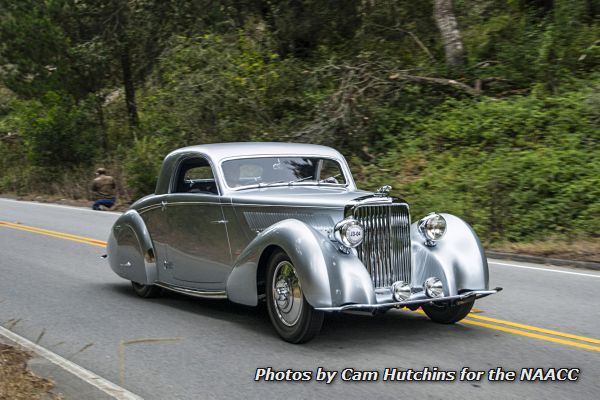 This 3½ liter SS100 was shipped as a bare chassis to Swiss coachbuilder Hermann Graber and built for Monsieur Michel Dionisotti of Geneva. It has a small door for his skis and two jump seats for occasional guests in the back. Staying in Switzerland until 1955 and imported into Canada by a Canadian serviceman. A failed restoration was started in the late 80's but was finished by another owner who bought the parts in the mid 80's. It won a class award at Pebble Beach in 1994. It is now painted a Bright Sliver after another restoration.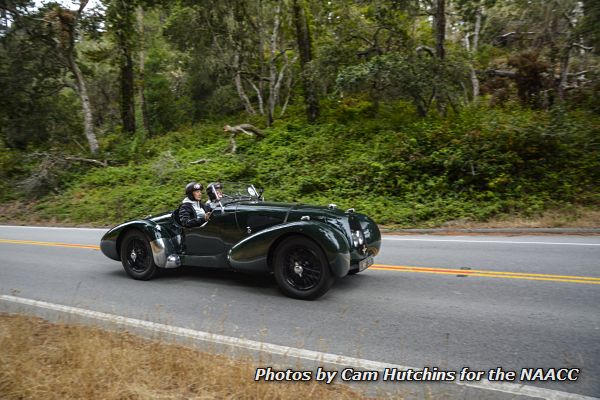 Bought new by Mr. Ansell of Romsey, England and delivered just before Christmas 1940, this car is thought to be the last Aston Martin built before World War II. He used it in the Brighton Speed trials after the war and the second owner Miss Bean, entered the car in the AMOC Rally in 1949, coming in first in class. Engineer Claude Hill developed a new 125 bhp, 1,949 cc SOHC inline four-cylinder engine with twin SU carburetors for Aston Martin in 1936. Along with a new front and rear live-axle suspension 102 in. chassis designed for the engine this made up the legendary Speed Model. It used a four-speed manual transmission and four-wheel Lockheed hydraulic drum brakes. 
Winning it's Class and second overall in it's first race at the 1938 Tourist Trophy at Donnington, with St. John Horsfall at the wheel. The last eight Speed Models to be assembled in 1939 and 1940 were fitted with this unusual aerodynamic steel-framed aluminum body.
It sold for $1,155,000 USD at the RM/Sotheby's – Monterey Auction in 2015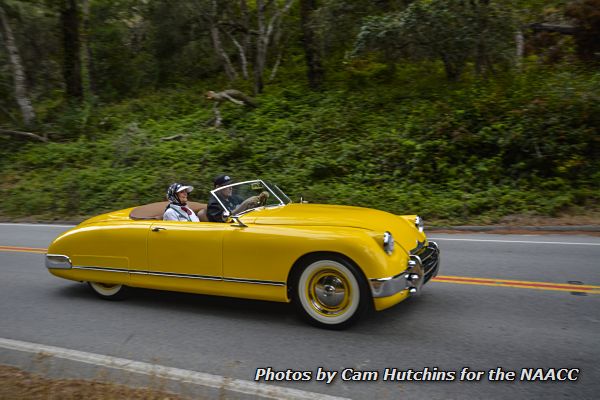 Considered to be Americas first sports car, the creator, Frank Kurtis gave this car to his son as a high school graduation present but he had to assemble it himself. Arlen Kurtis sold the car when he went in the Navy in 1952 and his wife and his sister found the car and bought it back for him in 1990. The front fenders are aluminum while the rear fenders, hood and trunk lid are fibreglass. The car was once again restored 6 decades aft he first built it although he passed away in 2016 the car is being presented in honor of both Frank and Arlen Kurtis.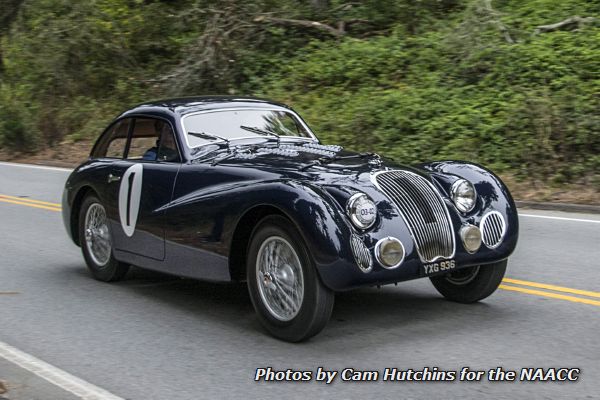 The first owner of this T26 GS chassis #110105 had an obscure coachbuilder, Contamin, who created a lightweight coupé body. After replacing the coupe body with a barchetta body it started 5 times at Le Mans from 1949 to 1953 and was raced and rallied extensively. After it's racing days were over the coupe body was reinstalled. A recent  restoration saw the car finished in the period-correct Rexine fabric. When introduced in 1946, Talbot Lago's new T26 Record chassis, was a powerful Grand Sport chassis, two years later got an alloy-headed 4.5-liter straight-6 engine. Only 36 were built, some in pure racing form and won Talbot Lago's biggest victory, the 24 Hours of Le Mans in 1950.