Born in Downey California in 1963, young James Hetfield took up music early and started playing piano at 9 years old. The guitar became his instrument of choice at 14 and he went on to play with the rock band Metallica.
Watching his Dad tinker in the garage must have paid off as now Hetfield is a "committed automobile aficionado" with a special interest in the "Kustom Kulture".
The LeMay Museum, "America's Museum" had a great display of some of Hetfield's creations on display. Cam Hutchins, the NAACC webmaster, went on a visit in late January before the display changed over to celebrating the 75th anniversary of Porsche.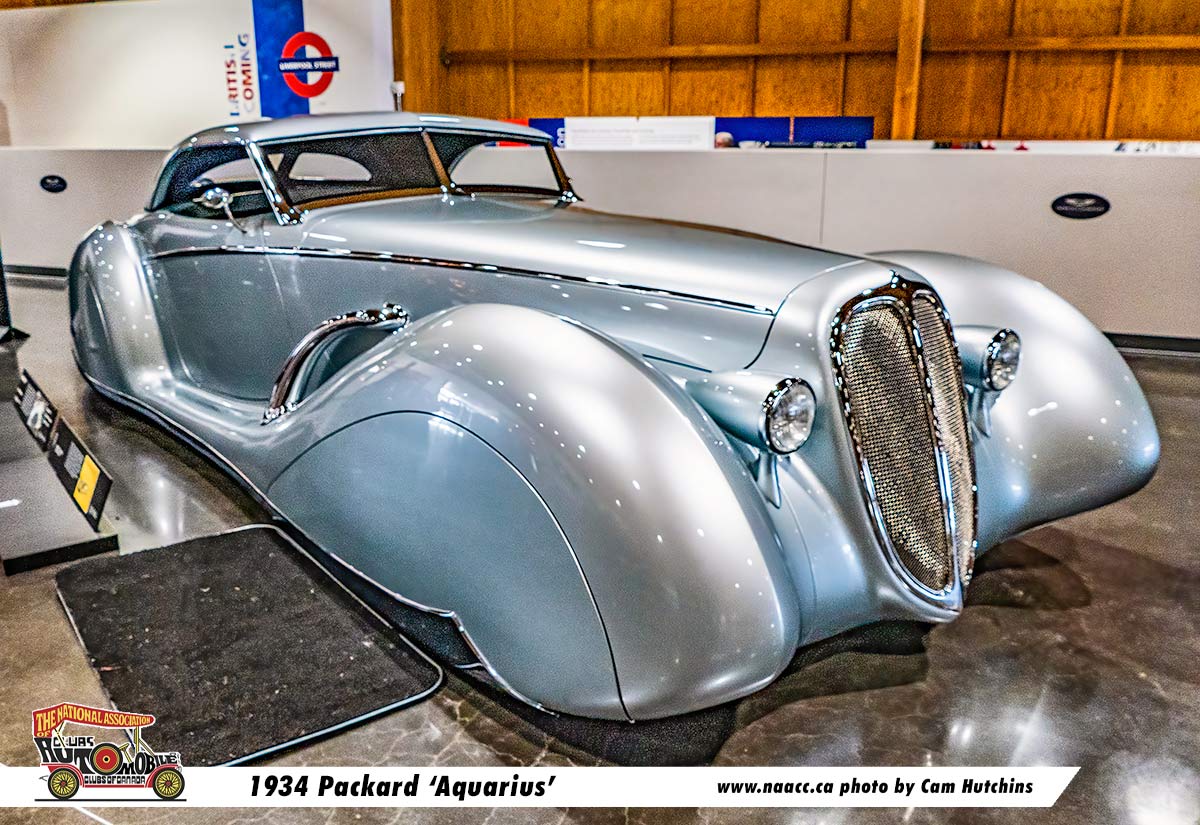 The main hall had a number of cars from Hetfield. Including some cars obviously influenced by the coachbuilders of the 30's, including Figoni et Falaschi. "Aquarius" takes many styling cues from the 1939 Delahaye Type 165 introduced at the Paris Motor Show in 1938. Built by Rick Dore Kustoms with the interior done by Ron Mangus, it is powered by a Chevy LS-3 376 cu. in. crate engine. The body is made of hand-shaped aluminum panels by Marcel's Custom Metal.
"Iron Fist" a 1936 Ford Coupe was first driven by Hetfield as a Rat Rod with a chopped roof, lowered suspension with large exhaust. "Blue Collar Customs reshaped the trunk and added a metal roof Left in bare metal with a clear coat, the interior is fully finished with nickel plated instruments.
"Crimson Ghost" is a 1937 Ford Coupe is an homage to the film noir style of classic 30's gangster movies. Custom features include Chopped roof, pointed trim, thick acrylic headlights and a custom angled grille.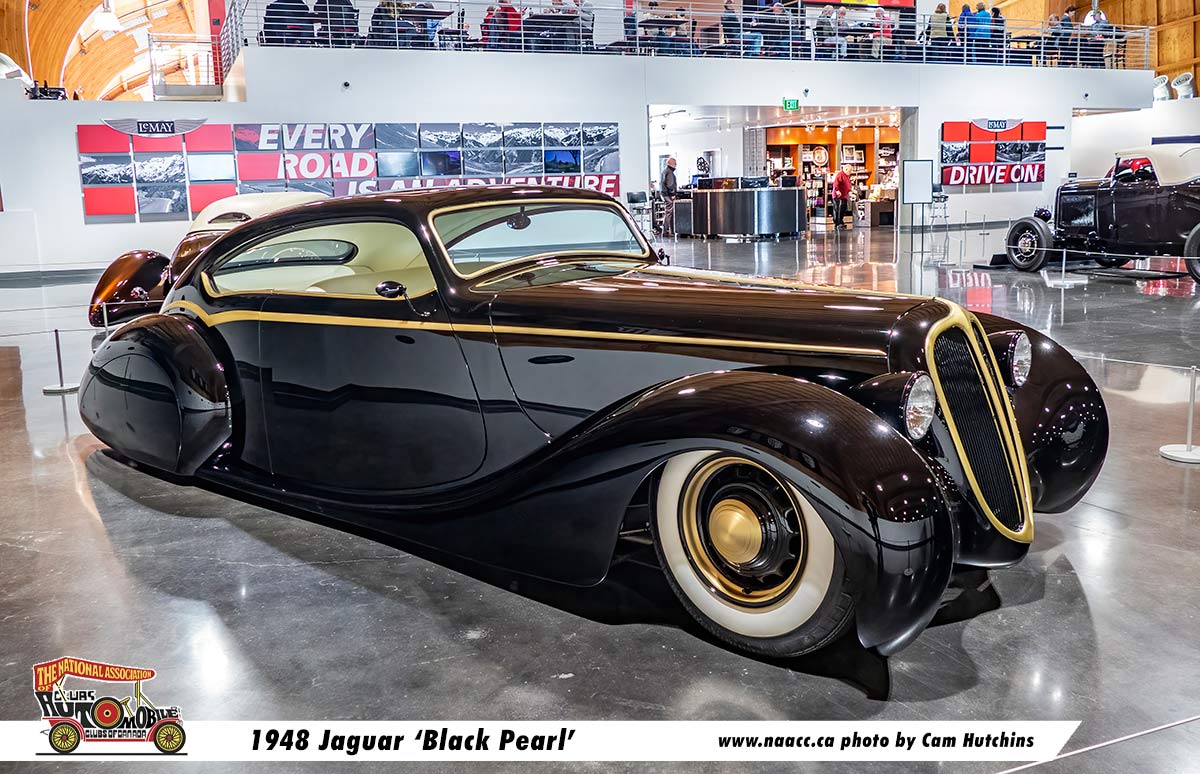 "The Black Pearl" started with a 1948 Jaguar Chassis with a completely new aluminum body and 302 cu. in. Ford V8 engine, built by Rick Dore Customs. The curving Art Deco lines of the 30's Streamlined French cars, along with aggressive profile and chopped roofs typical of the 1950's American Hot Rod.
"Slow Burn" 1936 Auburn 852 Speedster. Inspired by a 1936 Auburn Hetfield saw at a San Francisco car club meetup is the inspiration for Slow Burn. Interestingly, the Gordon Buehrig-styled speedsters were used in racing and the rear boattail design was thought to reduce other race cars drafting behind the speedsters at speed. Built by Rick Dore Kustoms, powered by a Chevy 350 cu. in. engine. This car is based on a Glen Pray recreation of an Auburn Boattail in fiberglass.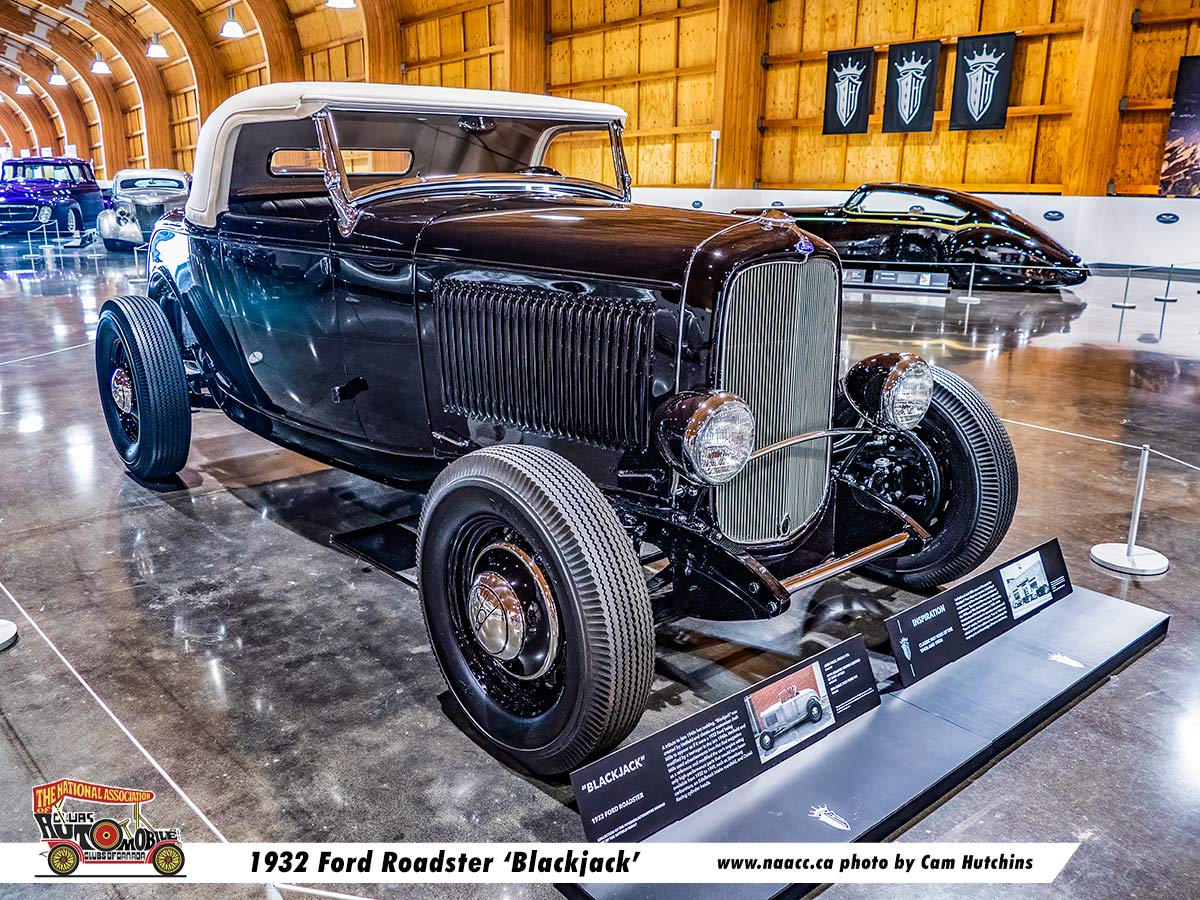 "Black Jack" is a 1932 Ford Roadster created to look like it was customized by a teenager in the late 1940's with parts from that era and what a teen could afford. Period correct parts include Stromberg carbs, Edelbrock intake manifold, and Osieki Racing heads. Built by Josh Mills, Mills & Co. Interior by Burt Litton, and powered by a 296 cu. in. Ford Flathead engine. Interestingly, the body came from California and the chassis from the Chicago area.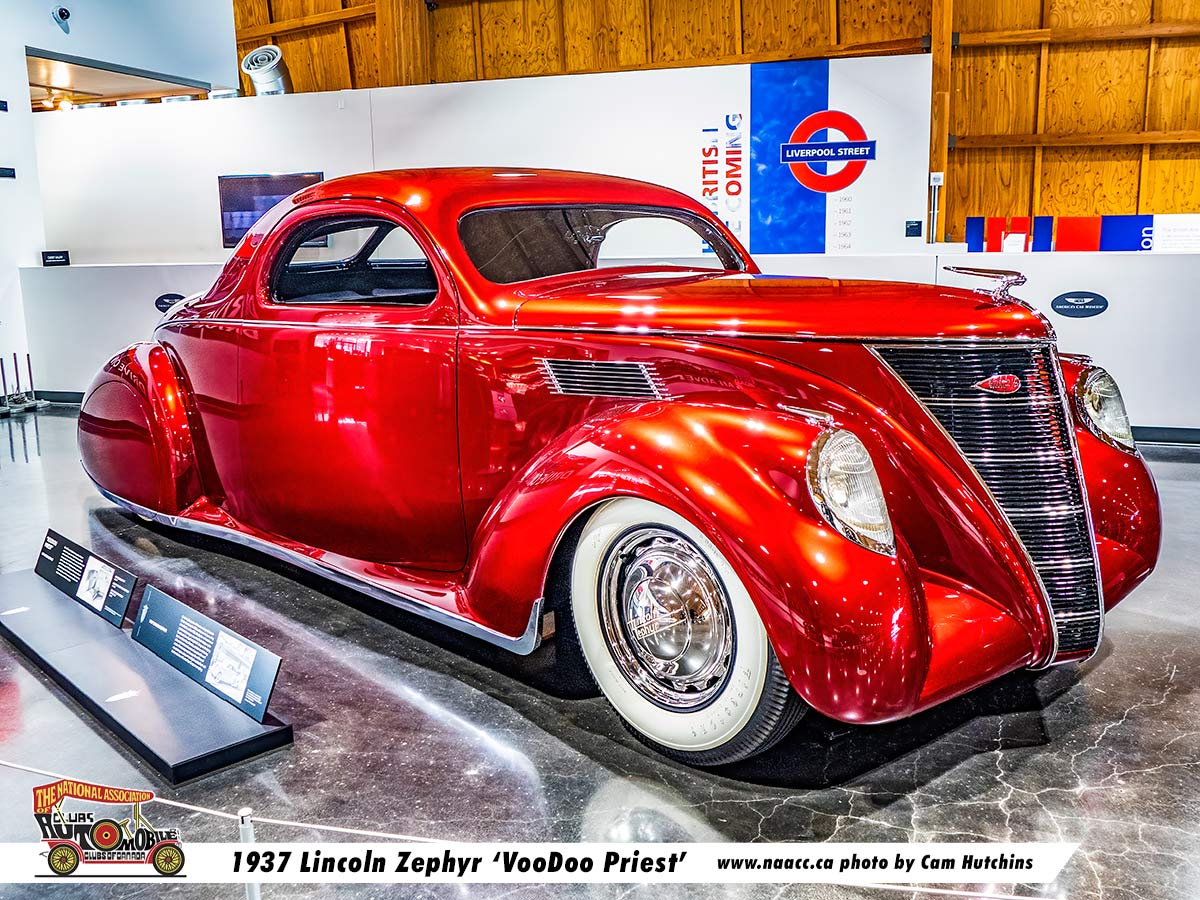 "Voodoo Priest" is a 1937 Lincoln Zephyr that had been owned by a Vietnam Vet, who upon arriving home abandoned the car in his Mother's driveway, where it sat for decades before Rick Dore acquired it for Hetfield. Honoring the spirit of the original 1937 Zephyr, the car has been modified with elongated fenders, and giving the car a pronounced teardrop shape, enhancing the Art Deco styling.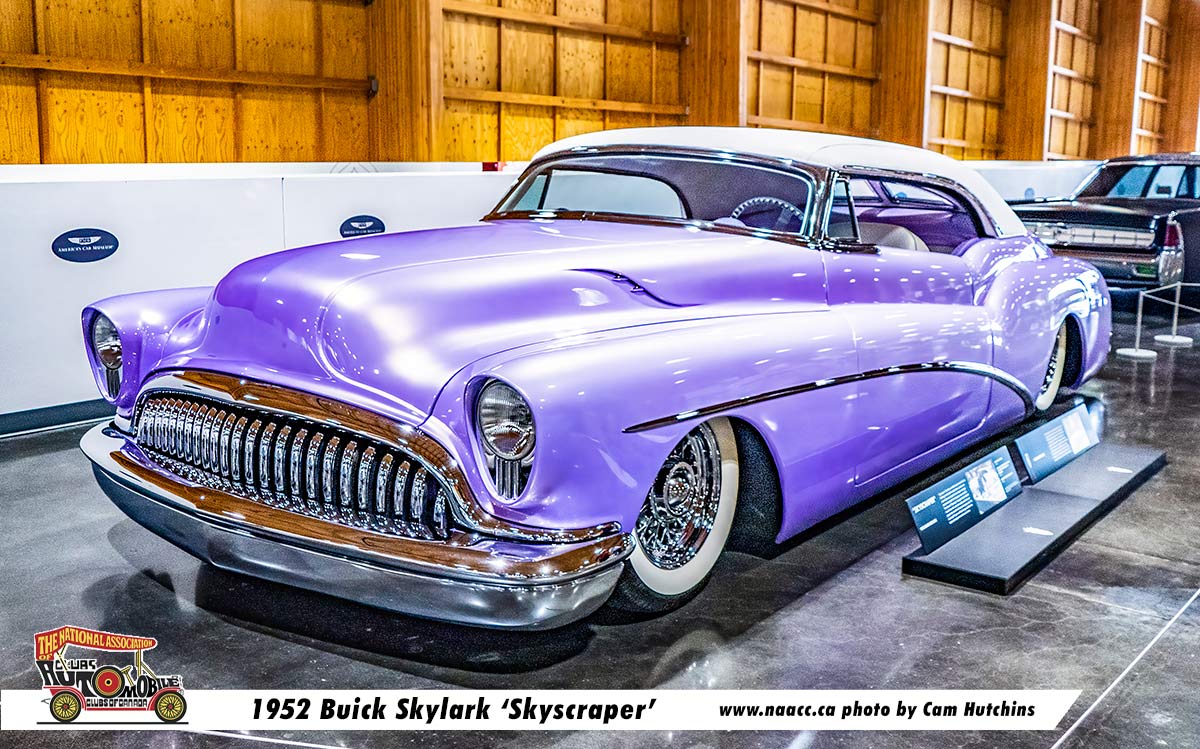 "Skyscaper" 1953 Buick Skylark, is the first collaboration between Hetfield and Rick Dore. The car has a bass-drum pedal gas pedal and gauges that resemble Fender Pearloid guitar picks.
"The Dead Kennedy" 1963 Lincoln Continental. This is the first car Hetfield extensively modified himself after finding the car for sale on the side of the road in San Francisco.
"STR8 Edge" 1956 Ford F100. Starting with a previously modified truck, Hetfield removed all traces of bondo and added winged taillights, "ventiports" from a 1953 Buick and other modifications. Built by Scott Mugford at Blue Collar Customs with an interior by Ward Auto Interiors and powered by a 455 cu. in, Olds V8.
The (NAACC) National Association of Automobile Clubs of Canada has been involved with the LeMay Americas Car Museum since its inception well over 20 plus years ago. John Carlson, representing the NAACC, was asked to join the LeMay Steering Committee as the plans were discussed to create the museum over 25 years ago. The LeMay Americas Car Museum is located next to the Tacoma Dome in Tacoma Washington. It is a 165,000 sq foot interactive museum that contains an upper-level lunch facility, mini theater, souvenir store, race car driving simulators and a huge slot car track. The museum offers both car clubs and private individuals the opportunity to be part of the museum. Individual and family memberships are available at very realistic prices. These memberships allow free admission year-round to the museum. The displays are rotated several times a year. Frankly, it would take more than a full day to view and take advantage of everything the museum has to offer.
The LeMay America's Car Museum has a great website: https://www.americascarmuseum.org/
The NAACC has been an interictal part of the museum from the very early concept stages and is a Club Auto Founding Member. The National Association of Automobile Clubs of Canada has its name proudly displayed in the lobby of the museum and also on a large granite plaque located at the entrance to the museum. If you belong to an NAACC club and would like to have free admission to the museum contact NAACC president John Carlson and he will arrange for free admission tickets for you. He needs a two-week notice. This offer is limited to parties of six or less. The museum is currently displaying 75 Years of Porsche and has at least 250 plus other vehicles on display including 10-12 featured exhibits.
LeMay – America's Car Museum, a member of America's Automotive Trust, is an international destination for families and auto enthusiasts to celebrate America's love affair with the automobile and learn how it shaped our society. Based in Tacoma, Wash., the stunning 165,000-sq.-ft. facility has been recognized as one of MSN's 10 Best Automotive Museums worldwide, USA Today's 10 Best Museums in Seattle and KING5's Best Museum in Western Washington. ACM serves as an educational center for students of all ages, features 12 rotating exhibits and hosts America's Automotive Trust's annual Signature Events.