Art and the Automobile – Jewelry at the Canadian International Auto Show (commonly known as the Toronto Auto Show).
Feb 16 to 25, 2018
For those who are interested, the Cobble Beach Concours d'Elegance team has again curated this year's Art and the Automobile exhibit at the Canadian International Auto Show (commonly known as the Toronto Auto Show) at the Metro Toronto Convention Center South Building Room 718, complete with a player piano and 16 classic cars. The backdrops to the exhibit have been created by the automotive world's renowned Philadelphian photographic artist Michael Furman who has been invaluable in putting this exhibit together.
The first vehicle one comes upon is the 1958 Firebird III concept car which was the star attraction at the 1958 GM Motorama auto show. This car influenced the 1961 Cadillac with its stubby little fins that hung down from the bottom of the rear fenders and was the namesake of the 1967 Pontiac pony car of the same name.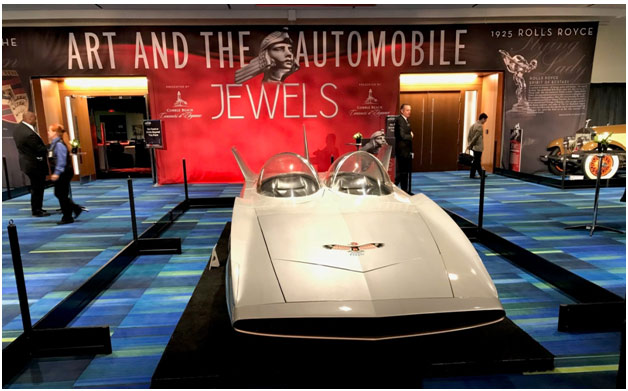 One of the star vehicles includes the CCCA Museum's freshly restored 1939 Tuscher bodied Delahaye 6 135M Drophead Coupe. Originally thought to be a Chapron bodied coupe, when checking with Marie France, the daughter of Henri Chapron, the CCCA museum found that this really was a Tuscher bodied car and not a Chapron. This car resides at the Gilmore Museum in Hickory Corners, Michigan.
This 1929 Packard 645 Dual Cowl Phaeton is owned by Mr. Tony Lang of Chepstow, Ontario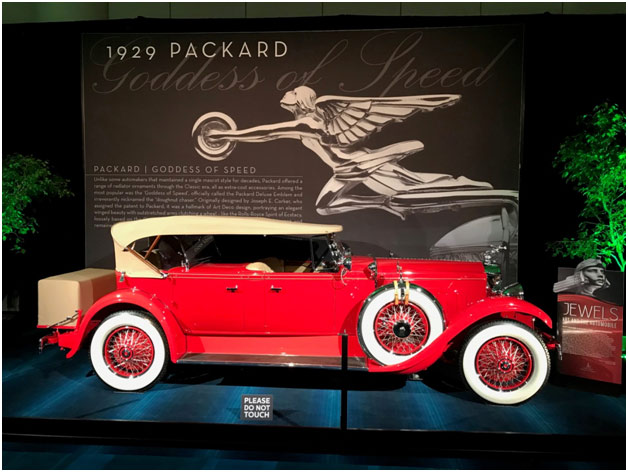 Other notable cars include the 1936 Bentley 4 ¼L Pillarless Coupe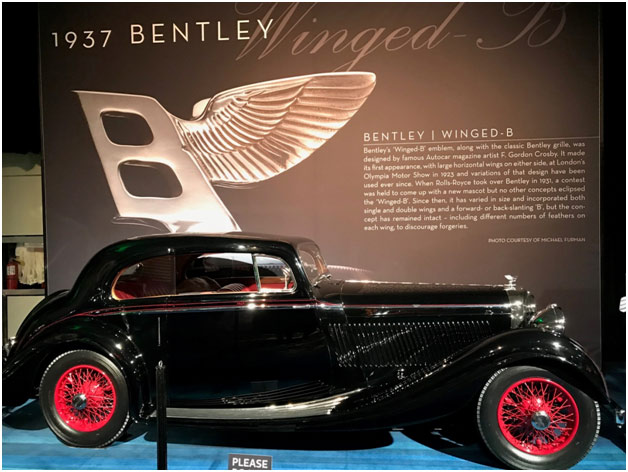 The next car is the 1907 Thomas Flyer, brother to the winner of the Great Race from 1908 and is on loan to the exhibit by the Stahls Automotive Foundation from Chesterfield, Michigan. This car will start the Great Race's 110th anniversary race which starts from the Pierce Arrow Museum in Buffalo on June 23rd and ends in Halifax, Nova Scotia on July 1, 2018.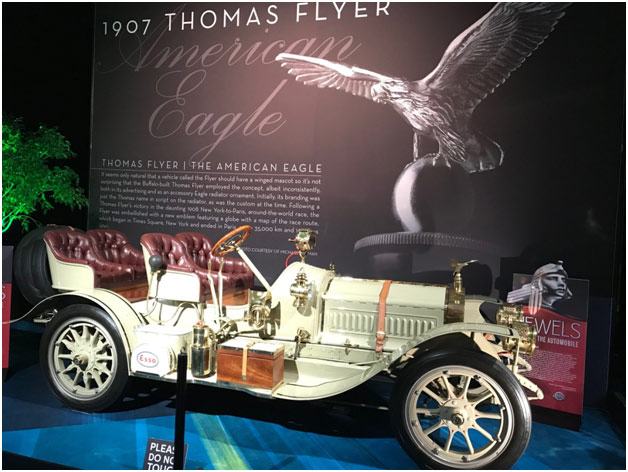 The 1933 Pierce Arrow 1242 Convertible Coupe which won the Most Outstanding PreWar trophy at the 2017 Cobble Beach Concours'Elegance.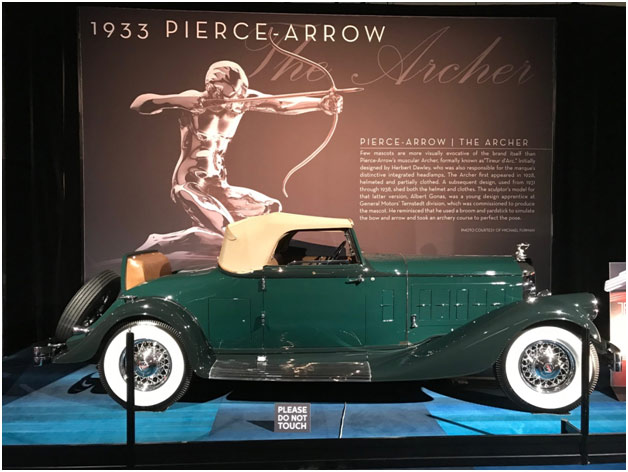 The freshly restored 1933 Oldsmobile Convertible Coupe L33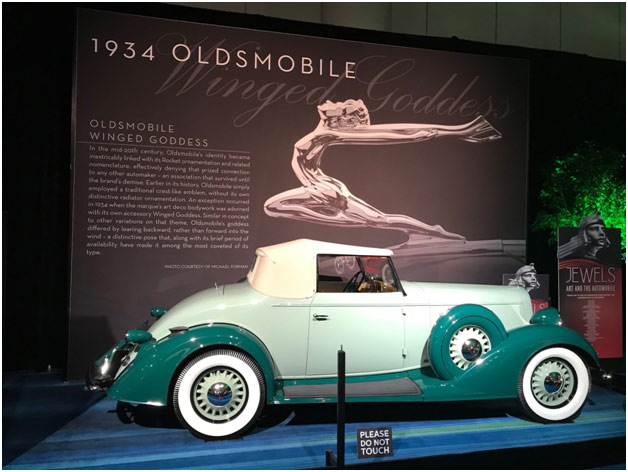 The 1932 Chrysler Imperial CL owned by the Becker family from Mount Forest, Ontario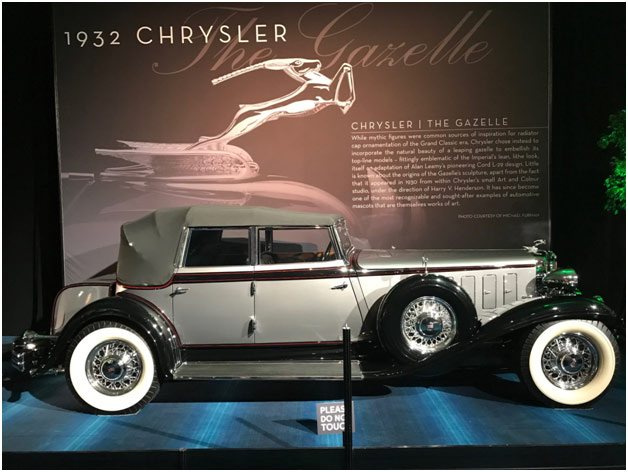 Lalique crystal hood ornaments (L to R) the Archer, the Eagle and from the 1929 Bugatti Royale, the Dancing Elephant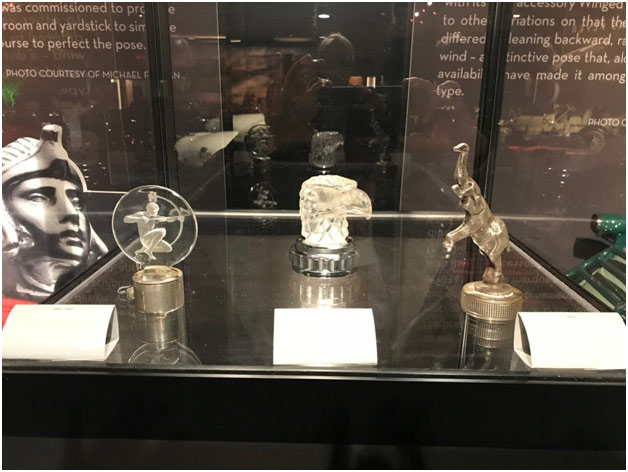 Other Lalique crystals included the Swallow and the Rooster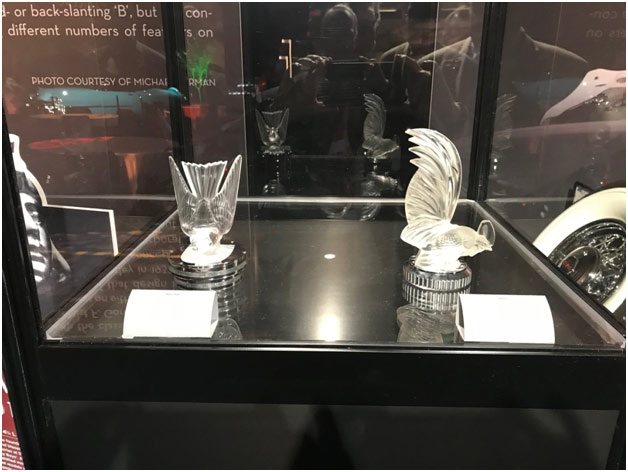 Finally, there is also a 1926 Bugatti Type 37 which is hidden away in the adjacent artist's Enclosure in Room 716 next door and is a sight to see.
What: The Canadian Int'l Auto Show – Art and the Automobile – Jewels
When: February 16 – 25, 2018
Where: The Metro Toronto Convention Center, South Building Rm 718
Thank you to the CCCA Museum, the Gilmore Museum, GM Heritage Center, all of the gracious owners and Michael Furman for their support! There are 16 Classic Concours cars in the exhibit focused on automotive mascots and jewelry.
Rob McLeese, Eastern Correspondent for the NAACC