Road trip, the eastern Canadian media team of the NAACC left Toronto midday Friday, July 28th, 2017. We started off the weekend Friday evening with an RM reception celebrating art, cars and cocktails at the Inn at St. John's in Plymouth, Michigan. That evening we saw a great snapshot of cars that will be up for auction at upcoming RM auctions in the fall.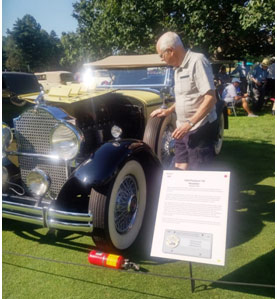 ​Saturday morning we awoke to a beautiful day and arrived at Cars and Coffee at St. Johns with over 600 cars displayed including  a diverse array of vehicles from 1904 through to the hyper exotics of today. We proceeded to the Hagerty seminar starting with a "barn finds" seminar moderated by Jonathan Stein, Hagerty Magazine Editor. Panelists included Gord Duff of RM, Wayne Carini of Chasing Classic Cars, Author Tom Cotter and Chair and Founder of the Amelia Island Concours, Bill Warner. Each of the panelists talked about their varied experiences hunting and finding classic cars including the "Condo Find", a 1971 Ferrari GTB/4 Daytona Berlinetta that had been under a tarp for 25 years. That car, now fully restored, came to the 2017 Cobble Beach Concours d'Elegance.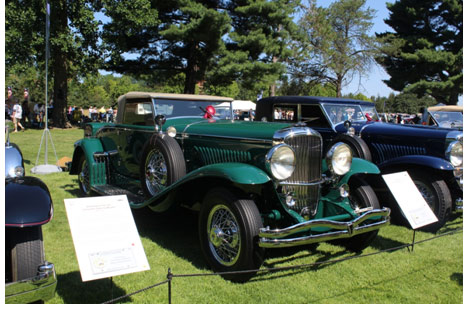 The day continued with a Concours du Lemons which is always interesting. Saturday, Hagerty Classic Car Ride and Drives included a restored 1960 Plymouth Fury that had been ravaged by Hurricane Sandy, a big white 1960 Cadillac Convertible, a 1969 Camaro SS 396 3 speed and a 1965 Mustang. Those drives reminded us of the floating years of the '60s when steering was big and flowing and the suspension came along for the ride.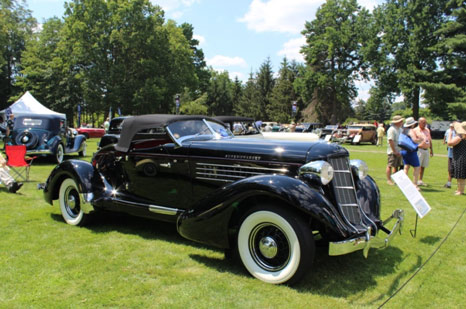 ​We concluded our Saturday with a seminar on the styling and design cues of the '20's and '30's, using examples from the Arturo Keller Collection in California. All Keller cars were magnificent and included a 1938 Mercedes 540K, 1932 Alfa Romeo 8C2300, 1938 Bentley 4 ¼ Litre,  1937 Duesenberg Model J and a 1937 Talbot Lago T150C.  Unfortunately, the seminar sponsors forgot to put towels at each seat to clean up the uncontrolled drooling from the audience.
Arriving early on Sunday at the event, we noticed several Canadians that also had made the trip south of the border either to display their cars or to see the show. The first Canadian collectors we ran into were Vernon Smith of Swift Current, Newfoundland & Bill Wallace, Milton Ontario; both are long time experienced car collectors.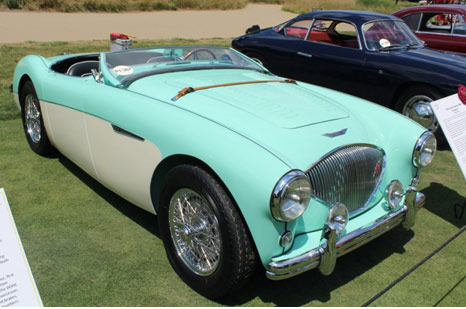 ​As we continued exploring the show field we came across Brent Merrill from Toronto with his 1933 Lincoln KB. After talking with Brent we found that the person who had restored his car over an 11 year period was beside Brent with his own 1948 Lincoln. Brent won his class.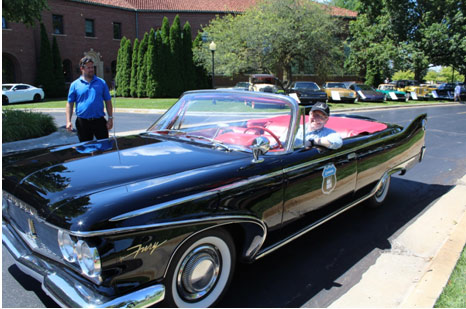 ​The next Canadians we came across were Larry Titchner, Toronto and Brad Marsland of Waterloo. They were both displaying sports cars; 1956 Austin Healey 100M and 1961 Lotus Elite SE.  Larry received a lion award for his 1956 Austin Healey 100M, which was also a winner at the Cobble Beach Concours d'Elegance in 2016.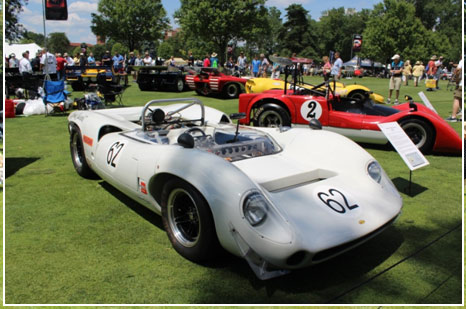 ​Steve Plunkett from London, Ontario brought his newly acquired 1941 Cadillac known as the "Duchess", originally owned by King Edward VIII and Wallace Simpson. Steve was the Honoured Collector at the 2017 Cobble Beach Concours d'Elegance.
Bob Becker from Mount Forrest, ON, who is a regular attendee at the Cobble Beach Concours d'Elegance was showing his winning 1935 Auburn 851 with his daughter, Charlie. This was their first time attending the Concours of America. His Auburn had just come out of a fresh restoration.
​In the special display class of CanAm race cars we came across two of the Bigioni brothers, Michael and Denis along with their sons. They were showing their 1966 Lola T70 Mark II Spyder. Beside them was a 1971 Lola T222 from Timmins ON. A CanAM car that was built in Toronto was also included in that class.
​Finally, Don Docherty from Windsor Ontario was there with his 1930 Packard 730 2 door roadster.
Don had done a lovely restoration.
All in all, the Cobble Beach Concours d'Elegance team had a great road trip at a wonderful Concours at the 2017 Concours of America.
Rob McLeese