The Pebble Beach Concours d'Elegance featured the Isotta Fraschini marque in 2017. The Isotta Fraschini was named in January 1900 for its founders, Cesare Isotta and Vincenzo Fraschini.  The duo's first automobile bearing this marque featured a four-cylinder engine with an output of 24 horsepower (18 kW).
The 1901 Isotta Fraschini chassis, the first automobile to carry the IF badge is powered by a single-cylinder De Dion-Bouton engine. For many years after it was built, it was used as a test bed by the factory. It was then put away and remained in the factory until 1931 when it was given to Henry Ford for a Museum he was building. This car was on display at the Ford Museum for a short time after which it was stored in the Ford vault until the 1980s. The current owner Mr. Corrado Lopresto bought the car in 2014 and returned it to Italy after 83 years.
An outstanding example of Isotta Fraschini craftsmanship is found in the 1927 Tipo 8A Fleetwood Roadster owned by Judge Joseph and Margie Cassini III. This Tipo 8A Roadster is one of two similar cars bodied by Fleetwood and was shown at the 1927 New York Auto Show.  It was then sold to Peggy Hopkins Joyce, a celebrity who lived a rather scandalous life.  She was one of the great media icons of her day, an international sex symbol more famous for her succession of rich husbands and very public affairs than for any modicum of talent she displayed as an actress.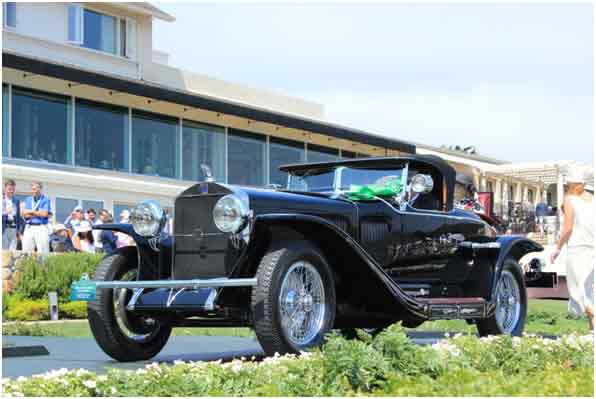 Displayed in the Isotta Fraschini line up was a 1927 Tipo 8A Cesare Sala Torpedo owned by the Canadian Automotive Museum in Oshawa, Ontario.  The 8A were built in three different specifications – the standard Tipo 8A on a 145 inch wheelbase and two powerful 150 bhp models, the Spinto S and Super Spinto SS each on a 134 inch chassis. This car has a Torpedo body created by Cesare Sala of Milan. It was originally purchased by Cyril Gleeson of Killaloe, County Clare, Ireland at the 1927 Olympia Motor Show in London. Only one other example of this elaborate body style survives. The sister car, chassis 1256, is currently owned by a private collector in Milan, Italy. Special features of these bodies include a vee'd windshield, disappearing top, the "windswept" body lines especially evident in the doors and rear body section, and the ornate checkered wood inlay. Chicago collector Cameron Peck acquired the car from Gleeson in 1951 and sold it a year later to financier Bud McDougald of Toronto for $2,800, who brought the car to Canada. In 1995 the car was donated to the Canadian Automotive Museum in Oshawa, Ontario.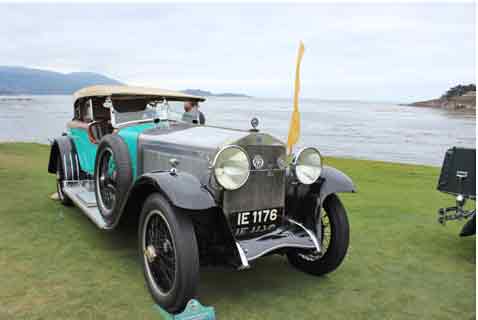 As we ventured down the line of Isotta Fraschinis we came across another familiar face. Mr. Peter T. Boyle was displaying his 1928 Tipo 8 A SS Le Baron bodied Cabriolet. (This car was a winner at the inaugural Cobble Beach Concours d'Elegance in 2013.) In 1928 Isotta Fraschini marketed their elegant automobile to the new American aristocracy. Stars of the stage and screen flocked to the Isotta Fraschini showroom on Fifth Avenue in New York City, often paying a lot more for an Isotta than they would have paid for a Model J Duesenberg.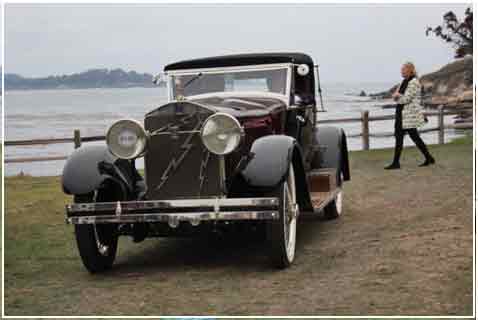 The 8 A SS chassis above (owned by Peter Boyle) was built at the Isotta Fraschini factory in Milan then shipped to the LeBaron Company to be fitted with a two-seat boat tail body for America's "Darling of Broadway and the Silent Screen," Marguerite Clark. This car was first displayed at the 1928 New York Auto Show, where it caught the attention of aviation pioneer Harry Williams and his wife, actress Helen Marguerite Clark (whose looks inspired Walt Disney's original Snow White). Williams, who co-founded the Wedell-Williams Aviation Company (which produced racing airplanes and brought airmail and passenger services to the Southeast) was so smitten that he purchased the car at the show, despite a price tag said to be in the $20,000 range.
As we continued down the show field there were Isottas as far as one could see. Pebble Beach definitely collected one of the finest groupings of Isotta Fraschini ever seen. In total there were 17 different Isotta Fraschinis on display each with its own unique story to tell.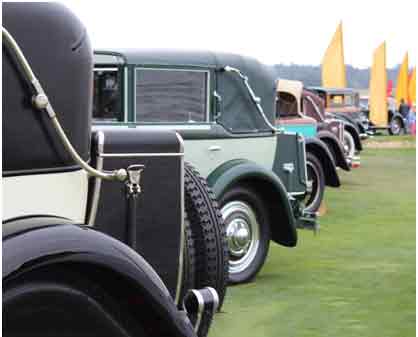 Rob McLeese is the Assistant Director of Media Relations (Eastern Correspondent) at the National Association of Automobile Clubs of Canada (NAACC) and the Chairman of the Cobble Beach Concours d'Elegance.
Photos provided by Kathryn Smith, Event Manager (Cobble Beach Concours d'Elegance).