The 2019 Concours D Elegance is the perfect ending for the perfect week for Car enthusiasts around the world. Held since 1950 at the Pebble Beach Golf Course it features some of the most significant cars from around the workd. This years special classes were the amazing Bugatti Type 59 & Touring, Lamborghini Muira, Historic Hot Rod "Cover Cars" and the Centennials of Bentley and Zagato.
The highlight for me was the 1950 Alfa Romeo 6C 2500 Ghia Super Gioiello Coupé restored by RX Autoworks of North Vancouver. This striking two tone grey and dark Silver won the Postwar Touring class as well as the J. B. & Dorothy Nethercutt Most Elegant Closed Car Award. RX of course won best of show last year with a 1937 Alfa Romeo 8c2900B and are proven winners.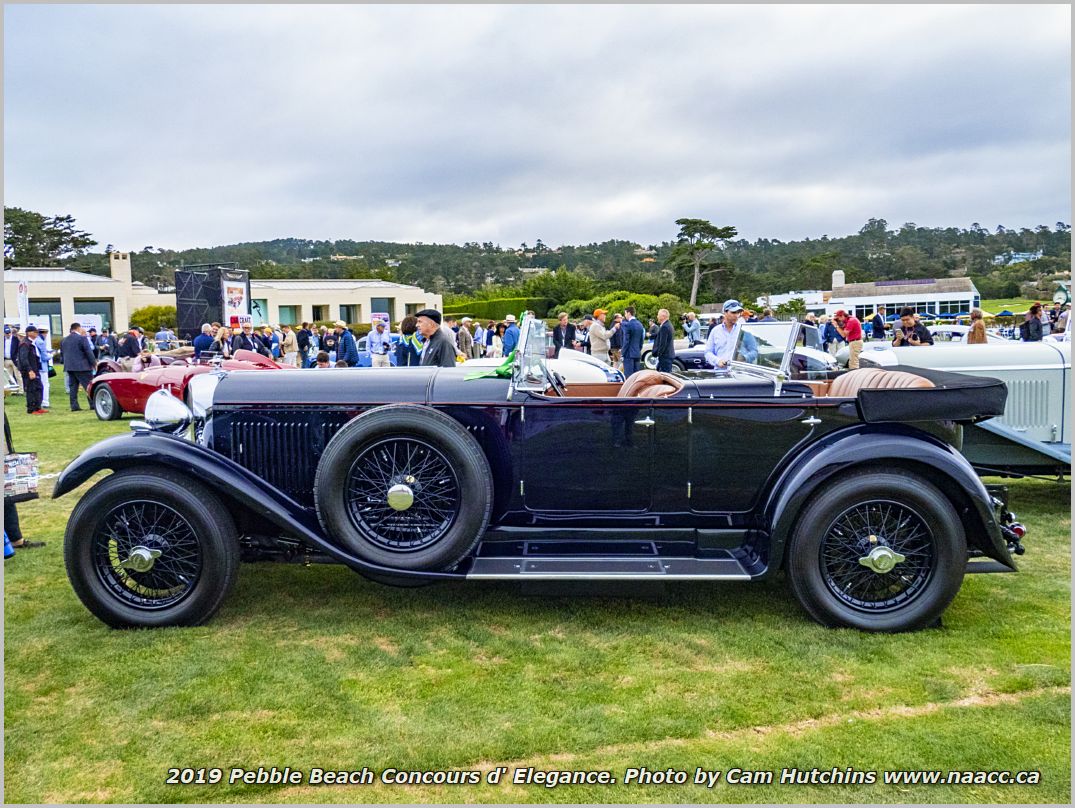 The Best of show for 2019 went to The Hon. Sir Michael Kadoorie of Hong Kong and his 1931 Bentley 8 Litre Gurney Nutting Sports Tourer. Built to best the Rolls-Royce Phantom II, the Bentley 8 Litre was a bigger version of the Speed Six with an all new lower chassis. 7,983 cc, straight-six engine provided completely silent 100 mph cruising. One of only two Sports Tourer with its dual cowl built on short-chassis with this unique Gurney Nutting body. Fully restored in 2004, this Bentley has competed in many tours and rallies and the current owner acquired it in 2010.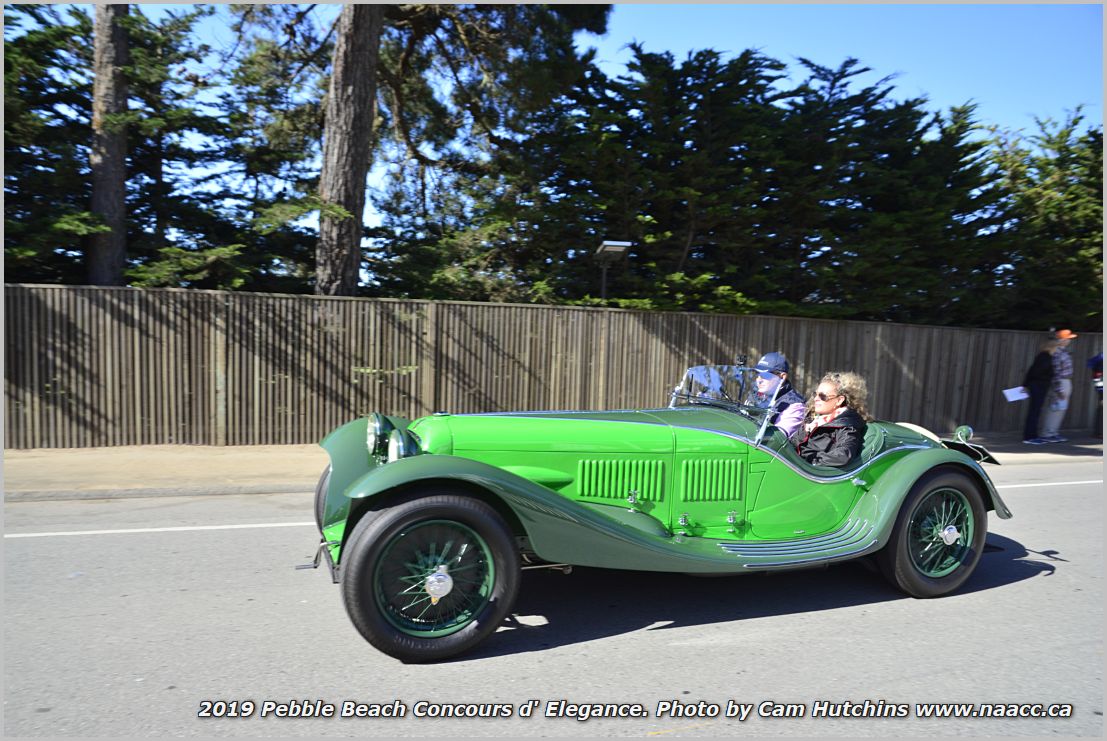 Other notable cars was the only Zagato bodies Lamborghini, the 1965 Lamborghini 3500 GTZ Zagato Coupé of Scottsdale's Bill Pope and the 1957 AC Ace Bristol Zagato Coupé owned by Jim Feldman of Portland, Oregon. Another complete surprise was the 1932 Maserati V4 Zagato Spider owned by Lawrence Auriana of Greenwich, Connecticut. The V4 has a deceptive name since it is one of two 16 cylinder race cars built by Maserati to race during 1933 1nd 1934. Mating two 8 cylinder blocks on a single crankcase, resulting in a 4 litre V16. After a1934 crash it was rebodied by Zagato by owner Riccardo Galeazzi. A Dutch collector bought it in 1940 then dismantled it and hidden away during World War II and last restored in 1999.
The field of approximately 200 cars featured more than 50 Bentleys. My favourite was a toss up between the 1938 Bentley 4¼ Litre Pourtout Aerodynamic Coupé from The Keller Collection at The Pyramids and the 1930 Bentley Speed Six Gurney Nutting Coupé of Bruce R. McCaw from Bellevue, Washington.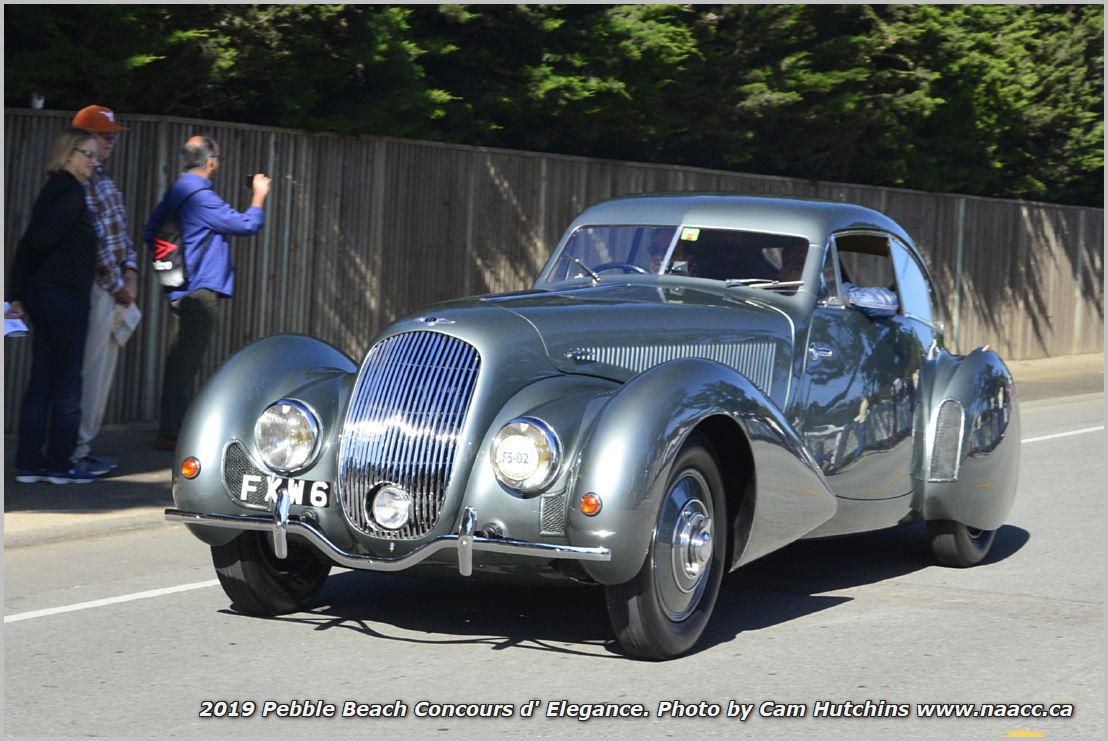 Built only 8 years a part the designs are lightyears apart. One is the classic 1930 Bentley Speed Six Gurney Nutting Coupé Gangster chopped roof looking car while the 1938 Bentley 4¼ Litre Pourtout Aerodynamic Coupé elegant curves looks more like a space ship. Built for Greek shipping tycoon and amateur racing driver André Embiricos, the lightweight aluminum alloy coachwork was designed by Georges Paulin and built by Carrosserie Pourtout. Paulin, one of Frances leading aerodynamic designers used his knowledge to provide this 4 ½ litre Bentley the best wind-cheating efficiencies that along with it's overdive transmission and high-ratio rearend which suited Europe's increasingly fast road network. On loan to the Rolls-Royce and Bentley agent in France, for testing on the new Autobahn network, the Bentley far out performed any previous Bentley for speed and road-holding. Ten years later after being driven 100,000 miles, this Bentley was entered in the 24 Hours of Le Mans in 1949, 1950 and 1951, attaining a best result of sixth-place.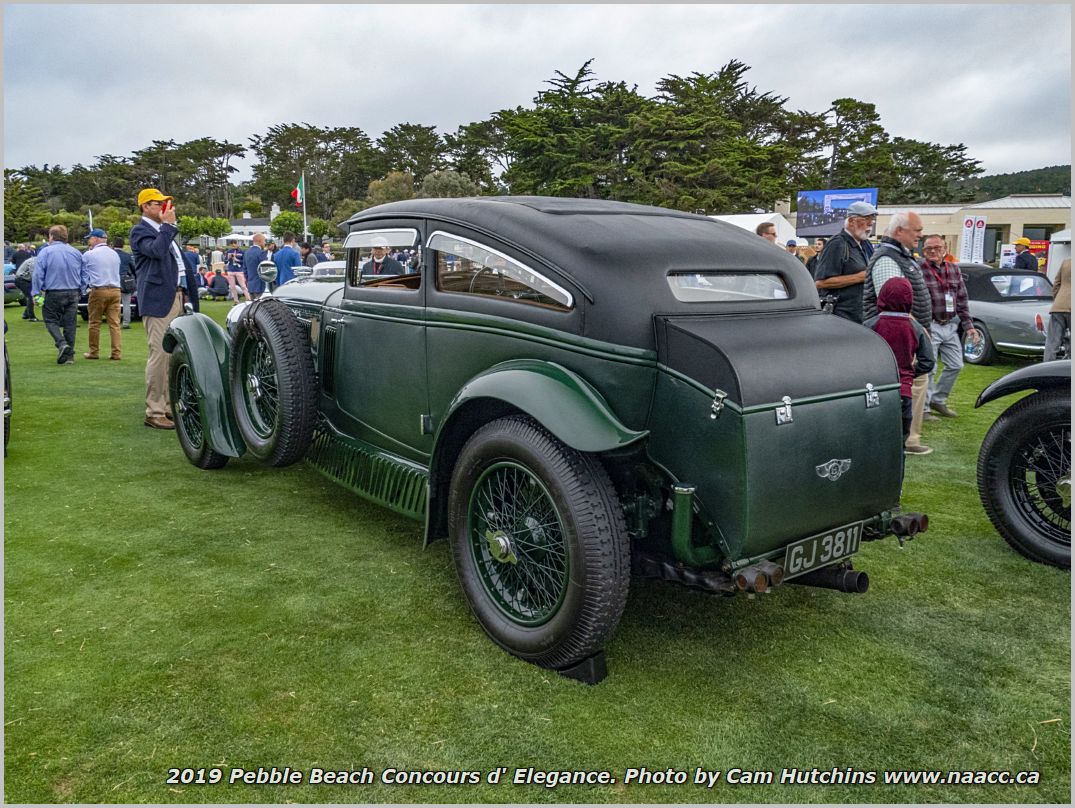 The 1930 Bentley Speed Six Gurney Nutting Coupé nicknamed the "Blue Train" after a high speed drive across Europe from Cannes to London. Beating the Famous Blue Train's trip from the Mediterranean to the Channel coast by 4 minutes. A distance of 786 miles with only one burst tire and fighting rain and fog. This body finished in this configuration with the dramatic low sloping roof 10 weeks after it's run, but is depicted in paintings of the era as this version.
This year did not have as many Canadian Entries. Other than the RX Autoworks Alfa, whose contribution is not easy info to find, I could not see which cars from other Canadian restoration companies were entered. RM from Ontario has restored many Pebble Beach entrants. A quick check of the RM website does not show any recent entries.
One other car with a Canadian connection was the 1935 Bugatti Type 57 James Young Drophead Coupé of Brian & Randy Pollock, Mercer Island, Washington. This Bugatti Type 57 was ordered by Canadian newspaper publisher Wilson McConnell from Quebec. McConnell had the car updated in 1936 with a Scintilla Vertex magneto and newer inlet manifold. The car was at Pebble Beach in 1984, and drove to the 2019 Pebble Beach Concours d Elegance as part of the Pebble Beach Motoring Classic tour from Seattle to Pebble Beach.
On the way out I stopped at the Ferrari show within the Concours and the selection of Ferraris was outstanding. We are always limited for time as the Historic races at Weathertech Laguna Seca are running the group B cars and they are as exciting as the Concours. No rest for the carnuts among us!
Photo Gallery