If you are reading this report it is likely you are interested in cars and the importance of classic cars and the car hobby in general. The Golfing world really put the 2018 Pebble Beach Concours d'Elegance and us Carnuts in our place. The Pebble Beach Concours d'Elegance has been held on the third Sunday of August for eons….but because some golfers wanted to hold a "tourney" on that weekend the whole "Car Week" comprising of at least 20 events moved to the fourth weekend. I guess there is more to Golf than meets the eye.
I have always appreciated golfers as they do a good job of looking after the Pebble Beach Concours d'Elegance fields the rest of the year when we don't need it. I show up early and try to get a spot right near where the cars enter the field for an unobstructed shot of the cars driving with the ocean in the background. This year we got on the first bus from the parking lot and still the line was packed with eager photographers, so I took my first available spot downstream a bit.
I shot pics of every car entering and even some video, and the cars looked magnificent in the pre-dawn light. I was there looking for Canadian Content and thanks to the trusty field guide being available online a few days before the event I was able to research which Canadian cars to look out for.
The first was the 1952 OSCA MT4 Prototype Frua Spider owned by Dario Calandra, from just down the road a bit from me in White Rock. A very cool car, but I did not get to meet the owner and did not get to see the engine. Based on many success's in Europe, the Osca's started appearing at American race tracks right away and this car was bought new by Bill Spear who won races at both Watkins Glen and Elkhart Lake.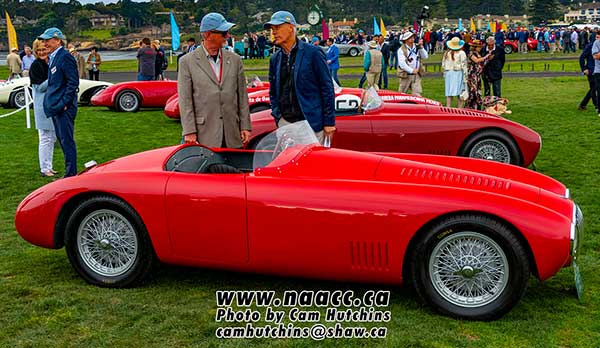 Elkhart lake raced on the roadways surrounding Elkhart Lake and was a 6.5 mile course that started as a smaller track in 1951 and then continued for 1953 before a closed track was opened in 1955. Similarly Watkin's Glen started racing on a 6.6 mile circuit comprised of the village of Watkins Glen, and roads surrounding it and included short dirt and gravel sections. The first race held in 1948 had Charles Addams, the cartoonist who created the Addams' Family entered as a competitor. It ended in 1952 with a death in the centre of town as a car left the track at the start finish line.
Also racing on public roadways, the Pebble Beach Cup was held in 1950 on 1.8 miles of private road on the Monterey Peninsula which is a gated community. The irregular rectangle of private roads was narrow, making it hard to pass and was halted after Ernie McAfee, was killed in a racing accident in 1956. The first race drew 10,000 spectators that stood around the course in a highly Dangerous fashion. The first Monterey Unlimited held in 1950 was won by a Cadillac powered 1950 J2 Allard, with Mike Graham driving, Alan Moss owner. The Allard is now owned by John Carlson, the NAACC president who also serves as a Chief Class judge at Pebble Beach.
Prior to the 1953 Pebble Beach Cup Bill David had purchased the winning little car and placed second in 1953 with first in 1954 and second in 1955 at the hands of Chuck Leson. This little OSCA MT4 would win 7 and place second 6 times in its 25 SCCS sanctioned races. Once done with racing this OSCA changed hands before Dario Calandra found it in British Columbia and restored it to it's present pristine condition.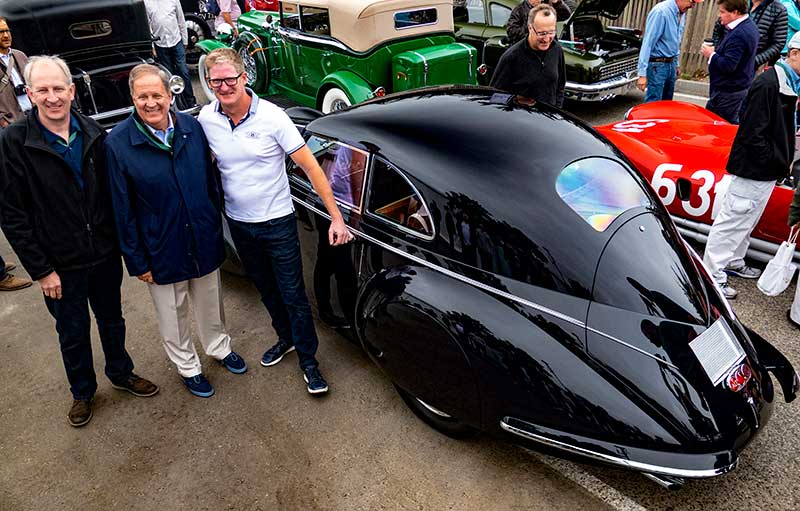 Another "Neighbours" car is no less than the "Best of Show" winning 1937 Alfa Romeo 8C 2900B Touring Berlinetta restored locally at RX Autoworks in North Vancouver. Since forming in 1988, the craftsmen of RX Autoworks, Ian Davies, Mike Taylor & Rob Fram in North Vancouver BC. have consistently turned out some amazing restorations….often keeping as much of the car original as possible. This Alfa is owned by David and Ginny Sydorick of Beverly Hills, and the car is stunning and faced some amazing competition.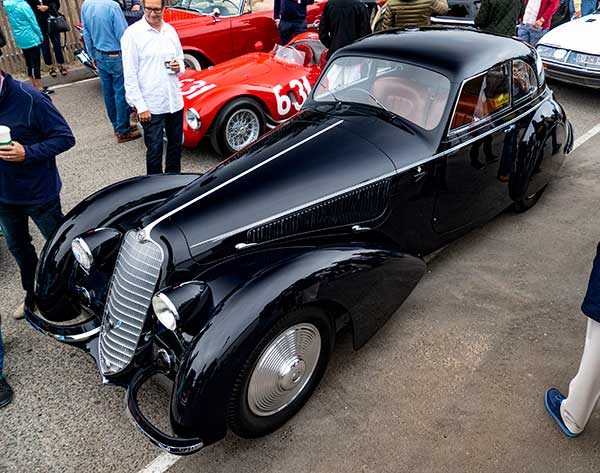 To Win Best of Show a car must first win it's class and this Alfa was in a very competitive class and it also won the Charles A. Chayne Trophy and was named the J. B. & Dorothy Nethercutt Most Elegant Closed Car. Not it's first time at Pebble Beach, it was named Most Elegant Closed Car at the Concours in 2001. The present owner took a very good car and had RX take it over the top and it shows.
Other cars in it's class, The J4 Italian Classics include a 1933 Isotta Fraschini Tipo 8A Castagna Sports Tourer driven by James Dean in the movie Giant and also starred with John Wayne in 1946's Without Reservations. It is one of only two examples of the two-door Sports Tourer produced by Castagna. A 1924 Isotta Fraschini Tipo 8A Sala Landaulet Limousine, one of the earliest examples of the Tipo 8A known to survive and the only time the car has been seen outside of Italy.
A 1925 Lancia Lambda 5th Series Torpedo that pioneered the unitary or monocoque method of car construction, it is fresh from a full restoration and is also fitted with Lancia's distinctive dog-leg windshield. 1928 Alfa Romeo 6C 1500 S WC & RC Atcherly Open Sports. The Alfa Romeo 6C 1500 was one of the first Italian sports cars to feature cutting edge Grand Prix racing technology in a production road car. The Alfa's 1,487 cc straight-6-cylinder engine, was based on the factory's P2 straight-8 racing engine and came as the single-overhead camshaft "Normale", the twin-overhead-camshaft Sport, and the supercharged Super Sport model. This rare 6C 1500 Sport was bodied by WC & RC Atcherly in England and is now owned by the grandson of the coachbuilder R. C. Atcherly.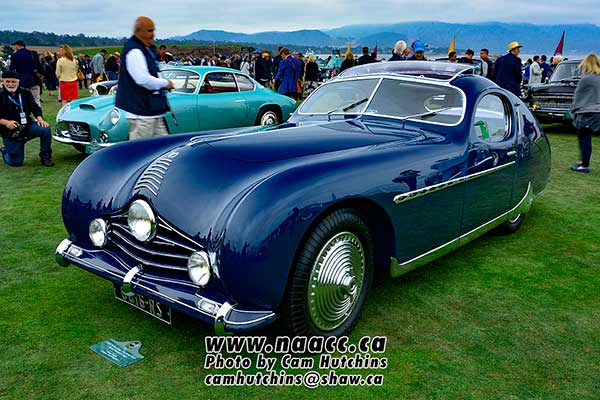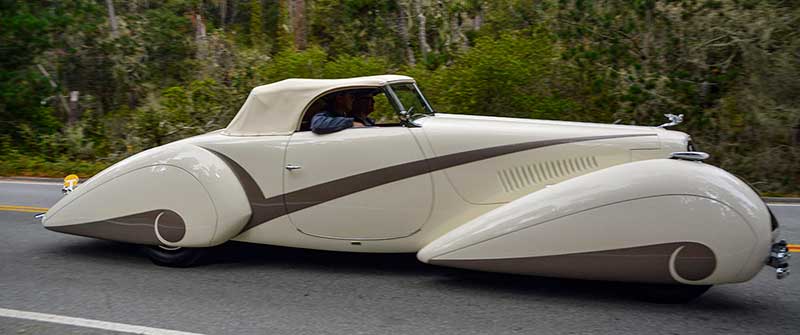 Competition for the best of show came down to three cars and the 1937 Alfa Romeo 8C 2900B Touring Berlinetta was up against a 1948 Talbot-Lago T26 Grand Sport Figoni Fastback Coupe and a 1929 Duesenberg J Murphy Town Limousine. It was shocking not to see the outlandish 1937 Cadillac Series 90 Hartmann Cabriolet Cadillac as part of this trio.
Cadillac only built 50 of their Series 90 V-16 chassis and only two did not get bodied by their in house "Carrosserie" Fleetwood. This car was bodied by Carrosserie Hartmann in Lausanne, Switzerland, for a local wealthy playboy business man and it's 22 foot length made it hard to drive on the cramped roadways of Switzerland and it sustained a few "Hits". Purchased for $950 in 1968 it is an amazing car that looks like the a Figoni & Falaschi Delahaye and is a sweeping low slung coupe.
This car was cheered by fans along the Tour d Elegance route, myself included. The Caddy showed up fashionably late to the field as 90% of the cars were already in place and you could watch everyone look at it as it drove to it's place on the lawn. Granted all the cars were stunning, but this car was also audacious.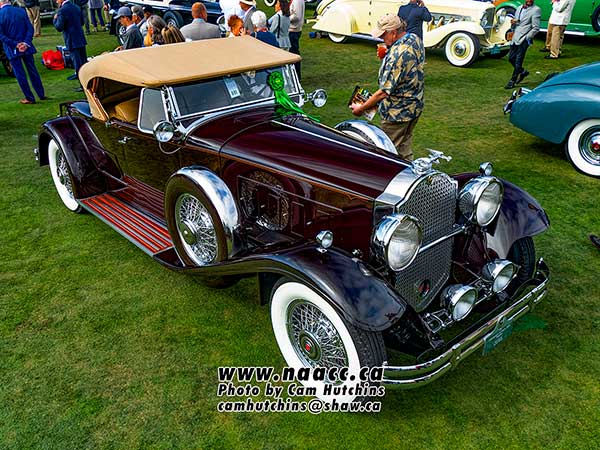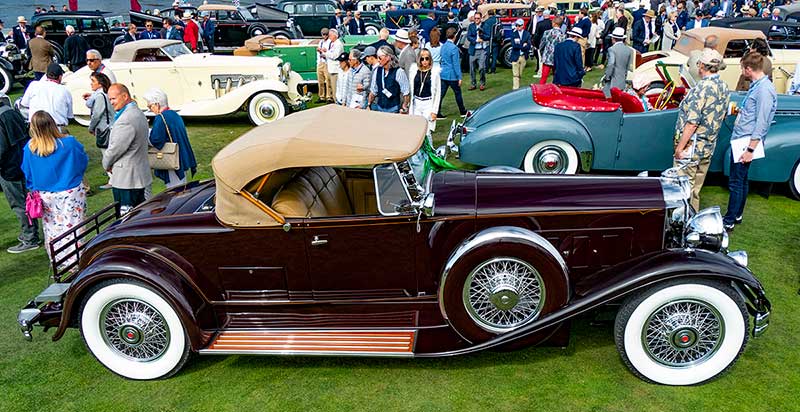 In the D-1 Packard Class Toronto's Brent Merrill entered his 1930 Packard 745 Deluxe Eight Roadster. As the stockmarket was about to crash the Seventh Series Packards were introduced in late 1929. With a reduced clientele total production for the Model 745 was 1,789 and that included around 50 roadsters. The cars were offered with factory built bodies or with coachbuilt designs. Radiator mascots were varied and included the "Deluxe Goddess" or the "Adonis" and the cars were powered by a 386 cu. In. straight 8 cylinder engine producing 106 horsepower. This car came with a factory body and has a fold down rear rumble seat windshield as well as chrome wire wheels and dual Pilot Ray fog lamps.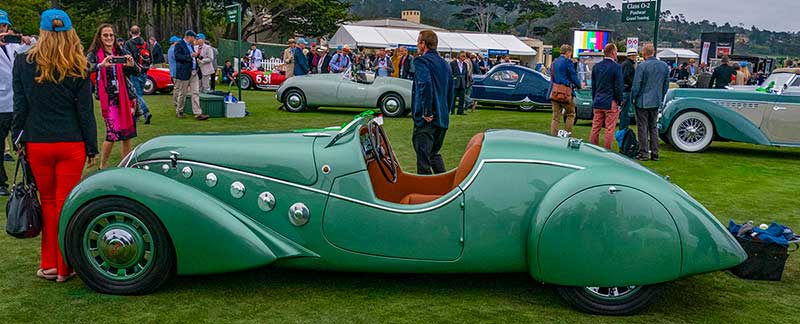 Another car with a Canadian connection was the 1938 Peugeot 402 Darl'mat Pourtout Sport Roadster from class J3, European Classic Late. Starting in the late 20's one of Paris' successful Peugeot dealers, Emile Darl'mat, had been selling highly tuned Peugeot to his customers with a desire for speed and even sold some custom bodied cars. By the mid 1930's a collaboration between himself, Peugeot, designer Georges Paulin and the coachbuilder Marcel Pourtout saw the production of just over 50 road versions of the Peugeot 402 Darl'mat Pourtout Sport Roadster.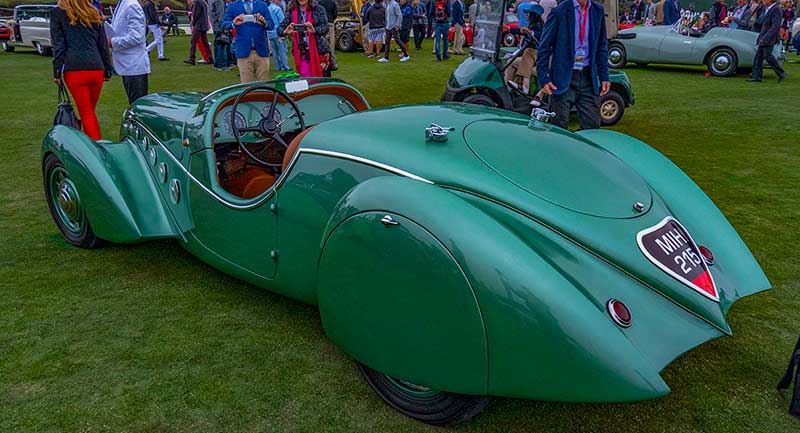 The Darl'Mats would originally be based on shorter, lighter Peugeot 302 chassis, but when 302 production ended it was switched to the 402 chassis. Using the 402's 2.0 litre Four cylinder it was upgraded to 70 horsepower rather than the regular production 55 horsepower. Power was increased for the racing versions and over the production run of 53 road versions of the car. Three roadsters were entered in the 37 and 38 LeMans and placed as high as fifth overall and a win in the 2.0 litre class.
This car's early history is unknown, but it arrived in Canada as a roadworthy car and was used regularly until the 70's when it started to be restored. Ultimately left uncompleted it was sold to a California collector and the restoration was completed in 2016. The car, a 1938 Peugeot 402 Darl'mat Pourtout Sport Roadster owned by Mark Hyman of Saint Louis, Missouri was stunning but was beaten by three worthy competitors, a 1939 Lagonda V12 Rapide James Young Drophead Coupé, from Australia, a 1939 Lagonda V12 Le Mans Rapide from Hong Kong and a 1938 Bugatti Type 57C LeTourneur et Marchand 3 Position Cabriolet from California.
One last car with a Canadian connection was the 1937 Lincoln K Brunn Touring Cabriolet from class C2 American Classic Closed. This car was the personal car of the coachbuilder Herman Brunn and a similar 1939 Lincoln K V12 was offered by Edsel Ford for the use of by King George VI and Queen Elizabeth when they visited the United States and Canada. The car on display has some great features, Convertible rear passenger section, a hand cranked divider window and tinted glass skylights above the windshield for better visibility of traffic lights.
The 69th Pebble Beach Concours d'Elegance will take place on Sunday, August 18, 2019, and will celebrate the centennials of Bentley and Zagato.
Photo Gallery