Warren Rogalsky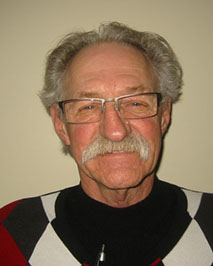 Warren has been a car and truck guy all of his life.
He was as born in Coaldale AB in 1939. In 1958 he moved to Calgary AB. He began his chosen profession as a professional truck driver.  He had a successful career for 45 yrs. In Warrens words "I managed to have 40 years and 4 million miles of accident- free driving. My last job lasted 35 years with the same company hauling dry bulk cement thru the 3 western provenances SK, AB and BC."
Warren married in 1962 and had 2 children. He remarried in 1990. He proudly boasts about his five grandchildren and one great granddaughter.  Sadly, his spouse passed away in 2006.
"My interest in cars was always there, being raised on a farm and being the oldest boy, I learned to drive at an early age. My uncle had a beautiful 1952 Pontiac which I thought was the best car ever. I have  owned several Pontiacs over the years."  Warren still owns 2 Pontiacs and is an active member in the Alberta Iron Indians Pontiac Club. Warren got involved in the SVAA, Specialty Vehicle Association of Alberta in 2008 as a director. He became an NAACC director 2010.  Warren was the Alberta coordinator for the NAACC Canadian Coasters Cross Canada 2017 tour.  He is also the Alberta Cross Canada Tour coordinator for the 2022 Tour.  Warren is a Concours d'Elegance judge at the legendary Cobble Beach Concours. He is considered to be an expert in the Pontiac collector car world.   
In the words of NAACC president John Carlson "Warren is a delight to work with. He gives 100% and asks for nothing in return. He is a true credit to our organization. The collector car hobby is very fortunate to have Warren Rogalsky as a leader and a friend. We all will truly miss him when he retires."