Ronald Haines
New Brunswick Director
I lived my early life in Fredericton, N.B. and went to the University of New Brunswick, where I took engineering. After college I went to work with NB Power and held various positions during my 40 years of working there. In 2002 I retired from NB Power and my wife Ann and I now reside in Woodstock, N.B. Together we have 5 children and 6 grandchildren.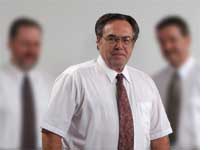 During my younger years I could be found either under a car, at the ¼ mile strip or at the local dance hall. The love of cars carried through my life and over the years I had many cars; such as 59 thunderbird, 74 Corvette, numerous VW vans and bugs and my last car being a 67 Karmann Ghia.
Over the years I have been involved with many organizations and I have dealt with both Provincial and Municipal government bodies. My main interest has always been dealing with people and trying to help out anyway I can in my community. I was on town council for 12 years as well as a volunteer ambulance paramedic for 14years. My wife and I were avid curlers and are now into golfing and bridge.
With retirement it gave me time to get back to my love of collector cars. In 2007 I was elected as the Provincial director of the NAACC .I am also involved with my local car club, the NB Antique Auto Club.
My wife and I are both active in our church and community. My idea of a fun day is to go wondering thru old junk yards in search for some part or driving the back roads looking in fields for forgotten relics. This by the way drives Ann crazy, since I am supposed to be watching the road.