2016 Rolex Monterey Motorsport Reunion
The 2016 Rolex Monterey Motorsports Reunion featured the Cars of BMW and as a Canadian I have to admit I was not familiar with many of the cars from the 70's and almost none of the earlier BMW cars. The races are part of the "Car Week" and must be hell for anyone not interested in cars as the roadways are jammed almost all day every day for a week.
  I arrived the Friday before to attend the pre-reunion weekend of races as well and even took in a Flattrack motorcycle race as well as a "Low-rider" show during that weekend. The Pre-Reunion is a more relaxed affair and a good place to meet the racers and owners of these amazing machines. All the "Pre-Historic" cars are grouped in 10 classes that run morning and afternoon races both Saturday and Sunday.
  The main weekend of the event the cars are divided into 15 classes with 8 races running in the morning  and again in the afternoon on Saturday and 7 classes running the same way on Sunday. I attended the Thursday and Friday races where the "A" classes run in the morning and the "B" classes run in the afternoon. On Saturday in the morning I attended the Conorso Italiano in the morning and the races in the pm while on Sunday it was Pebble Beach in the very early morning and the races in the afternoon.
  So much to do but I really enjoy the Rolex Monterey Motorsports Reunion races. The 2106 event was the 13th time I have attended since my first trip in 1983. Every year it gets better and better and learning so much about BMW's was a real eye opener. BMW's were represented in about half of the classes as either builder or engine and one race had 4 BMW 328 from 1937 and 1938…when was the last time you saw 4 of those together, let alone racing?
  Sundays Group 5B had 13 BMW's out of 32 cars that actually made it to the final race grid. The weekend is hard on cars and many museum dwellers are thrown into the race after many years of slumber and fatigued parts failing is common. Group 3a has typically been the race of the featured marque but this year it seemed to be the group 4a race that had 15 BMW's out of 37 on the final race of the weekend for group 4a.
  Regarding lap times I am always fascinated at the variety of lap time in an given group. The older the cars the more varied the types of car can be in a race. The Group 1A race typically has the oldest cars of the weekend and this year was no exception….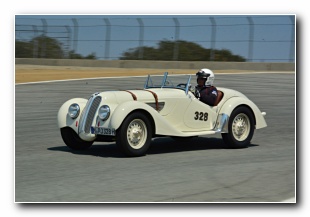 but the first place car in Group 1A was a California 1927 Delage ERA driven by Derek Hill  and the best lap time was a 1:52.434. Two other ERA's had laptimes of  1:52.969 for a 1934 ERA R2A and a 1:57.999 for a 1936 ERA R6B.
  The next closest car in Group 1A was Peter Giddings racing his 1932 Alfa Romeo Monza at 2:02.816, 10 seconds slower than the winning car.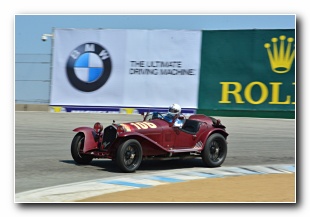 But the last car to finish had a best lap of 2:37.672 so watching the fast cars work their way through the back markers is always exciting. Interestingly two Model T's were runing with Ed Archer getting a 2:35.739 out of his 1915 model T and Bruce Hudkins'  1922 Ford Model T Speedster 8 best laptime was 3:01.829. I think Mr. Archer has some very crazy modifications to his Model T!
  The best time for a lap was a Group 7b's 1967-1984 Formula One Cars with Charles Nearburg driving a 1980 Williams FW07 B to a 1:23.565 best lap time while a 1974 Shadow DN4 ran a 1:25.499 in Group 7a's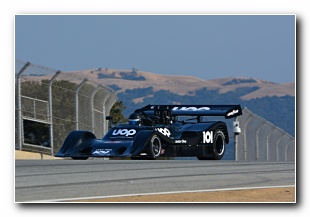 1968-1974 Can-Am Cars. Very quick times for two very different cars…sort of a ballerina and a beast type comparison.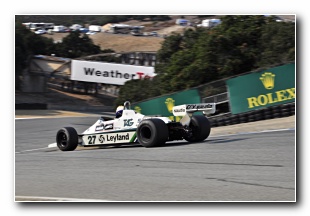 The 1980 Williams ran a Ford-Cosworth DFV 2,993 cc while the Can-Am Shadow DN4 ran a Chevrolet 8,095cc /494 cu. in. Aluminum block and head with 800 horsepower and a glorious symphony of noise. The microscopic Cosworth pumped out 485BHP from it's measly 2,993 cc / 182.6 cu in engine but only weighed 585 kilo / 1,290 lbs. Whereas the Shadow weighed 720 kilo / 1,587 lbs.
Both cars were thrilling to watch but I am not sure the howling screaming Can AM engine sounds will ever be recreated!
  I usually shoot from the corkscrew in the afternoon and as you get to see the cars from many angles if you move around a bit, I got to see a John Player Special F1 car completely blow the top of the corkscrew and then come careening down the gravel , cross the hot track and end up 20 feet in front of me in the tires.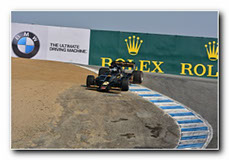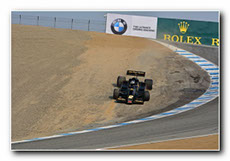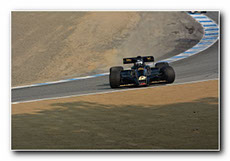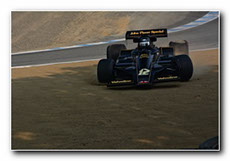 The driver valiantly tried to reverse out of the mess but it was apparent his front suspension was smashed…from looking at the images later,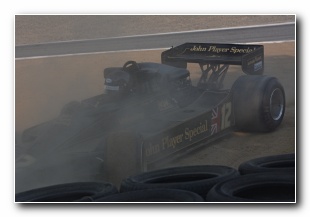 it was apparent it was damaged at the top of the corkscrew and that was the reason for him going off the track. He quickly exited the vehicle and I asked him if he was ok he gave me a thumbs up…but shook his head at his car.
  Some of the most expensive cars on the track were the amazing, legendary Ferrari GTO. They  ran best laps of 1:49.042 for Chris Cox' 1962 Ferrari 250GTO and 1:54.764 for Tom Price's 1963 Ferrari 250 GTO compared to the 20's era ERA Grand Prix car best laptime of 1:52.434. Life is not always fare on the racetrack…but it usually is exciting.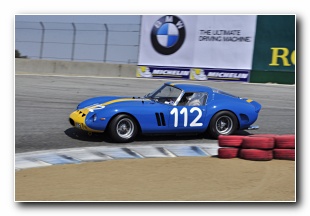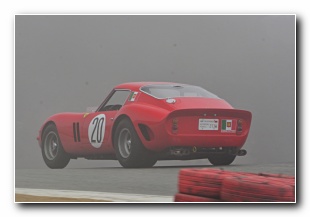 4 – 11
<
>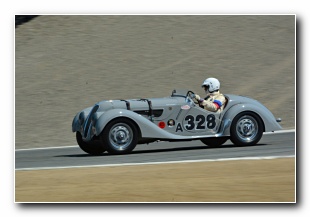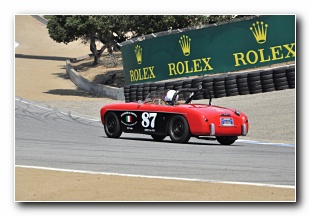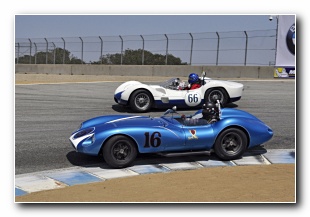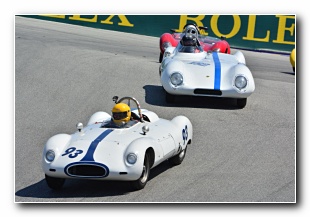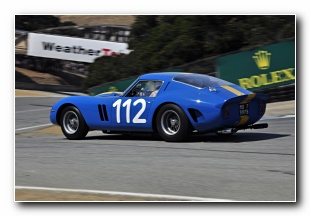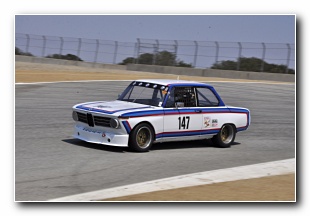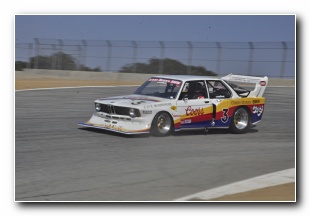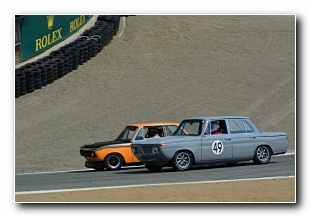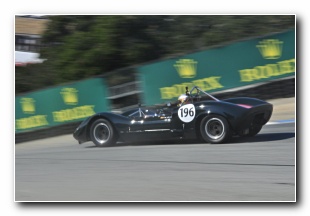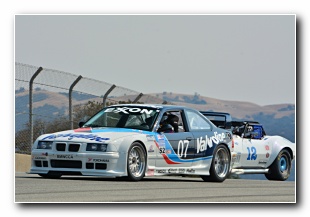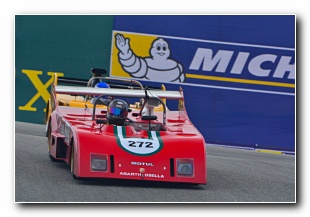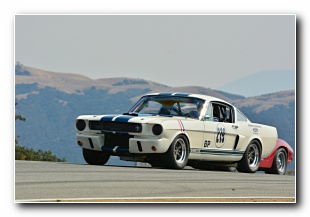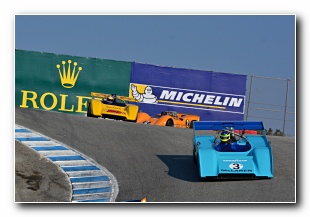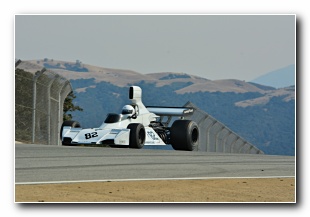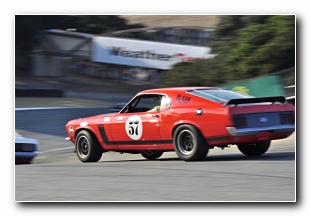 Rolex Monterey Motorsports Reunion August 18-21, 2016
Featured Marque BMW
What:  Described as a museum springing to life, the Rolex Monterey Motorsports Reunion is the largest event held during the famed Monterey Classic Car Week,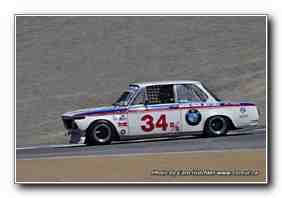 and is the only event where cars are doing what they were originally intended to do…race. Approximately 550 race cars are invited to compete in the world's premier motoring event, and are accepted based on the car's authenticity, race provenance and period correctness.
The event relives motorsport history at the iconic circuit, which has been the scene of America's golden years of sports car racing since its inception in 1957. In addition to the entertaining on-track action, there are always engaging autograph opportunities with legendary drivers, Q&A sessions, and fine wine and cheese tastings among the myriad activities.
When: August 18-21, 2016
Featured Marque: BMW – Celebrating its 100th Anniversary
Race Groups:
Thursday, Friday & Saturday
Pre-1940 Sports Racing and Touring and 1927 – 1951 Racing
1955 – 1962 GT Cars
1955 – 1961 Sports Racing over 2000cc
1973 – 1981 FIA, IMSA, GT, GTX, AAGT, GTU
1963 – 1968 USRRC & Can-Am
1970 – 1984 Sports Racing under 2100cc
1966 – 1972 Trans-Am
1968 – 1974 Can-Am (50th anniversary celebration)
Thursday, Friday & Sunday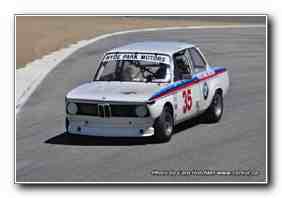 1947 – 1955 Sports Racing and GT
1961 – 1966 GT under 2500cc
1955 – 1961 Sports Racing under 2000cc
1963 – 1973 FIA Manufacturers Championship
1963 – 1966 GT over 2500cc
1981 – 1991 FIA Manufacturers Championship; IMSA GTO/GTP
1967 – 1984 Formula One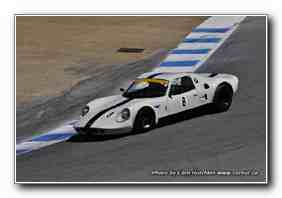 Schedule: Click HERE for the complete schedule.
Tickets: Tickets  are available and may be previewed HERE.
Parking: Free parking is available. MST buses are not in service.
Directions: Please click HERE for entry directions.
Gates: Open at 7 a.m.
Ticket Info: 831-242-8200
Featured Marque History: Click HERE for historic car racing history.
Jenson Button to Drive Iconic McLaren M23 at Rolex Monterey Motorsports Reunion
2016 Formula 1 champ to drive at Mazda Raceway Laguna Seca Aug. 17-20
Emerson Fittipaldi in the McLaren M23 at the 1974 British Grand Prix
MONTEREY, Calif., March 30, 2017 — McLaren ambassador Jenson Button will delight fans when he gets behind the wheel of Emerson Fittipaldi's 1974 world championship-winning McLaren M23 at the Rolex Monterey Motorsports Reunion on August 17-20.The event, held at the similarly iconic Mazda Raceway Laguna Seca, represents all that is good and glorious about classic motorsport, with more than 550 historic entries on the race card for the weekend.
For Jenson, who notably drove the M23 at Silverstone and in London's Leicester Square at the premiere of the Rush movie in 2013, the Monterey event will mark his first outing in Formula 1 machinery since hanging up his F1 helmet in Abu Dhabi at the end of 2016. "It's always special to drive a grand prix car with an illustrious history, and the M23 wrote one of the most significant chapters in motorsport history throughout much of the 1970s," said Button. "It's a somewhat strange sensation to drive a car from this era – you sit much more upright in the cockpit, and you feel like you could almost reach out of the cockpit and touch the front wheels. But, once you drive it, you quickly start to understand what made it so successful – it's incredibly easy to drive, has a really consistent balance, and plenty of feel. Everything you put into it, you get out of it, which is very rewarding for a driver."
The McLaren-Ford M23 contested 80 grands prix between 1973 and 1978, winning 16 grands prix and three world championships (1974 drivers' and constructors'; 1976 drivers'). "We are honored to host Jenson Button at the Rolex Monterey Motorsports Reunion and showcase a car with such great history," said Gill Campbell, CEO and general manager of Mazda Raceway Laguna Seca. "Formula 1 is the pinnacle of racing advancement and Jenson's spirited exhibition laps will provide a superb link to motorsport's past that fans will assuredly enjoy."
This year's Rolex Monterey Motorsports Reunion honors the Diamond Jubilee of Formula Junior and the 70th anniversary of Ferrari, as well as celebrating the 60th anniversary of the raceway itself. The Rolex Monterey Motorsports Reunion has matured over the decades to become much more than a showcase of exemplary historic and period-correct cars racing at an iconic venue. It is a lifestyle experience where like-minded premium brands assemble to celebrate motoring's finest cars with enthusiastic collectors, racers, fans, and journalists.
Advance hospitality, VIP, preferred parking and general admission tickets to the Rolex Monterey Motorsports Reunion are on sale at www.MazdaRaceway.com. For additional information, please call the Ticket Office at 831-242-8200.