2014 Rolex Motorsports Reunion
Official Website for the event
www.mazdaraceway.com/rolex-monterey-motorsports-reunion
2014 Rolex Motorsports Reunion at Mazda Laguna Seca
Photos by Cam Hutchins
Recently the NAACC attended the Motorsport reunion as it is now called and took in 3 days of incredible racing as well as the Tour d Elegance did a couple of laps on their trip around the Carmel and Monterey area. Sir Stirling Moss was on hand to help celebrate the 100 anniversary of Maserati and the 50th anniversary of the Sunbeam Tiger was also featured.
Sunday's Group 3B had Khyle Pinkman from Calgary that along with his Father have gotten this car ready for racing after it was last raced in Japan in the early 70's. Pinkman placed 17th in a field of super accomplished racers in very well prepared racecars.
Group 4B saw two Canadians battle it out while Keith Frieser's 1972 Lola T290 took 4th place, Cal Meeker of Pitt Meadows placed6th in his 1973 Lola T292.
In the 6B race comprised of 1981 -1989 FIA and IMSA GTP, and 1980-1991 GTO Cars was a very fast race. Duncan BC's Pieter Baljet's 1991 Chevrolet Beretta finished 3rd while Keith Frieser 1985 Mercury Capri finished 11th. In the Formula Atlantic race Pitt Meadow's Larie Meeker's Formula Atlantic 1979 RALT FA RT1 placed 7th in the last race with a best lap time of 1:28.481.
Group 2a>>
Group 3a to 5b>>
Group 6a to 8b>>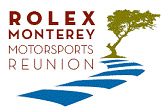 Previous coverage coming soon