1928 Blue Chevrolet Coupe Stolen RCMP File # 2014-1542653
"As of April 19, 2016 this vehicle is still missing"
The car in the pictures was stolen on or about November 15, 2014 from Don Thomas's farm near Herronton (southwest of Mossleigh, AB).

If you see the car or have information that may help with its being returned to its owner, please contact
High River RCMP
1104 - 14th Street SE High River, AB T1V 1W2
Phone: 403-652-2357
Update...Dec 19 2014
Thank you for your help.
The investigation has gone in a different direction and the vehicles have now been recovered.
The RCMP thanked us for our Alert coverage.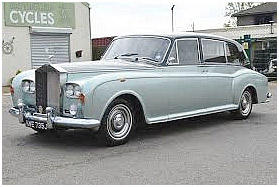 Light blue 1971 Rolls Royce Silver Shadow.
EDMONTON - The RCMP is asking for the public's assistance in identifying one or more thieves responsible for swiping two collector cars from a rural property in Parkland County in November.
When the collector returned to his home in the Golden Spike/Graminia area on Nov. 12 from a weeklong trip, he found his garage empty, police said.
His blue 1990 Jaguar XJS convertible and a light blue 1971 Rolls-Royce Silver Shadow had been stolen, but there was no sign of forced entry. Nothing had been touched inside his house.