ROLEX MONTEREY MOTORSPORTS REUNION 2012
Report by Cam Hutchins for the www.naacc.ca and Vancouver Sun


As classic and wild as the previous Rolex Monterey Historic Races at Laguna Seca have been the 2012 event will be a standout for years to come. With the passing of legend Carroll Shelby earlier this year and the 50th anniversary of the AC Cobra of course the feature Marque had to be Cobra. Shelby's last race was at Laguna Seca in a Maserati with a second place finish and the event seemed in every way to commemorate him and his career as a driver, Builder and all around Great guy.
More than 40 Cobras raced at one time. Let that sink in...over 40 ultra expensive highly powered AC Cobras on the track at one time...including a Daytona Coupe. This was not some glorified parade laps...one of the Cobras spun through the dirt on the far side of the Corkscrew to the crowds amazement and got back on the track without injury. Unfortunately the Daytona Coupe had a racing incident but the driver was ok and the car can be repaired. Interestingly a 289 car won with Jim Click at the wheel of his 1964 Cobra while Ford vice president Jim Farley took 3rd in another 289 car.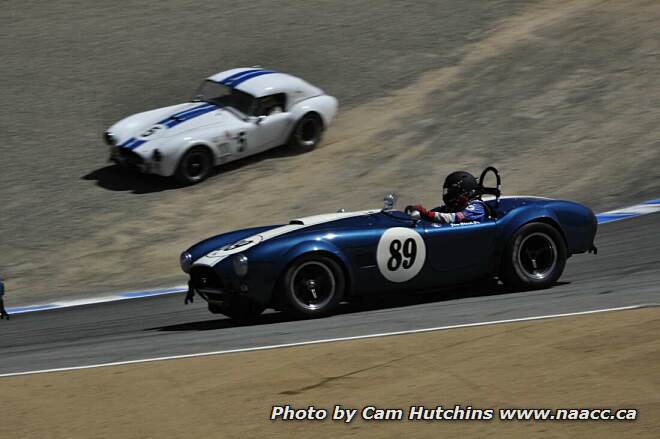 In the pits a very informative display of important Cobra were on display including the Prototype, a Dragon Snake, and more. Not far from the display was a row of Cobra racecars...a row!!! But Cobras were not the only story.


Wildly popular as NASCAR is, they do not regularly race at the Monteray historics and the year a class of Disc Brake Historic Nascars took the field and fumbled their way through the twists and turns and even turned right a few time. The cars were very entertaining to watch and the big v8 roars was a sweet a sound as any symphony.
Luckily the Trans Am cars still got to race this year while the Formula One and CanAm had to be missed to make room for other classes for 2012.
The more utilitarian Formula Atlantic cars presented a big field and Formula Atlantic is important as it was the stepping stone to the big leagues for many drivers. North Vancouver Local Tom Johnstone had a car he built compete.
Cars from the first part of Century were fantastic to watch as they charged around the track some with the riding mechanic holding on for dear life and Ed Archer in his Model T racer did the Double wave to crowds taking both hands off the wheel.
The various classes are as follows:
Race 1A – Pre-1940 Sports Racing and Touring Cars
Race 2A – 1927-1951 Racing Cars
Race 3A – 1962-1967 Shelby Cobra
Race 4A – 1955-1962 GT Cars
Race 5A – 1960-1968 Sports Racing USRRC Cars
Race 6A – 1973-1982 IMSA GT, GTX AAGT, GTU/GTO Cars
Race 7A – 1963-1966 GT Cars over 2500cc
Race 8A – 1974-1980 Formula Atlantic
Race 9A – 1966-1972 Trans-Am
Race 1B – 1955-1961 Sports Racing Cars under 2000cc
Race 2B – 1958-1963 Formula Junior Cars
Race 3B – 1955-1961 Sports Racing Cars over 2000cc
Race 4B – 1966-1983 Sports Racing Cars under 2000cc
Race 5B – 1947-1955 Sports Racing and GT Cars
Race 6B – 1981-1989 FIA Mfg. Championship & IMSA GTP
Race 7B – 1961-1966 GT Cars under 2500cc
Bonhams 1793 Cup Race 8B – 1974-1990 Stock Cars with disc brakes
I was able to take many photos of the races and have extensive coverage of each class.I took advantage of being on the track thursday to Sunday as much as I could and met many owners and fans.
On my way in one morning I saw a fellow with a Shirt sporting a photo of a Trans AM Camaro at the layout of an Eastcoast racetrack. I spoke with him only to find out he was from Coquitlam in BC and had lived back East in the sixties and it was him with his racecar on the shirt from 1969. He also went on to tell me he raced the last Trans Am race at Westwood.
It was certainly a great education for a Carnut and I can hardly wait for next year.