The Quail – A Motorsports Gathering Aug 14, 2009
Courtesy of J.J. Carlson, NAAACCC
Quail Lodge Resort and Golf Club, Carmel Calif. – Following a silver McLaren F1 down the interstate and into the parking lot could only mean one thing and one thing only: it was going to be a good day. Of the 106 cars produced, there are only twenty or so in North America and even fewer that are street driven. Even though the F1 was only made until 1998, it is still the world's fastest naturally aspirated production car with an exhilarating top speed of 240 MPH; to many it's the only true super car that has ever made – sorry Bugatti and Ferrari.
Over the past few years, The Quail has become my favorite event of the week – why? – because. The Quail is more than a bunch of cars placed at a nice location – it's a motorsports experience. Most automotive events focus their attention on the cars, while The Quail focuses on the spectator and the experience of the show – it's fun and puts a smile on everybody's face. There are classic cars, vintage race cars, modern super cars, motorcycles, test drives courtesy of: Porsche, Bentley, Lamborghini, Jaguar and Mercedes Benz, automotive fine art, custom jewelry, and a culinary experience that is better than fantastic. As in previous years, there were four on-site areas to dine at each with different foods representing France, Germany, Italy and California. I really like the Italian coffee Illy and The Quail just happened to have an on-site Illy espresso vendor – if I could just figure out a way to get that into my carry on. Of course the vintage fighter planes leaving smoke trails overhead were pretty cool too (chuckle).
This year The Quail celebrated its seventh anniversary and was bigger than ever with five new classes. The key classes included: The Great Ferraris, Audi Racing Heritage, 30th Anniversary of BMW, 50Th Anniversary of Daytona, and a Tribute to Hans Joachim Stuck. Although all the cars were great a few honorable mentions include: 1963 Ferrari 250 GTO, 1914 Tahis Special and 1968 Ford Torino Holman. I even got to see the new Ducati Desmosedici RR super bike (insert drool and $80,000) and meet five-time Le Mans winner Derek Bell. Meeting Derek was definitely one of the week's highlights and I couldn't help but notice what a genuinely friendly and humble person he is. Access to the Quail is limited to 3000 spectators and costs $400 a ticket. It's pricey but when you consider that Pebble Beach costs $200 just for access, it's really a bargain. It's rumored that tickets this year sold out within minutes, so be quick if you want to go in 2010 – I hope to see you there, it really is that good.
The Quail – A Motorsports Gathering Aug 15, 2008
Courtesy of J.J. Carlson, NAACC
Quail Lodge Resort and Golf Club, Carmel Calif. – Of all the events taking place on this classic car weekend, The Quail is simply a must see. Think of this one as all inclusive - all you can eat, all you can drink and all the cars, both historic and new, that you can shake a stick at. Also, I'm not talking about a cheeseburger and fries here folks - The Quail is gourmet! This year there were five on-site areas to eat, each having a different specialty. Spiced chicken, artichoke, steak, shrimp, swordfish, six different salads and many desserts including gelato, just to name a few. I had three plates of strawberry shortcake! O.k. so in the end I regretted eating three plates, but it was just that good, I had to. Did I mention wine, beer, martinis and of course champagne and caviar – I mean, what concourse is complete without caviar right? Anyway, I'm sure that there was something else I needed to mention about the Quail – oh yes, the cars!
This year the key classes were the 12 Hours of Sebring, the 25th Anniversary of Porsche's engineering masterpiece – the 959, Dan Gurney Eagle Race Cars, and tribute to Lamborghini's famous test driver Valentino Balboni. Being of the younger generation that I am, I really enjoyed the Sebring cars. Included was a 2008 Porsche RS Spyder, which actually won this year. This car is really an engineering marvel and represents the best of technology today. It pretty much has carbon fiber everything, helping to keep its weight down to a scant 1760 pounds, and even with current A.C.O. restrictions it still pumps out 475 HP. At that weight think of a brand new Corvette, but with 1000 HP and way way way better, ridiculously good, crazy handling and braking – very nice.
Other classes included: The Great Ferraris, Post War Sports and Racing, Super Cars and Sport and Racing Motorcycles. I really enjoyed seeing the Gurney Eagles as they aren't cars that you get to see at most events. I didn't realize that most of them were turbocharged. Additionally, the size of the turbo's that these cars use is crazy - I'm not talking about some diminutive Garrett T3 from a Mazda Speed here. Some of these cars had turbo's that were literally one foot cubed in size – just massive. Moreover, the tires on some of these cars were like three tires in one – many equal or wider than 15 inches.
The Supercars were also very cool to see being much more diverse than last year. Included was a Ferrari F50, Koenigsegg CCX (1.7 million), Ferrari P4/5 custom, a few Lambo's including a Revention, Jaguar XJ 220, Porsche GT-3 and a Mosler MT 900S – very nice.
The Quail is unique because with the "all inclusive" setting, everyone has an equal opportunity to do, try or taste the same things - making the atmosphere more social. Everyone has a wine glass! In a nutshell, Quail brings a certain flair to the West Coast, which really needs to be experienced to be appreciated. Now, if you want to go to this great event, register early – as in the year before early, because there were over 6000 people on the waiting list this year. Hope to see you there next year with a glass of wine in your hand!
The Quail – A Motorsports Gathering 2006
Courtesy of J.J. Carlson, NAACC
Carmel California, Aug. 18, 2006 – Spectacular, is all I can say. This year I had the privilege of attending "The Quail" – a gathering of fine automobiles and motorcycles at the Quail Lodge Resort and Golf Club. In its 4th year of operation, the show was limited to 100 prestigious vehicles and 3000 people. Unlike other events, vehicles were not separated into their respective time frames, but into distinct categories as follows: Historics to Quail Run (vehicles on the Quail tour), Laguna Seca, Post-War racing, Post-War sports, Pre-War Sports and Racing, the Great Ferraris, Sports and Racing Motorcycles, Targa Florio 100th Anniversary, Tribute to Zagato, and Super Cars.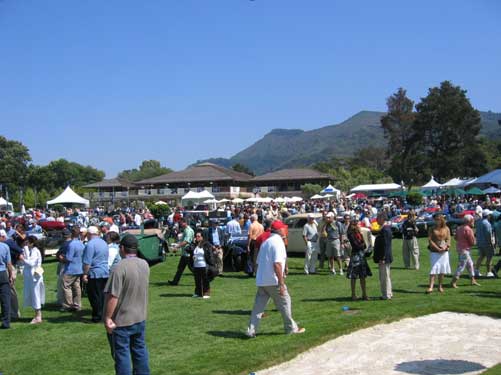 Walking down the fairway at Quail Lodge
A ticket price of $150.00 US not only allowed the ticket holder access to view the cars, but also to dine at any of the on-site restaurants including: Little Italy, Greek Delights, Flavors of Spain, and The California Farmer's Market. Culinary skills were evident as all of the food I sampled was outstanding. Furthermore, drinks were also included, courtesy of: the Bernardus Winery, Asombroso Tequila, Mendocino Brewery, Moretti Beer and Louis Roederer Champagne – more than enough to quench even the fiercest of thirsts.
Since the focus of this event was to celebrate the 100th Anniversary of the Targa Florio: perhaps one of the oldest and most legendary automotive races ever, and to honor one of the most talented Italian automotive designers: Ugo Zagato, let me introduce a few examples of the invitees. Among others displayed in the Targa Florio area were two stunning autos: a black 1923 Mercedes-Benz 28/95 Targa Florio and a brilliant red and white 1972 Ferrari 250LM.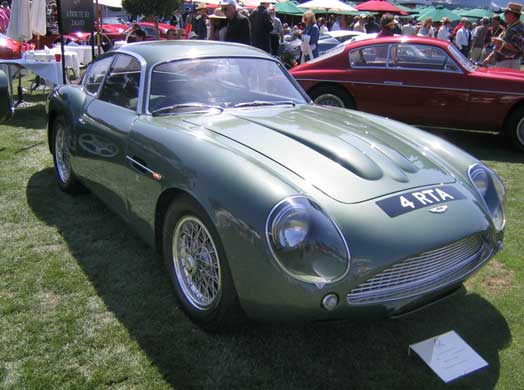 Two eye-catching cars in the Zagato section were a handsome 1961 Aston Martin DB4 GT Zagato in British racing green and a brand new 2006 Ferrari 575 GTZ Zagato coupe in gun-metal grey.
1961 Aston Martin DB4 GT Zagato owned by Peter Read of California
One of the most interesting features of The Quail was the amount of diversity on the field. Walking down the grass I ran into a gorgeous navy blue 1967 Shelby GT500. The winner of the 2006 Le Mans (GT2 class) was also present - a bright orange Panoz Esperante GTLM.
​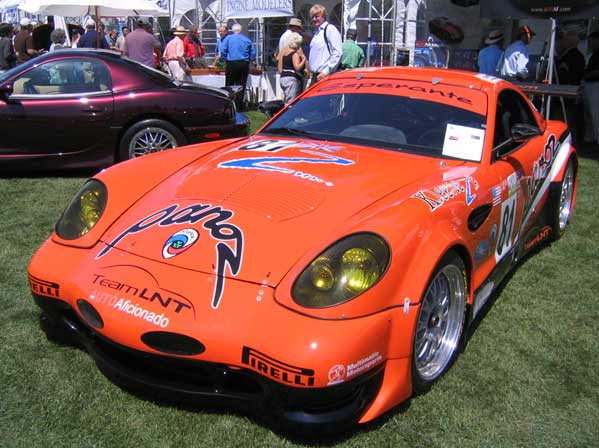 2006 Le Mans GT2 winner – Panoz EsperanteGTLM
Across the way a red Ferrari Enzo sparkled, as it could be seen sitting quietly in the Super Cars section. However, despite the presence of million dollar dream cars, one that got a significant amount of attention was a 2000 Volkswagen Beetle in bright silver.
I know what you're thinking – how could a beetle get invited to show?


Well, it could if it had a 1350 horsepower General Electric turbine jet-engine like this one did. For exhibition only, the car was fired-up for everyone's auditory and viewing pleasure. As the after burner kicked in, it let out a flame about four feet long and pierced the sky with shrieks upwards of 150 decibels! I still don't understand those people standing in front of the car though – would you stand in front of a jet-powered car when it's running?
2000 Volkswagen Beetle (slightly modified) owned/fabricated by Ron Patrick of California
Needless to say, this was a great event. When you get 3000 very well-fed, well-lubricated auto enthusiasts together, and a bunch of fantastic automobiles, there's no doubt you're going to have a great time. I certainly look forward to next year.
JJ Carlson
Director, Media Relations
National Association of Antique Automobile Clubs of Canada Corporation (NAAACCC)